Roxy to host movie premiere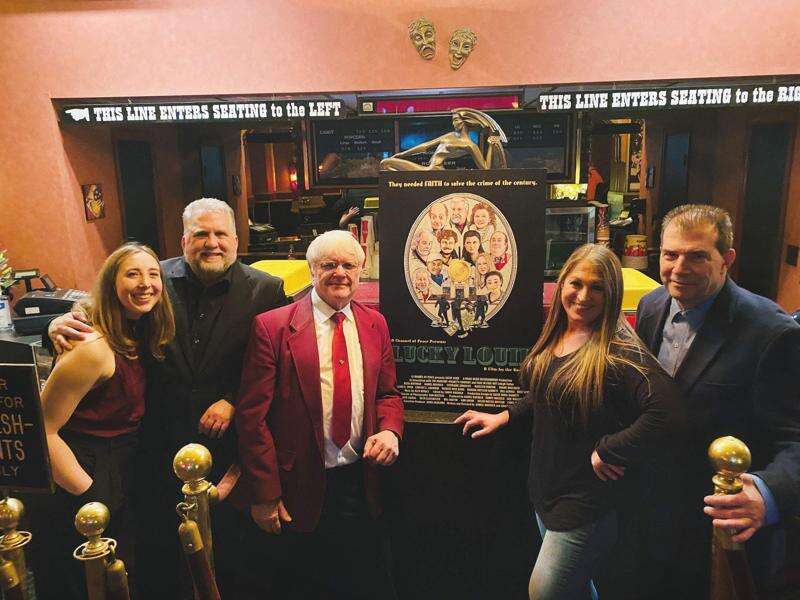 Published March 08. 2023 09:22AM
by
BY PAUL WILLISTEIN
pwillistein@tnonline.com
Lehigh Valley movie fans are in luck.
The world premiere of "Lucky Louie," the latest movie from Lehigh Valley native and Hollywood movie star Dan Roebuck, will be held 1 p.m. and 6 p.m. April 22 at the Roxy Theatre, 2004 Main St., Northampton.
Tickets are on sale for the two screenings, which are expected to sell out in the 453-seat theater, according to organizers of the event, presented by A Channel of Peace, producer of "Lucky Louie."
Roebuck made the announcement about the premiere of his latest feature motion picture at a March 3 news conference at the Roxy, attended by media, film producers and actors from the movie.
"Following a tradition begun with our release of 'Getting Grace,'" actor-director Roebuck said, "A Channel of Peace is pleased to announce that it will hold a once-in-a-lifetime movie premiere event in the Lehigh Valley April 22."
"Lucky Louie" was written and directed by Roebuck and his daughter Grace Roebuck. Tammy Roebuck, Dan Roebuck's wife, is a producer of the feature movie through their production company, Magic Bean Entertainment.
"In all my years in Hollywood, to the best of my knowledge, it's the first time a feature movie was written and directed by a father and his daughter," Dan Roebuck said during the conference.
Dan Roebuck was introduced by Northampton Mayor Tony Pristash at the conference.
Those at the April 22 premiere at The Roxy have the opportunity for a red carpet meet-and-greet with "Lucky Louie" cast members and will receive an event goody bag.
Tickets are available at eventbrite.com. A portion of ticket sales will benefit The Every Ribbon Counts Foundation, a Nazareth-based nonprofit with the motto "One Fight, For All Cancer."
Those interested in a dinner and a show are in luck. The screenings are said to be coordinated with Northampton restaurants, including Assante Ristorante Italiano, Northampton Diner and Family Restaurant, The Gin Mill and Grille and J's Steaks and Subs.
"Lucky Louie" is the first faith-based movie released by A Channel of Peace, an area not-for-profit founded three years ago.
"Lucky Louie" is about a retired police officer, Wilbert Moser (Basil Hoffman), who has been unable to solve a 50-year-old bank robbery.
Moser teams up with members of his Bible study group, all of whom are ex-convicts (Dan Roebuck, Willard Pugh, Duane Whitaker and Patrick Voss Davis) he had arrested and helped in their rehabilitation.
With the help of forensic psychology major, Alex D'Ambrosio (Madelyn Dundon), as well as the owner of the diner they frequent, Barney (Tim E. Goodwin), and the Lehigh Valley community, the group solves the decades-old crime.
The Roebucks' production company has filmed three films in the Lehigh Valley: "Getting Grace" in 2016; "Lucky Louie" in 2020; and "The Hail Mary" in 2021.
During the conference, clips of "Lucky Louie" and "The Hail Mary" were projected on the Roxy movie screen.
The Roxy was the site for the March 3, 2018, premiere of "Getting Grace," which included screenings at Frank Banko Alehouse Cinemas at SteelStacks and Lehigh Valley Charter High School for the Arts, both in Bethlehem.
Dan Roebuck, a Bethlehem native who turned 60 March 4, is a graduate of Bethlehem Catholic High School. He got his start in acting at The Pennsylvania Playhouse, Bethlehem, and Civic Theatre of Allentown.
He has 241 previous acting credits and 27 upcoming acting credits, eight previous director credits and four upcoming director credits, 16 previous producer credits and two upcoming producer credits on Internet Movie Database.
After the Roxy conference, Dan Roebuck was heading out to direct "Tuesday's Flu," a crime drama set to begin shooting March 13 in the New York metropolitan area. Dan Roebuck co-stars in the film with Academy Award nominee Jackie Earle Haley and "The Walking Dead" cast member Ross Marquand.
Dan Roebuck co-wrote with Jeff Lewis, directed and co-produced "Getting Grace," in which he stars as a funeral home director opposite Dundon as Grace, a teenage girl dying of cancer. The comedy drama has a rating of 7 out of 10 on IMDB.
Dan Roebuck's first movie role was in "Cavegirl" (1985). His breakout role was in the acclaimed "River's Edge" (1986). His other notable movie roles include "Dudes" (1987); "The Fugitive" (1993); "U.S. Marshals" (1998); "Agent Cody Banks (2003); and more.
On television, he played Cliff Lewis, "Matlock" (1987-95); Rick Bettina, "Nash Bridges" (1996); Jay Leno, "The Late Shift" (1996); Dr. Leslie Arzt, "Lost" (2005-10); Arnold Walker, "The Man in the High Castle" (2015-16); and Grandpa The Count, "The Munsters" (2022), which was one of several films directed by Rob Zombie that he appeared in.
According to its website, A Channel of Peace is "dedicated to producing and supporting films and other multimedia projects and endeavors that provide insight into the advancement of family, faith in God and the values of love, forgiveness, good works and gratitude."
"Getting Grace," "Lucky Louie" and "The Hail Mary" were filmed in the Lehigh Valley. "The Hail Mary" was filmed at the former Mary Immaculate seminary, Lehigh Township.