After two-year hiatus, friends/neighbors return for fire company community day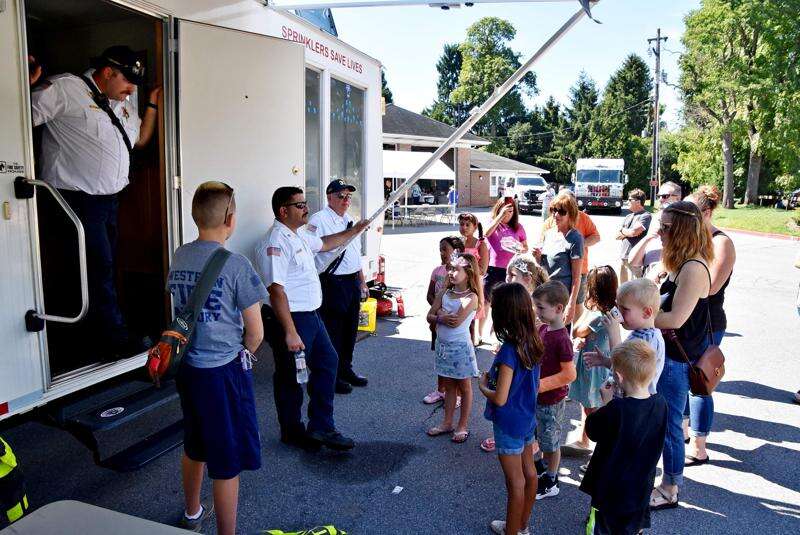 Published September 21. 2022 01:46PM
by JIM MARSH Special to The Press
After a two-year hiatus necessitated by the COVID-19 pandemic, friends and neighbors turned out in force to support the Western Salisbury Volunteer Fire Company community day held Sept. 10 at the fire company's Swain fire station and the adjacent Green Acres Park in the western portion of Salisbury Township.
Deputy fire chief Adam Al-Khal said "the return of so many friends and neighbors to our community event was very encouraging. With equipment and firefighters from our colleague Eastern Salisbury Fire Company, more fun and games and the activities we have had since we started this event in 2009, has been very encouraging."
The event was planned and coordinated by Ellie Al-Khal, Bill Sames and the fire company auxiliary.
Face-painting, fire hose use to put out a simulated fire, bounce houses, pizza, a helicopter landing, cotton candy and entertainment by Balloons the Clown of Easton were all features of the three-hour event. Balloons the Clown has been a favorite part of the day for many youngsters since 2009. Balloons said this year marks his 50th year of entertaining his audiences.
A bake sale, raffle baskets, T-shirt sales and donation cans helped defray the fire company's operating expenses.
Messaging his crew directly following the event, Fire Chief Joshua Wells said the feedback for the day's events was "amazing." He said success "was only possible because of the hard work of firefighters, the company's auxiliary members and family members who pitched in to show how grateful we are for the community support for our firefighters." Wells commended his wife, Katie, his children and other family members for being an integral part of the annual event.