Blue Eagles hand PHS first loss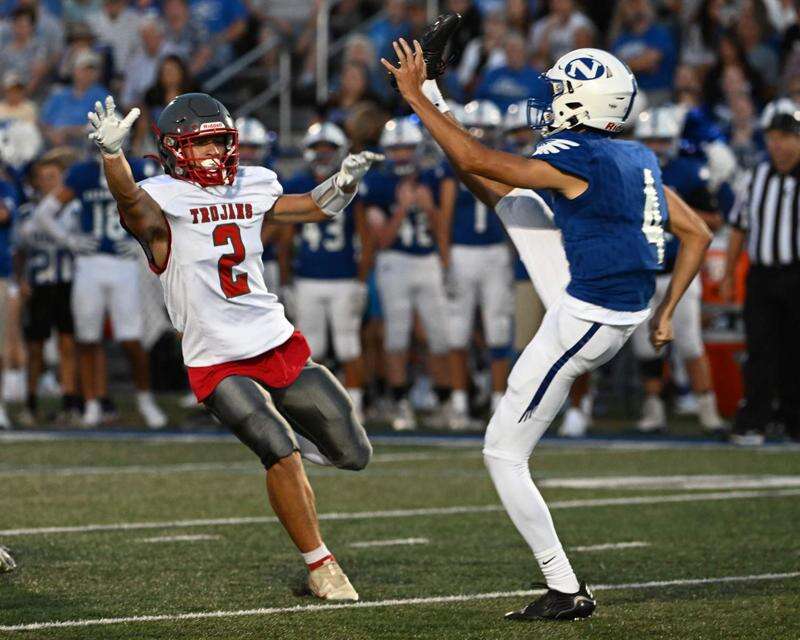 Published September 08. 2022 01:11PM
by CJ HEMERLY Special to the Press
It's not often that the Parkland High School football team gets shutout for an entire half, let alone loses a game. But both happened in its most recent game last Friday night as the Trojans fell behind 14-10 at halftime and were unable to add any more points to their total, dropping their first game of the season, 28-10, against Nazareth in Eastern Pennsylvania Conference South Division game at Andrew Leh Stadium.
The Trojans (1-1 overall, 1-1 EPC) were actually held without a touchdown for the game's final three and a half quarters after finding the end zone thanks to a 67-yard touchdown pass from quarterback Luke Spang to Trey Tremba just 1:56 into the contest. But from there, only a Gryffin Mitstifer 42-yard field goal as time expired in the first half was all the scoring Parkland had the rest of the way.
"We just made too many mistakes," said head coach Tim Moncman. "I thought defensively we played pretty well the first half. We fumbled down there to give them six [points]. And then just a couple plays here and there. They made plays on offense. We had chances, too, and we just didn't make plays. It's attitude and emotion. I don't think we played a very emotional football game tonight."
The mistakes came back to haunt Parkland.
The Trojans had two turnovers on the night, including a costly fumble on their second possession of the game following their early touchdown. The ball was scooped up in the end zone by Sean Kinney of the Blue Eagles (2-0, 2-0), who helped his team tie the score at 7-7 with 4:08 left in the opening quarter.
Nazareth then took its first lead of the night when Mason Kuehner changed direction and found pay dirt from five yards away to put his team ahead 14-7 with 4:47 to go in the second quarter. Blue Eagles quarterback Sonny Sasso then threw two touchdown passes in the third quarter to extend the advantage to 28-10. Parkland's offense was held to just 34 total yards in the second half.
"Football is about emotion and attitude, and they had it tonight and we didn't," Moncman said. "They have a really good defense and some great skill players. We made too many mistakes. It was one of those nights when everything that could go wrong did. We have a lot of things to fix, but it's a long season."
Spang finished with 11 completions for 150 yards and the touchdown, while adding 71 yards on the ground. Tremba had four catches for 85 yards and a score. Nakhi Bullock caught one pass for 43 yards.
Parkland will look to bounce back as it remains on the road for its next game at Freedom on Friday night at Bethlehem Area School District Stadium.