Bleam shakes off injury, earns gold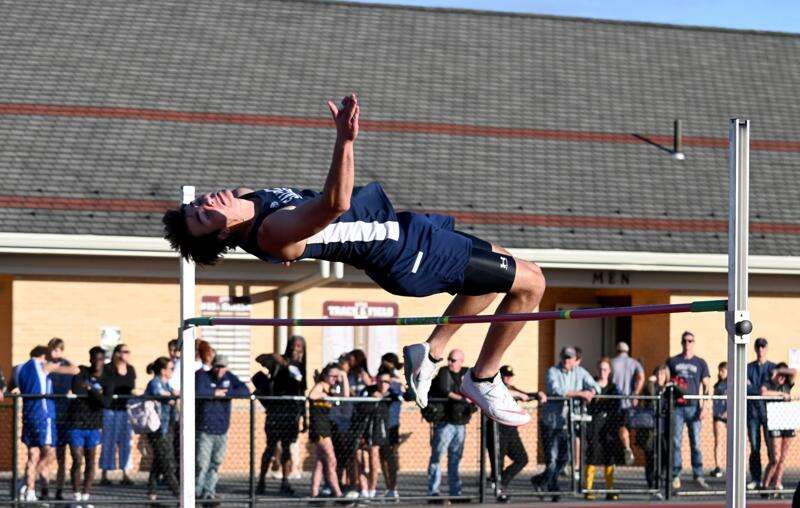 Published May 29. 2022 11:45AM
by Mike Haines mhaines@tnonline.com
Hunter Bleam had not competed in high jump since midseason when a knee injury forced him to stay away from the jumping pit for a while. He got in some practice last week then went to the Colonial League Championships for his first high jump competition since the injury.
He cleared 6-2 last week to beat Southern Lehigh's Allen Robert (5-9) by three inches.
"I'm pretty happy with that. I've been out with a knee injury for the last couple weeks," said Bleam. "This is my first time high jumping since the Southern Lehigh meet halfway through the season so I'll definitely take it.
"I've only had one practice in the last couple weeks for high jump. That practice didn't turn out too well. I wasn't even clearing 5-10 so it feels good to get 6-2 today."
Bleam was one of five Falcon medal winners who collected a total of seven medals for Salisbury, which finished fifth in the team standings at the championship meet, held at Whitehall High School last Tuesday and Wednesday.
Bleam hauled in two medals, including one gold. Tyson Utesch (pole vault) also earned gold, while Kyle Artis (triple jump, long jump) earned a pair of medals and Chase Fenstermaker (triple jump) and Ifrahim Ansari (high jump) picked up one medal each.
Bleam, who took second place in high jump at leagues last season, improved by one inch over last year's high from the meet while also moving to the top of the podium. He feels back to full strength and looks forward to this week's District 11 Championships, where the Falcons will compete in Class 2A.
"For two or three meets I was working with one leg," said Bleam. "I would just throw shot put and I tried javelin even though I haven't thrown it since freshman year. But that's what my body was able to do.
"I'm pretty much back to 100 percent. I'm excited for what districts has to bring."
The time working on throws helped the Lehigh University-bound senior to improve in that area heading into leagues. He placed second in discus and was fifth in shot put at leagues, one place away from a third medal.
His 130-foot, 6-inch throw earned him the discus medal, which was five places better than the seventh place (at 111 feet) from last season.
"I just wanted to get on the medal stand, so second place isn't too bad," Bleam said. "I'm definitely saving it for districts next week."
He also threw further than last year in shot put, getting it out to 44-4 feet last week after a 41-10 ¼ last year.
Utesch, another Lehigh-bound Falcon senior, improved on his pole vault height from last year while picking up his second straight league gold.
Utesch cleared 13-1 this season, improving over a foot on last year's 12-0. He beat second-place Taylor LaBarre (Pen Argyl) by over a foot, the second straight year they've finished 1-2 in the league meet.
Artis improved on his numbers from last year as well with career-bests in both of his jumps. His second place jump of 43-1 ¾ in triple jump was a career-best by a couple inched, while his fourth-place long jump at 20-8 ¾ was six inches further than his previous best.
"Yeah, I'm pretty happy," Artis said. "Coming in I wasn't ranked top four (in long jump) I feel pretty good about the jump and hope I can continue it."
Fenstermaker made the podium with Artis in long jump, placing third in triple jump at 41-7 ½.
"We always tell each other to get a foot PR," said Fenstermaker. "We want to get first every time. We want to be the best out there. Him being by my side is a big help.
"We're a small school and we can't compete with these bigger schools, but we can. We're always on the podium."
Ansari, who Bleam said began his throwing career this season with 80-foot throws in discus, improved all season and got himself to the medal stand with a throw of 118-7 at leagues.
Brooke Bleam was the Falcons' highest finisher in the girls meet, placing fifith in high jump.