Falcons get three pins vs. NWL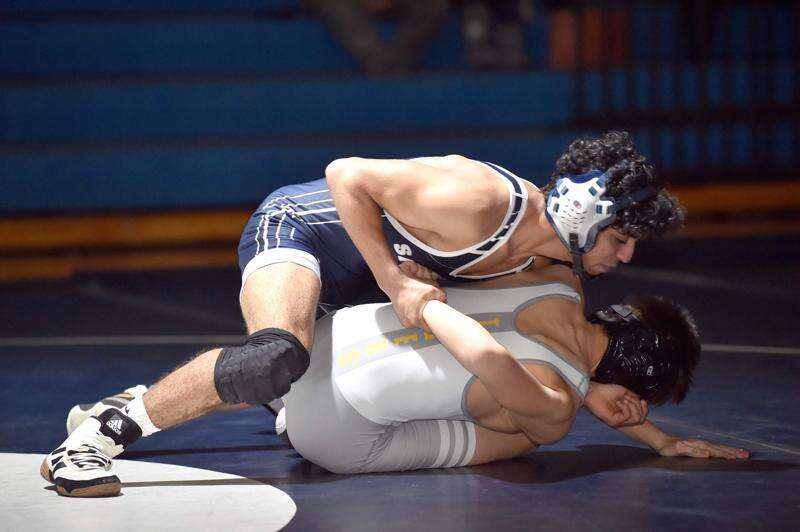 Published December 30. 2021 09:11AM
The high school wrestling season is still young. Salisbury has wrestled in a pair of dual meets and one tournament so far in the 2021-22 season.
The Falcons have eight varsity wrestlers on this year's team and seven of them have won at least one match this season.
"We still have a long way to go," said Salisbury head coach Eric Snyder after last week's match against Northwestern. "They're coming along. They work hard. Everybody on our team except one has gotten at least one win so far. It's only the third time we've wrestled and it's a long season and we've got a long way to go. The kids come in every day, they work really hard and ask a lot of questions. And that's all we can ask for at this point."
Among the eight grapplers on Snyder's varsity squad this year, three are seasoned veterans while the other five are all first-year wrestlers. For Snyder, it's like teaching students in different grades but doing it at the same time in the same classroom.
Some days his more experienced trio of John Samy, Ben Krauss and Carver Moyer will practice with another varsity team to get a new look and quality practice bouts while Snyder stays with his less experienced group and teaches fundamentals.
Against Northwestern last week, the Falcons lost 36-24, but they won three of the seven contested bouts in a match that saw three double forfeits and three forfeits.
Moyer got things started for Salisbury when he pinned the Tigers' Josie Wehr in 42 seconds in the 126-pound match.
A senior who is out for the team for the first time since freshman year, Moyer also took second place at the Kutztown Tournament this month.
Samy also won by fall against Northwestern, pinning Thomas Schneck in 45 seconds in the 138-poiund match. A junior who made it to last year's super-regional round, Samy also took second place at the Kutztown Tournament back on Saturday, Dec. 18.
The Falcons' Mason Holva, a sophomore, picked up his first win of the season when he pinned the Tigers' Katie Brensinger in 1:49.
"I think it's a big confidence boost for him," said Snyder.
Krauss, a senior and district placewinner last season, picked up a forfeit win against Northwestern.
Some other Falcons wrestled well in defeat against the Tigers.
Ifrahim Ansari battled Nathan Peters at 189 for almost two full periods before getting put on his back in 3:58. And sophomore Ethan Sandford made it to the third period before the Tigers' Eli Dellicker won the bout by fall.
Salisbury fell to 0-2 in the Colonial League with the loss to Northwestern. The Falcons will return to league action when they host Palmerton on Jan. 5. They are competing in a tournament this week, the Trojan Wars in Chambersburg where their experienced trio will see some of the best competition it has this season.
Salisbury will hold its senior night match Tuesday, Jan. 11 when it hosts Pen Argyl.