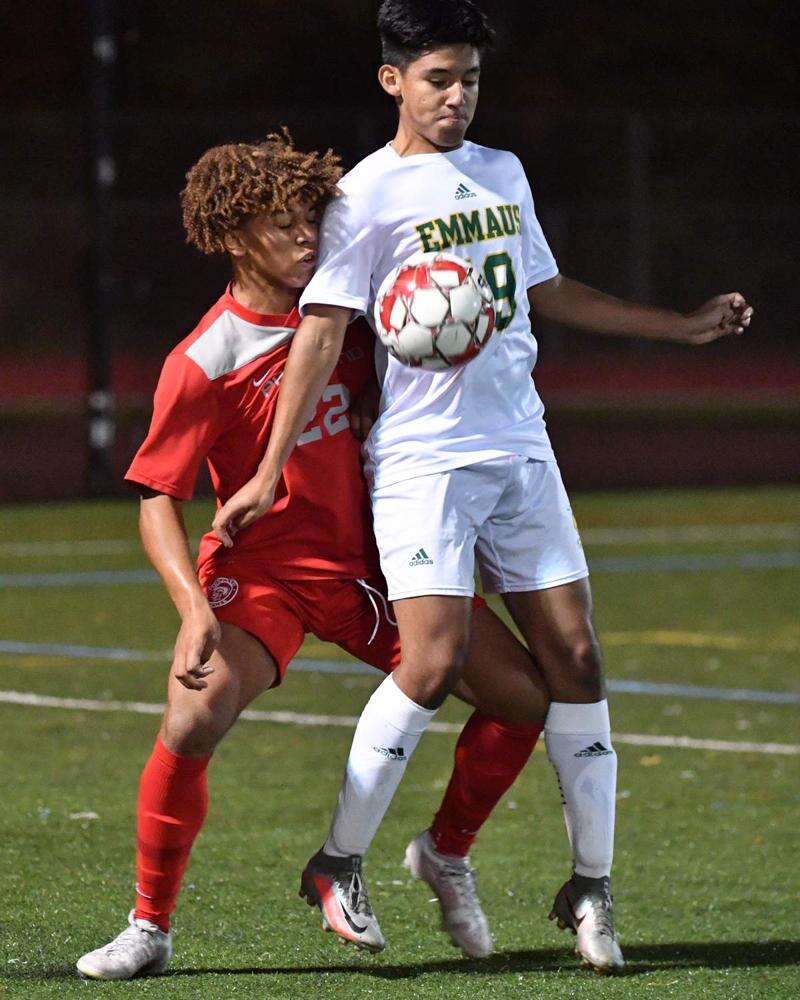 Published October 24. 2021 10:08AM
Emmaus entered the East Penn Conference boys soccer playoffs with just one win its last five games, and just two in its final seven games of the season.
The Hornets had a difficult schedule to end the season and busy one as well.
After a few days of rest, a rejuvenated team took down Nazareth 2-1 in Monday's EPC quarterfinal round.
"I knew this would be a good match up," said Emmaus head coach John Cari. "We got fortunate and hit two goals and that was the difference for us."
The No. 5 seed Hornets got an early goal from junior forward Ryan Kiernan just two minutes into the game.
Nazareth, the No. 4 seed, answered with 10 minutes left in the first half when Cole Hilarczyk found the back of the net, but the game wasn't tied for long.
Bryan Flor chipped in a bouncing ball in front of the net with 5:52 left in the first half and the goal held up as the game-winner.
"I'm really proud of that," Cari said of Flor's goal. "He just outworked the kid. A bouncing ball got in his way and he was able to take care of it and finish it. That's what I'm most proud of. That was just a work-rate goal. That was a big difference maker for us."
Emmaus didn't have a lot of opportunities but Flor made the most out of his chance.
"It's all about desire, who wants it more," said Flor. "I wanted it more than them.
"I heard them calling for the keeper. The keeper didn't come out. They got confused and I just took advantage of it."
Nazareth (15-3 overall) possessed the ball for much of the second half, but the Eagles didn't get many quality shots through a stout Hornet defense led by seniors Jaeden Amato and John Hanvey.
Emmaus (11-3-5 overall; 10-2-4 EPC regular season) was coming off a 3-0 loss to Parkland in the season finale, which followed a 0-0 tie with Central Catholic and a 1-0 nonleague loss to Downingtown West. The Hornets went 2-3-2 in their final seven games, which were all played in a span of 13 days.
"We were playing four-game weeks for four of the last five weeks," said Cari. "We were exhausted. I saw it in their eyes. We gave them of two days off. So I think they had fresh legs and a fresh mentality.
"The attitude coming into today's game was really good. Last couple games we just didn't see that heart in it."
The Hornets earned a rematch with top-seeded Parkland in Wednesday's EPC semifinals.
The Trojans beat Pleasant Valley 9-0 in their quarterfinal. Semifinal winners will play in Saturday's league title game.