EHS varsity goes 2-2; JV wins title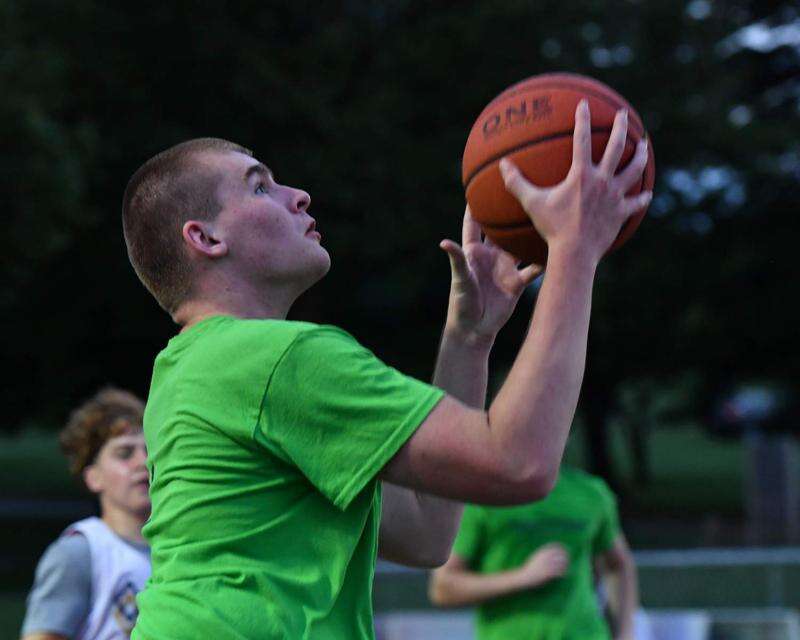 Published June 30. 2021 10:14AM
by CJ HEMERLY Special to the Press
After a year without summer competition, the Emmaus High School boys basketball team competed in its first major action this summer at the Bash at the Beach tournament last weekend at Cedar Beach in Allentown.
The Green Hornets varsity went 2-2, including winning their first two over Eastern Pennsylvania Conference opponents, and the JV team won its tournament title to highlight the weekend.
"As a whole I thought we had really competitive games that allowed a lot of kids to get quality minutes," said Hornet varsity head coach Steve Yoder. "Between JV and varsity, we played 10-plus games, and the JV took home the championship, so it was a great weekend overall."
Emmaus defeated Freedom 62-43 on opening night of the varsity tournament Thursday and then was victorious over Easton 63-49 on Friday.
"We played really well in our two opening games, and we shared the ball, defended and rebounded against two very athletic teams," Yoder said. "We just came out on the wrong end in the other two games we played."
On Saturday, the Green Hornets were taken down by nonconference teams in Hershey and Boyertown in consecutive games to finish their tournament.
"Both Hershey and Boyertown played zone on us and we hadn't seen that defense much this summer," said Yoder. "We struggled to adjust to it in the Hershey game. The Boyertown game we handled it better, but they made a few more shots than us in the end."
Brydon Crawford led Emmaus in scoring in game one with 29 points, while Ryan Diehl was the leading scorer in the game two victory with 19 points.
"We had a lot of younger players contribute significantly this weekend," Yoder said. "But Brydon and Ryan really shined the entire weekend, and their senior leadership was a big part of our success. They logged a lot of heavy minutes, and showed their leadership.
"I am sure as seniors, having missed this tournament last year, they really had a sense of how lucky they were to get one more chance at playing in it, and they really played their butts off as a result."
Yoder and his Green Hornets teams can walk away from the first major tournament of summer with their heads high, achieving success.
"There were tons of positives from this weekend," said Yoder. "What stands out the most to me is the fact that so many kids got quality minutes. Kids moved between JV and varsity throughout the weekend, to ensure we had enough players to rotate through the exhausting heat, and keep everyone from overdoing it. This allowed some of the younger players opportunities they otherwise may not have gotten. The seniors showed great leadership on the floor with a lot of the young kids, and I thought it really helped them acclimate to playing on the varsity level.
"The JV lost their opener to Central and then went through the entire loser's bracket to beat Central in the finals. The kids on both levels went home exhausted, and I think feeling pretty good about where we are headed. Now it's time to commit to the weight room, and continue to work on our craft throughout the summer."