"It's been quite a year, hasn't it?"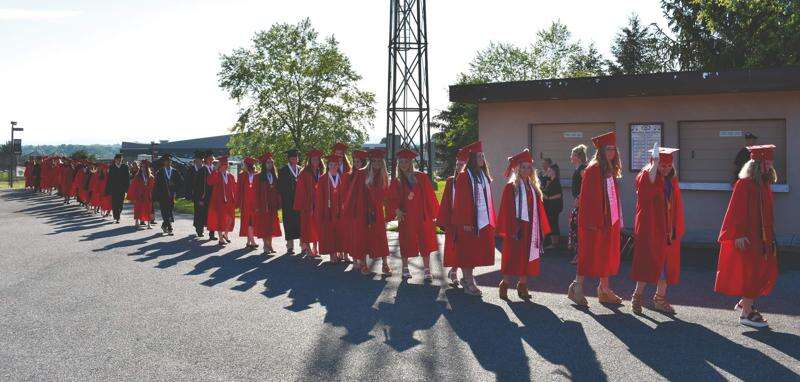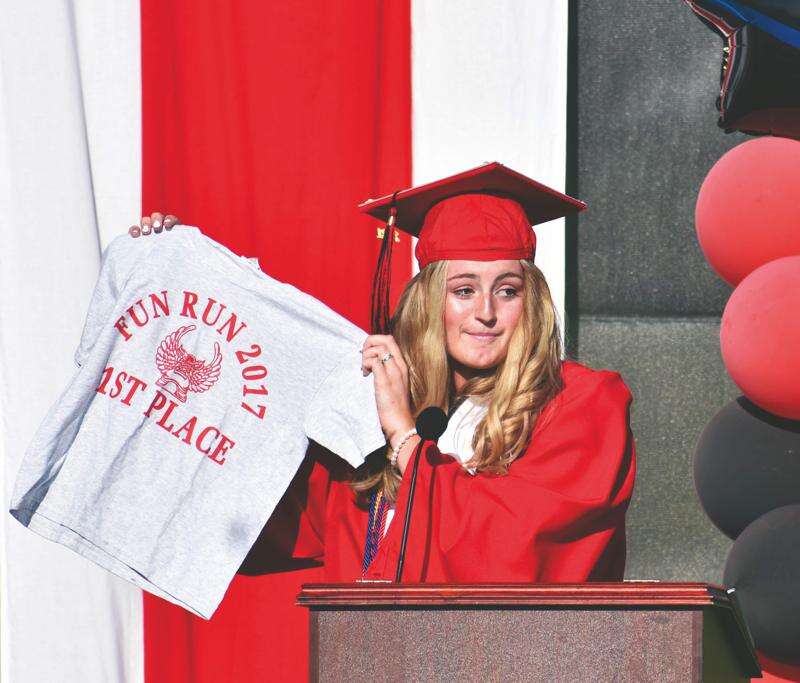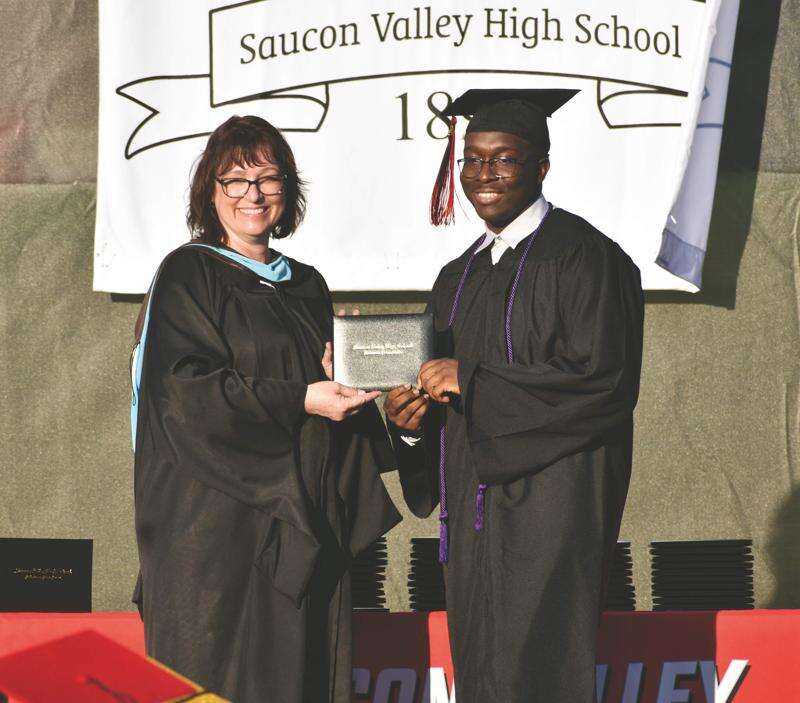 Published June 10. 2021 10:41AM
by Chris Haring Special to the Bethlehem Press
After an historically challenging school year – and unsettled afternoon weather – stormy skies broke just in time for the 124th Saucon Valley graduating class to celebrate together under sunshine and relatively 'normal' conditions at Montford E. Illick Stadium the evening of June 4.
As Principal Tamara Gary introduced the ceremony, the circumstances were not lost on her. "After a year of dealing with COVID-19 and a school year like no other, we are so happy to be here with the sun shining on this special occasion," she said.
Graduating seniors Kiya Humphries and Abigail Wieder kicked off the student-led portion of the evening by singing the Star-Spangled Banner.
The first student speaker was class of 2021 president Grace Albano, and her opening lines felt particularly poignant: "It's been quite a year, hasn't it? Today is a day of celebration, reflection over our past 12 years here at Saucon Valley and a look forward into the next chapter of our journey."
Albano addressed the Class of 2021's unique challenges. "(For) the last 15 months our class faced adversity, missing out on half of our junior year and some of us attending our senior year virtually," she said. In addition to the usual academic studies, she said the pandemic "helped teach us so much more: what actually does matter (and) who actually is important to us."
She shared some parting words of advice with her classmates: "I invite you to turn each negative into a positive. Take pride in how far we've come… Have faith in how far you can go."
Class vice president Kaleigh Hess-Davila introduced Valedictorian Helen Keetley, a National Merit Scholar whose post-high school plans include attending Colorado College and studying organismal biology and ecology.
Keetley spoke metaphorically of crossing a bridge from childhood to young adulthood, comparing it to the literal indoor bridge on campus which connects the middle and high schools. "I hope that we are all leaving here today with something shared… something that makes us able to cross that bridge," she said. "While most bridges go somewhere definite, this is the kind of bridge we can make up as we go along."
Salutatorian Mercedes Lingle, who will be attending McGill University in Montreal to pursue her master's and Ph.D. in the arts, shared her experience of moving to the district at the age of 16.
"Unfortunately, with the unconventional two years, it didn't give me much chance to settle down," she said, as she took the time to thank teachers and classmates who helped ease her transition. "My family, incredible and supportive teachers, and new friends got me through (the past year). I could have never known what to expect."
Class Treasurer Mackenzie Johnstone had the honor of introducing both student-selected speakers, math teacher Kerry Schultz and graduating senior Appoline 'Apple' Neveu.
Schultz gave an engaging, witty speech in which she spoke of her own hesitation upon being asked to speak and her subsequent desire to provide an example to students, reflecting on words from the popular county song, 'I Hope You Dance' by Lee Ann Womack.
"You know better than anybody else that on any random Friday, the whole world could shut down. Don't take anything for granted," she said. "Sitting it out may be safe and comfortable but who knows what could happen if you dance," adding: "When you choose to dance, please take out your earbuds, put down your phones, allow yourself the full experience."
Neveu, who plans on attending Lehigh University to study neuroscience and play soccer, also shared words of encouragement with her departing classmates. "Our expectation of what high school would look like since a young age was entirely spun around" due to COVID-19, she said. "We all seem to have gained a newfound appreciation of what's around us."
Neveu also honored classmate David Osman, whose quick thinking-turned-action as a passenger in late April helped save the life of his friend who suffered a seizure while driving on Depot Street near Dimmick Park, as well as several pedestrians in the way of the out-of-control vehicle. Osman, who also served as Homecoming King, was greeted with two rounds of applause from the crowd.
Before the distribution of diplomas, Albano had a request for her classmates: "What's a graduation ceremony without a 'selfie' at the end?" She asked the crowd to gather in the center of the field and took a photo with her class from the stage.
On a countdown from three, tassels were turned and caps were tossed. Gary provided the final words of the ceremony to her now-former students, fittingly reminding Saucon Valley's newly-minted graduates: "Once a Panther, always a Panther!"