Emmaus wins three straight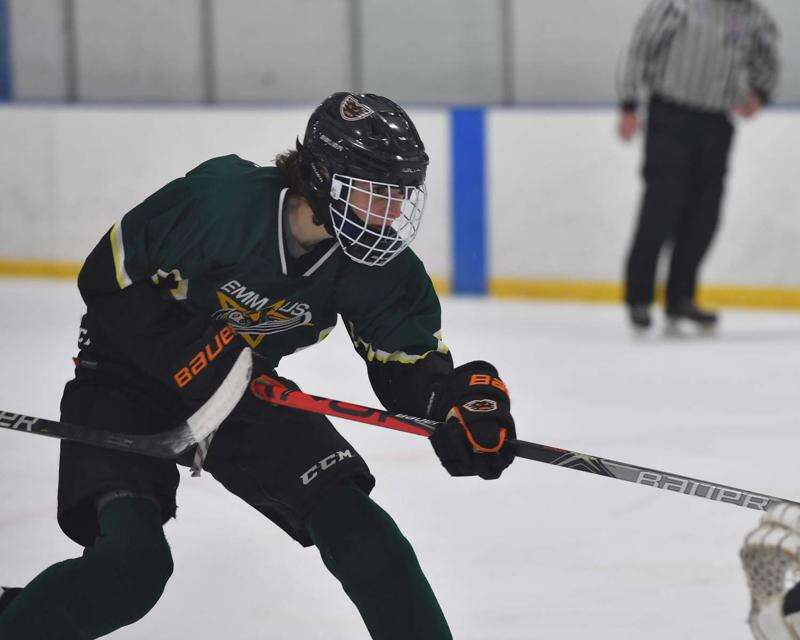 Published February 18. 2021 05:12PM
It's too bad that the Emmaus High School ice hockey team won't see more of Easton Area High School on its schedule this season, because after recent games between the two teams, the Green Hornets would benefit playing against them.
In a span of three days, Emmaus defeated the Red Rovers twice, by a combined score of 23-2 in Lehigh Valley Scholastic Ice Hockey League action. On Friday, February 5, the Green Hornets won 13-1, and the following Monday they were victorious 10-1, both at the Lehigh Valley Ice Arena.
Emmaus is now on a three-game win streak thanks in large part to its recent offensive surge.
"Not only has our offense been scoring, but our entire team, even our goalie, has had a recent assist," said forward Hunter Engelman. "Our defense has put up numerous points on the scoreboard. Two out of the top three points leaders on our team are defensemen. Several of our offensive players have had recent hat tricks."
Before this recent win streak, the Green Hornets struggled, losing four in a row. Engelman feels that continuing to play more and his teammates getting to know each other better has helped.
"I believe the key to being on a three-game win streak is our team chemistry," Engelman said. "With these games happening late in the year, my teammates have been getting comfortable with their positions and line mates, which has led to greater success. Even with the pandemic, the team's attendance has been very fortunate."
This year's edition of the Emmaus team is experienced, having played hockey outside of just the regular high school season.
"Some strengths for us this year us that we have a much older team this year with higher skill," said Engelman. "Many of my teammates also play club ice hockey. Every member of the team contributes in one way or another."
The Hornets are 4-6-0 and in sixth place in the LVSHL standings with more games left in the regular season. Emmaus faces Parkland on Friday, followed by Southern Lehigh on Monday. Both games are at the LV Ice Arena.
"Our last two games are against Parkland and Southern Lehigh," Engelman said. "We played Parkland early on in our season and it was a close game. I believe that we are a much better team now than we were in October when we first played Parkland. As for Southern Lehigh, this could be anyone's game. I also hope to have everyone healthy, on the ice, and to keep putting pucks in the net."
Emmaus's Ryan Bonfrancesco is seventh in the league with 18 points on nine goals and nine assists this season. Some other team stat leaders include Engleman (5 goals, 11 assist), Liam Porreca (5 goals, 11 assists), Tyler Adams (6 goals, 9 assists), Nicholas Hurlburt (5 goals, 7 assists), Owen Porreca (4 goals, 6 assists), Joshua Scherer (5 goals, 2 assists), Luke Hoffman (3 goals, 2 assists) and Kyler Kuzar (5 goals).