Smith crosses 100-win milestone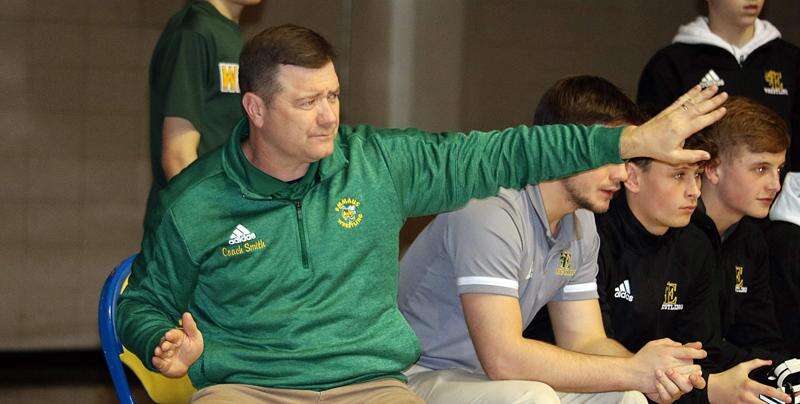 Published February 18. 2021 11:12AM
Six minutes is not much time. But 360 seconds on a high school wrestling mat can be a thrilling epic of agility, strength, technique and combat.
For much of his life, Emmaus varsity wrestling head coach Thad Smith has been enamored by those six minutes of controlled violence. The match is where preparation, conditioning, education and plain old hard work culminate in a verdict.
"It's a six-minute bout, not a 60-second bout," Smith said of wrestling during the 2019 Zephyr Wrestling Duals at Whitehall High School. "We're trying to teach the guys we want to be heavy, heavy, heavy. Wrestle heavy, tire your opponents out."
In securing victory, Smith's teams over the years have tired out many an opponent. The total for Smith's career hit 100 when the Hornets defeated Whitehall on Jan. 27.
"I've had the opportunity to be a head coach of a high school program for 10 years," Smith said. "One hundred wins is not something I set out to do, but it is nice to accomplish. I've been fortunate to have great athletes with which to work and supportive administrations and takedown booster groups."
Eleven of those 100 wins came at Northwestern Lehigh High School. The Tigers gave the still wet-behind-the-ears Smith a shot at turning around a struggling program.
"Northwestern was on the death penalty," he said recalling his first head coaching assignment. "I was given two years to get the program up and going."
Smith got the Tigers "up and going." He started with four wrestlers and eventually developed a full lineup that helped turn the program into winners.
In 1998, Smith for the first time took over the Emmaus program. He took the helm after "an unfortunate situation and had some hurdles to overcome, and we did." Overall, the contrast with his New Tripoli tenure was evident.
"At Emmaus I was fortunate to take over teams that were decent programs and I knew the wrestlers because I teach there," Smith said.
His love for wrestling, however, was not as great as love for family. With 5-year-old twins at home and another son on the way, Smith relinquished the Hornet wrestling reigns. His first stint produced 55 wins and a league title. The final three of those five years resulted in 35 wins and a Lehigh County title. Leaving coaching wasn't easy.
"I was needed at home and could not give 100 percent to the team," he notes. "It was hard to step away because I knew we had a really good team coming back, but it was the right thing to do."
Five years later the time was right to return to the gym, this time as the junior high school coach. Over the next 10 years, Smith methodically cultivated the program's depth and consequent growth. This culminated in 2018, when he was named the District 11 Junior High School Coach of the Year. Later in the year, for the second time Smith became the high school program's leader.
"Both times (at Emmaus), I was not looking to be a head coach," said Smith. "But the timing and conditions were right and I am glad I decided to take on the position."
Smith credits the Emmaus wrestling feeder system for much of his success.
"Our youth program has turned out some great wrestlers and has made my job in high school a lot easier," he said. "They come prepared and we just need to refine them. Without the great assistant coaches we have, this milestone would not have been possible."
Time and circumstance have not dulled Smith's love for the sport. Although he is a middle-aged man, when discussing wrestling he becomes a boy.
"Wrestling is more than wins and loses ... it is about winning and learning," he said. "It is one-on-one and when it is all over, you get all the credit or all the blame. Lessons learned in wrestling last a lifetime. It develops character like no other sport. Those lessons translate very well into life. You get out of it what you put into it."
As a social studies teacher at Lower Macungie Middle School, Smith's passion for education has extended from the classroom to athletic competition and in particular, wrestling.
"I really enjoy the teaching part of the sport," said Smith. "Wrestling made me who I am today and I want to give back to the sport like my mentors."
Those mentors include Greg Shoemaker, who served as Smith's middle school coach. Today, Shoemaker and his wife are Smith's sons' godparents and Smith credits Shoemaker for realizing that "wrestling is life and you have to work hard to be successful at both."
Wrestling has fostered many Smith friendships. He remains in touch with various wrestlers he's tutored. Kenny Ardnt, who wrestled for Smith all four years of high school and was his assistant on the junior high school team for 10 years, is someone with whom Smith is particularly pleased.
"Seeing him take over the junior high team and continue to make it successful really makes me proud," Smith said. "I love to see young men give back to the sport that gave them so much. Kenny is a great example of that."
One other thing wrestling may have done for Smith - discovering the allusive fountain of youth.
"The sport is still fun and spending time with wrestlers keeps me young," he said.