At the Movies: What's playing at The Roxy?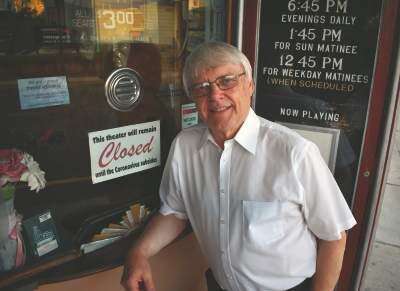 Published June 27. 2020 12:00AM
In the musical, "Guys and Dolls," Nicely-Nicely Johnson and Benny Southstreet ask, "What's playing at the Roxy? ... I'll tell you what's playing at the Roxy."
The answer for what's playing at The Roxy movie theater in Northampton, Pennsylvania, is: Nothing.
And nothing will be playing at The Roxy anytime soon.
When coronavirus (COVID-19) pandemic shutdowns spread across the United States and the world, the release dates of movies were postponed.
In the Lehigh Valley, multiplex cinemas AMC, Regal Cinema, Movie Tavern and New Vision, closed since March 17, are scheduled to open now that Lehigh and Northampton counties are in the Green Phase, as of June 26.
"We now expect that on July 15, AMC will open approximately 450 theater locations around the country, representing more than 90 percent of movie-going at AMC," announced Adam Aron, AMC CEO and President, in a June 18 email.
As of the deadline for this article, Civic Theatre of Allentown; Frank Banko Alehouse Cinemas, ArtsQuest Center, SteelStacks, Bethlehem, and Emmaus Theatre are streaming movies only, with a portion of fees paid by at-home viewers benefiting the theaters.
Mahoning Valley Cinema, Carbon Plaza Mall, announced April 21 that it would not reopen.
Meanwhile, drive-in movie theaters are the go-to places for cinema.
In the Lehigh Valley, Shankweiler's Drive-in Theatre, Orefield, North Whitehall Township, and Becky's Drive-In Theatre, Lehigh Township, reopened in June.
The Mahoning Drive-In Theater in Carbon County sold out several weekends of retro and classic films screenings.
The Roxy Theater in Northampton sold-out its marquee.
With coronavirus pandemic social-distancing requirements, the Roxy Theatre, celebrating 50 years of operation under owner-manager Richard Wolfe, cannot reopen.
Wolfe rents out the Roxy's classic Main Street marquee: $50 for 24 hours, $75 with the marquee lit. Graduation congratulations are among the coming attractions.
"Two-thirds want it lit up," Wolfe says in a phone interview. "It took us three days to sell out the entire month of June [for the Roxy marquee]. And now we've sold out the month of July."
The Roxy, which first opened in 1921, was host to a legendary WSAN concert series from 1973 to 1975 headlined by the likes of Billy Joel, Bruce Springsteen, Blood Sweat & Tears, and KISS.
The approximate 550-seat Roxy Theatre, which shows second-run movies for $3, states on its website: "The governor of Pennsylvania has ordered all non-essential businesses in the commonwealth to close due to the coronavirus. Therefore, the Roxy Theatre will remain closed until further notice."
The Roxy website also states: "Watch for these popular movies coming eventually" followed by a "?"
In the Green Phase, The Roxy, as well as stage show, concert and other movie venues, will be limited to gatherings of 250 or fewer, according to the Pennsylvania governor's office website.
"I don't see a way that we can reopen until everything goes back to normal as it was before we were closed down," says Wolfe.
Challenges for the Roxy include a concession stand in a small lobby, upstairs bathrooms and the need to add more part-time staff.
"Every aspect [of Pennsylvania phases regulations] makes the cost of operation higher, but we're limited with how many tickets we can sell.
"No matter how I figure it, the theater would lose more money being open, then it is now being closed," Wolfe says.
"At this point, I'm willing to wait. I'll wait 'til Christmas if I have to," says Wolfe.
A temporary casualty of the Roxy Theatre closing: popcorn.
"I donated the popcorn to a chicken farm. It was 35 pecks," says Wolfe.
Drive-ins typically reopen in mid-April in the region and stay open until Labor Day or after.
Coronavirus requirements have cars parked six feet apart and masks worn for a walk to the concession stand or bathroom.
Shankweiler's Drive-In and Becky's Drive-In reopened June 5, just in time for "National Drive-In Movie Theatre Day," June 6, also known as "Hollingshead's Day," for Richard Hollingshead, who opened the first drive-in movie theater in the United States, June 6, 1933, in Camden, N.J.
Wilson Shankweiler opened Shankweiler's Drive-In, Pennsylvania's first drive-in and second drive-in to open in the U.S., April 15, 1934.
Shankweiler's, now in its 86th season, reopened with "Onward" and "The Call of the Wild," June 5-7; and screened "The Hunt," June 8-11; "E.T. The ExtraTerrestrial" and "Back to the Future," June 12-18, and "Jaws" and "Jurassic Park," June 19-25, and "Zootopia" and "The Avengers," June 26 - July 2 (closed July 1 for private event).
Shankweiler's sold out its June 13 screening. Capacity is 290 cars, but with the 50 percent or less coronavirus capacity rules, 140 vehicles are permitted.
"We're doing all that's humanly possible to keep people safe," says Paul Geissinger, owner-manager of Shankweiler's since 1984, "We've gone to a lot of expense to make that happen.
"People want to get out and be entertained. And we're here to entertain them," Geissinger says in a phone interview.
Becky's, which is in its 74th season and has two outdoor movie screens, reopened with "The Invisible Man," "The Hunt," "Trolls World Tour" and "Sonic The Hedgehog," June 5-7; and screened "The Goonies," "Jumanji: The Next Level," "The Invisible Man" and "Knives Out," June 13-18, and "Jaws," "Jurassic Park," "Despicable Me" and "E.T." June 19-25; "Grease," "Footloose," "Ferris Bueller's Day Off," and "Beetlejuice," June 26-July 2 (except for June 27)
Becky's booked "Garth Brooks: A Drive-In Experience," June 27, in what's said to be the largest-ever one-night concert screening at 300-plus drive-ins in the United States and Canada.
Becky's held a "Drive-In Movie Character Greet," noon-2 p.m. June 20 to benefit The Literacy Center of Allentown.
Becky's hosted 2020 commencement events, including for Southern Lehigh High School, June 11, with photos of graduates projected on the big screen.
The Mahoning Drive-in, along Seneca Road off Route 443, sold out June 5 and 6 screenings of "The Wizard of Oz" and "Willie Wonka and the Chocolate Factory," the double-feature that annually opens its season.
Also sold out at the Mahoning: "Mad Max Films," June 12, 13; "Superman Super Show," June 19, 20, and "Drive-In Zombie Fest VI," June 26, 27 with tickets possibly available June 28.
Also: "E.T," June 25, hosted by the Carbon Chamber and Economic Development; "Rocky Balboa Bash," July 3, 4; "Medieval Mahoning ('Robin Hood Prince of Thieves,' 'Monty Python and the Holy Grail,' July 17, 18; "Videogame Weekend," July 31, Aug. 1, and "Troma-thon at The Mahoning Drive-In (Troma Dance 2020)," with filmmaker and Troma Studio founder Lloyd Kaufman scheduled to attend, Aug. 7, 8.
"Sold-out" at the Mahoning Drive-in is now not its 1,000-car capacity, but 500 cars, which is the 50 percent capacity limit imposed by the governor's office.
Tickets are sold online per person in advance only. Movie-goers can bring their pet dogs. Gates open at 6 p.m. The first film usually unreels at about 9:15 p.m.
If a movie-goer doesn't have a mask, he or she may purchase one emblazoned with Mahoning Drive-In at the merchandise stand, where sweatshirts and T-Shirts are sold.
A documentary film about the Mahoning Drive-in, "At the Drive-In" (2018), shown at the South Side Film Festival, Bethlehem, and streamed on Netflix, expanded the Mahoning Drive-in's potential audience. On a recent weekend, among the vehicles with Pennsylvania license plates were those with New Jersey, New York, Maryland, Virginia and Ohio plates.
"We have people coming from all over," says Jessica Pell, concession stand, public relations and human resources manager for Mahoning Drive-In, established in 1949.
The documentary film chronicles the successful efforts of Jeff Mattox, owner, and Virgil Cardamone, business partner, to retain the Mahoning Drive-In 35mm projection equipment. The drive-in also has a VHS and digital projection system.
"The documentary [film] was huge in helping people find out who we are and falling in love with us," says Pell, now in her 11th season working for Mahoning Drive-In.
"I think people are just itching to get out of the house. The drive-in is a safe way to do it," Pell says in a phone interview.
Next week: "At the Movies": Movies unreeling in cinemas, at home, with many postponed.
Paul Willistein is editor of the Focus features section in the eight Lehigh Valley Press newspapers and on the eight Press websites. Email Paul Willistein: pwillistein@tnonline.com; friend Paul Willistein on facebook and follow Paul Willistein on Linkedin, Twitter and Instagram.