SHS Theatre presents '9 to 5 The Musical'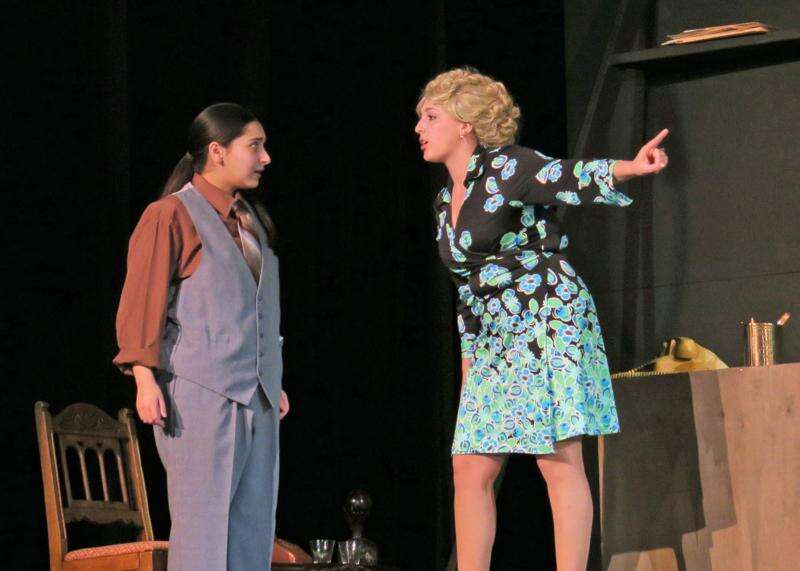 Published March 16. 2023 02:17PM
by Debbie Galbraith dgalbraith@tnonline.com
Do you remember the hit movie "9 to 5" with Dolly Parton, Jane Fonda and Lily Tomlin as three frustrated office workers who take control of their office and prove the power of women in the workforce?
"9 to 5 The Musical" is based on that movie, with music and lyrics by Dolly Parton and book by Patricia Resnick. It will be performed by Salisbury High School students 7 p.m. March 16, 17 and 18 and 2 p.m. March 19.
The show is presented through special arrangement with Music Theatre International.
"I knew I had to pick a musical with strong female leads: no 'shrinking violets' for these ladies (pun intended), Director Shannon Barry O'Grady said. "I spent hours pouring over plot synopses and cast albums until I found "9 to 5." And while I remembered the film from my childhood, I didn't know the musical.
"As soon as I started listening, I was hooked. I've always loved Dolly Parton and found her to be a genius songwriter as well as inspirational human. (The Dolly Parton's America podcast quite literally changed my life.) There are so many songs in this show that inspire me and others all over the world. If you listen closely to the lyrics of "I Just Might" and "Change It," they just might renew your hope for the future."
Members of the cast include: Mia Bernard as Violet Newstead, Cassie Daw as Candy Striper, Karina Hernandez as Roz Keith, Anthony Jarjous as Bob Enright, Chloe Jarjous as Franklin Hart Jr., Emerson Juhasz as Josh Newstead, PJ Juhasz as Doctor/Tinsworthy, Hannah Kamp as Missy Hart/Princess, Will Kocher as Dick, Soledad Lausch as Maria Delgado, Mikayla Lighting as Joe, Michael McWhorter as Detective/Security Guard, Bella Natosi as Doralee Rhodes, Rae Schnable as Kathy, Kate Smith as New Employee/"Change It" soloist, Faith Spellacy as Margaret Pomerance, Grace Spellacy as Judy Bernly and Mady Williams as Dwayne/Princess.
Dancers are Beatrice Carag, Livi Cudd, Izzy Gualano, Alanah Kmmerer, Tammy Rodriguez and Rae Schnable.
Rounding out the cast will be a special appearance by School Resource Officer Rich Nothstein as "Cop."
In addition to directing the production, O'Grady is also the choreographer, costume and prop design. Other key roles include Musical Director: Zach Montenegro. Set design: Chris West, Lighting Design: Haley Brown, Stage Management: Hailey Bender and Claire Nichols, Dance Captain/Assistant Choreographer: Izzy Gualano, Hair and Makeup: O'Grady, Gabriella DeJesus, Rae Schnable and Janai Williams, Guitarist/Assistant MD: Chad A. Miller, Spot Operator: Nathan Staack, Sound Operator: Hailey Bender, Light Operator: Claire Nichols, Flyer/Program/Scenic Art Design: Grace Spellacy, Assistant Scenic Artist: Anthony Jarjous, Build/Paint/Costume/Prop Crew: Rae Schnable, Michael McWhorter, Grace and Faith Spellacy, Hailey Bender, Beatrice Carag, Mia Bernard, Nathan Staack, Will Kocher, Bella Natosi, Izzy Gualano, Kate Smith, Chloe and Anthony Jarjous, Claire Nichols, Soledad Lauch, Karina Hernandez, Alanah Kemmerer, Liv Cudd, Robin Daw, Herb Bender and Gus Schnable.
O'Grady said along with the "catchiest theme song of all time, ... look closer and you will find not only huge laughs, but huge heart and a deeply important message. Too often throughout history, the 'little guy' puts in the long hours while the 'big guys" get all the credit ... and all the money! Countless businesses exploit the blood, sweat and tears of those at the bottom, while those at the top do so little labor. Yet upper management rarely listens to the ideas of those who make up the backbone of their companies - ideas that would make the hardest workers happier, healthier and therefore more productive!
"The bottom line? When women work together to make things better, the results are amazing. #WhoRunTheWorld" O'Grady said.