Kids get Turkey Day victory NHS has gone 24-2 over last two seasons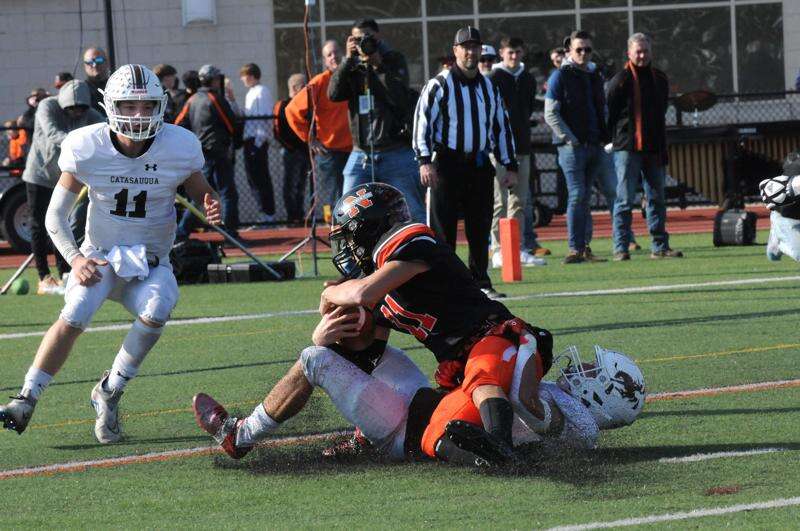 Published December 01. 2022 09:09AM
by Jeff Moeller Special to the Press
Northampton's 42-13 victory over Catasauqua on Thanksgiving Day gave the Konkrete Kids their ninth straight win over the Rough Riders in their annual holiday bowl during the 99th meeting of the series.
More importantly, though, it also was about the bigger picture for the Kids. With the triumph, Northampton has now won 24 of their last 26 games, posting consecutive 12-2 campaigns under second-year head coach John Toman. They went undefeated in the East Penn Conference (EPC) North Division for two consecutive years.
For the season, the Kids scored 529 points and gained 4,565 yards. They averaged 40.6 points per game and allowed an average of
"I'm glad we could end on a positive note for our seniors," said Toman. "Being 24-2 over two seasons is something to be extremely proud of.
"As for the Catty game, we dominated, and although they had a little success early on, their only touchdown came on our mistake. We basically gave them nine points on specials."
Senior quarterback Antonino "Nino" Russo finished his lone season as a starter completing 104 of 162 attempts for 1,435 yards with 16 touchdowns and five interceptions. He also rushed for 277 yards on 61 carries and scored twice.
Russo was impressed with his team's execution on Turkey Day.
"I thought we executed well all around against Catty," he said. "We came out strikingly fast and we knew we needed points on the scoreboard quick because we knew Catty's offense is a ground and pound.
"Without some special teams errors, the game is close to a shutout."
Russo also cherished every moment along the way.
"Overall this season, I am beyond proud and excited for what my team and coaches have done and overcome. Firing this program back up was the main goal of everyone on this football team and staff this year. It was a great season, and I couldn't have wished it to be with any other coaching staff and teammates."
Junior Caden Henritzy rushed for 1,458 yards on 205 carries for a 7.1 average with 20 touchdowns this season. He realized the significance of the season in a few ways.
"It was a great game (against Catasauqua), and we are all grateful that we were able to send the seniors out on a high note," said Henritzy. "We were all grateful that we came out with a win. We are proud to be a part of the tradition.
"The team this year was something special. We are all going to miss playing with the seniors. Not a lot of teams get an opportunity to go undefeated (in their league) two years in a row in the regular season.
"The playoffs obviously did not go the way we planned, but it was still a great season, and we made history once again with the most wins in school history with 12."
Senior wide receiver Jaelen Richardson, who caught a team-high 34 passes for 515 yards with seven touchdowns, was happy to play his part and recognized the significance of their accomplishments.
"We came out and took care of business to get the 12th win," he said. "It was a great season, and to come out and get 12 wins in a season for two years in a row isn't easy.
"I was glad I was able to be a part of two historic seasons at Northampton."
Senior lineman Luke Baker also enjoyed the ride.
"This year probably has been the most fun, and it was an emotional year," said Baker. "Being my senior year, I had to leave it all out there playing for my teammates, pushing them, and pushing myself.
"The coaches pushed us in practice, taking every one seriously and taking it one day at a time. Each practice we had a goal to get better every day.
"Starting the past three years has been fun even with the coaching change my junior year. Coach Toman had to trust us from watching us on film, and he believed in us to play our best. The senior class has laid the foundation for years to come at Northampton."