PHS takes boys soccer title in double OT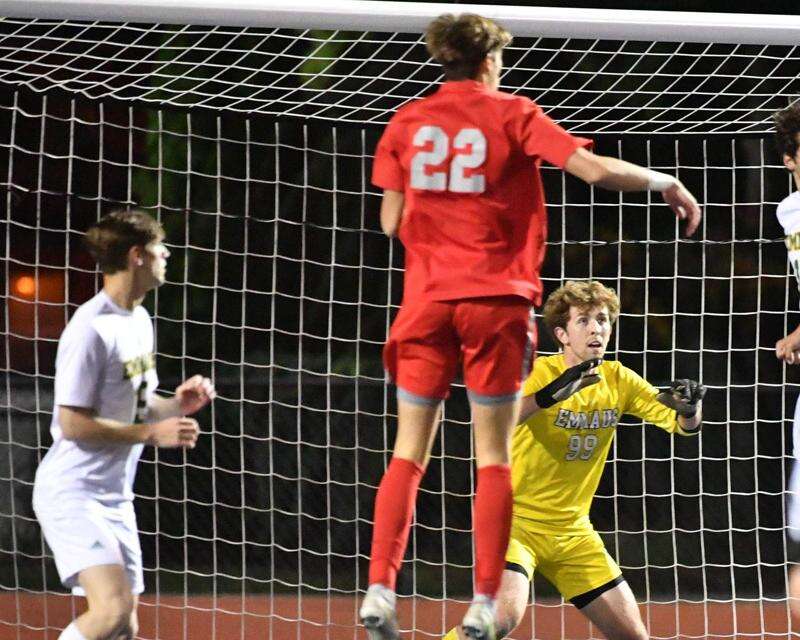 Published November 17. 2022 11:30AM
by CJ HEMERLY Special to the Press
Following the girls district final that preceded them and went into double overtime between the same two programs, the Emmaus and Parkland High School boys soccer teams followed suit. Eighty minutes of regulation and 15 more in the first overtime was not enough to decide it.
A Trojans goal with 8:04 left in the second overtime propelled them to a 1-0 win over the Hornets in the District 11 4A championship game last Thursday night at J. Birney Crum Stadium.
Emmaus (17-4-1 overall) was looking for the winning goal when Parkland countered with the game-winning play.
The Hornets sent nearly every player forward for a corner kick on their offensive end. After the ball was sent in toward the goal, it took a couple of deflections before it was sent out of the zone to the foot of Joshua Daniels. Daniels then passed to his teammate, Logan Thrash up field. Thrash passed it back to a cutting Daniels, who finished off a shot to win the district title.
"In those situations you kind of have to press and go for it and we did," said Emmaus head coach John Cari. "We threw numbers up and they had a really good counter and finished on it. No shame. I thought it was a hard-fought game. I am super proud."
The Green Hornets had their chances during the 80 minutes of regulation. They had a ball played in to the penalty area where it was headed in for a goal. Unfortunately, it was called back for offsides and disallowed.
"I thought we had a really good half in the first half," Cari said. "I think the fact that we couldn't put any away, that really hurt us. I thought they were tired coming out of half and I think Parkland really gained some momentum. That first overtime they took eight shots. They were all over us."
The defeat snaps a three-year streak of district championships for Emmaus. And with the new guideline from the PIAA, only one team from District 11 qualifies for the state tournament. Parkland advanced and will take on Central Bucks East in the first round.
"When we saw that happen, we knew that'd be a shame," Cari said. "It's tough. It's hard. It's out of my control. It's a state decision. We wish (Parkland) the best. I hope they make noise in the tournament."
Max McGrath finished with six saves in net for Emmaus.