Tiger golf season is well underway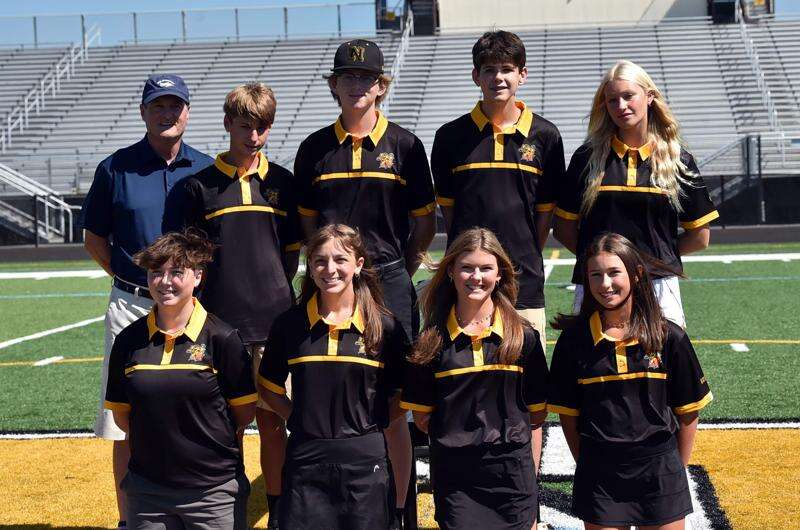 Published September 02. 2022 12:43PM
by Mike Haines mhaines@tnonline.com
While most fall sports teams have just gotten their seasons underway in the first week of September, high school golf teams across the state have half their season in before school starts.
Northwestern opened the season on Aug. 11 and was 1-5 in its first six matches as the Tigers develop a young team after six seniors graduated from last year's roster.
Returning juniors Stone Sosnovik and Erik Mather are back for the Tigers, along with third-year varsity player in senior Mary Frey, who is one of five girls on this year's team and it's only senior.
"From a really inexperienced team," said Northwestern head coach Tim Miller, "I am very excited about our two returning juniors Stone Sosnovik and Erik Mather, and our two freshmen female golfers Gracie Scheffler and Avri Chandler. They have both exceeded my expectations already in matches."
Other returning players include sophomore Jon Conti and sophomore Addison Remaley.
The rest of this year's roster includes juniors Juddah Allred, Hayden Gabel and Ethan Kozlowski; sophomores Cole Hausman, Caden Monahan, Kaden Rausch and Celina Ruddell; and freshman Gavin Dwane.
While the Tigers compete as a coed team, they also have the option to field and all-girls team in the postseason, which requires just five players.
With very few teams, often none, in District 11 having enough golfers for an all-girls team, any school that enters one in the postseason has a very high chance of advancing to regionals without any competition.
"I'm hoping down the road Northwestern Lehigh might be able to field an all-girls team," said Miller. "We have some girls that are showing some talent. And they're very enthusiastic and very coachable."
While that could happen this year or sometime in the future remains to be seen, but it won't be long as the team will conclude its regular season Sept. 12 with a home match against a strong Palmerton team.
The season is crammed into 31 days but many of them aren't an option to contest high school matches as most courses are too busy Friday-Sunday to accommodate them.
With just eight players in a varsity line up and most teams having 4-6 regulars in those spots, it can be hard for coaches of young teams like this year's Tigers to get them varsity match experience. Their short 12-match seasons begin after just a few days of practice.
"Our golf season is a month long," said Miller. "We don't play on weekends. We play on weekdays. What it comes to is we are playing 12 golf matches in 20 weekdays.
"It's hard to juggle to keep the underclassmen involved. I think we're doing a good job with the juniors and the senior on the team. They have taken the younger ones under their wing a little bit and led by example. And we have the utmost support from the administration and the athletic department."
While the Tigers had some difficult matches early this season, falling to Notre Dame, Palmerton, Moravian Academy, Southern Lehigh and Pen Argyl, they picked up a win against Bangor and will look for a few more as the team gains experience.