Pyle's walk-off homer puts BC in 4A title game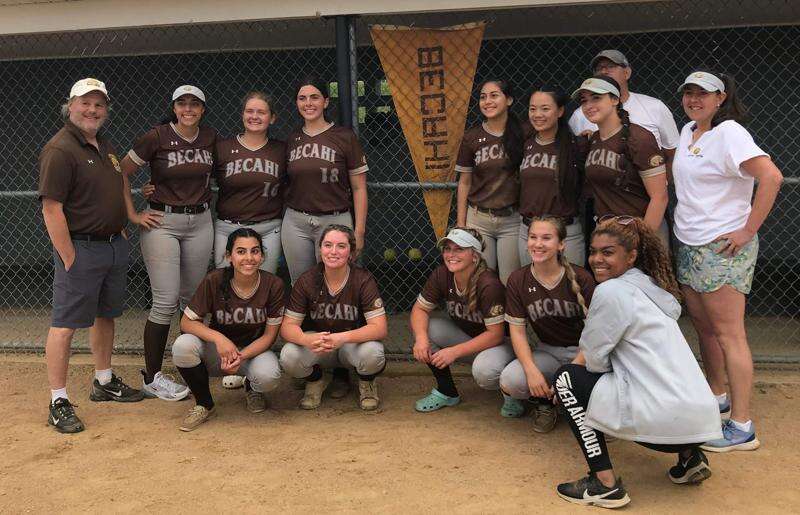 Published June 02. 2022 07:23PM
by Katie McDonald kmcdonald@tnonline.com
Bethlehem Catholic second baseman Hailey Pyle delivered a heart-dropping, two-run, walk-off home run to Tamaqua in the Golden Hawks' 7-6 victory over the Raiders in a District XI Class 4A semifinal last Thursday at Northwestern Lehigh.
"I knew it was over right away," Pyle said. "I started slowing down right out of the box. I looked over, and everyone was going crazy."
Trailing 6-4 in the bottom of the seventh inning, Becahi's top-of-the-order finished what the Hawks started with leadoff hitter Jordan Merklin's solo home run.
"Honestly, it's hard to come back... but we've done it in the past, so I had no doubt we would do it again," said Merklin, who had 2 RBIs in the fifth inning but was called out at third base on Pyle's single. "My main priority was to get on base, and throughout this game, I got little scratches over there, so I had anger that just all came out. Everything that led up to that home run built up."
After Merklin's homer, Leah Chladny knocked a single to center field, and the tying run was now on base, but Pyle had other ideas.
"I just had to get my foot down, see a ball down, and crush it," Pyle said.
Becahi will now take on Northwestern Lehigh for a district title on Wednesday, past Press deadlines.
"I knew as soon as she hit it, it was gone. She doesn't mess around. When they're gone, they're gone," said Becahi coach David King of Pyle's homer. "I just wanted to get runners on and extend the inning. I thought we had the potential to do it. You know, you can hit the ball hard in this game, and it's right at somebody, but you saw, you don't have to hit it hard, you've just got to put it in play."
Both teams were scoreless for 3 1/2 innings until Becahi catcher Teighan Boyle hit a solo home run to left center field.
Tamaqua tied the game on an RBI single by Riley MacMillan.
Beca took the lead back, 3-1, on the base running of Kristal Torres, and Merklin's 2 RBI base hit, but the Hawks' lead was short-lived.
Tamaqua pitcher Bryn Clifford scored on an error, as did Addison Krall. Then, on a mental error by Becahi, Kaziah Streisel put the Raiders ahead, 4-3, when the Hawks ran off the field prematurely on a presumed third strike, allowing Streisel to score.
"I don't know exactly what happened," said Coach King. "I knew it was a 3-1 count. The scoreboard said 3-2. You can't rely on the scoreboard because you don't know who's operating it. You've got to pay attention to the umpire. That shouldn't have happened. That should not have happened. We know better."
The Hawks tied the game in the bottom of the sixth inning on Angie Iovino's RBI double.
"The second I started off, I was like, oh, this is my day for hitting," said Iovino, who went 2-for-3, but felt some pressure as the game progressed. "I was having a heart attack out there, I'm not gonna lie. I was a little upset at first, but then I was like, no, I gotta keep everybody's heads up and keep hitting."
Tamaqua's Kolbe Robb and MacMillan reached first base on errors in the seventh inning, and a wild pitch left the Raiders with runners on second and third when Kailey Williams hit a high fly ball to left field that turned into a double.
"At first I thought it was over because it was really high up," said Iovino, who was in left. "It was on my right side, and I was tracking it down pretty good, but I thought I was closer to the fence than I really was, and it dropped right in front of the fence."
Becahi pitcher Emma Bond, who threw 13 strikeouts, retired Tamaqua's last two batters as the Hawks braced themselves for their last-chance at bats.
"I was pretty thankful for Hailey that she came up clutch," Bond said. "I was thanking God in that moment because I knew I messed up and some of those runs were on me. I was too in-my-head. I kept thinking I have to throw through them and you can't always throw through everybody. There wasn't a lot of off-speed, pretty much throughout the whole game, so a lot of outside, a lot of inside screwballs, and that was working pretty well, but as the game progresses, I get a little on it."