Zephyr implements Start With Hello program for students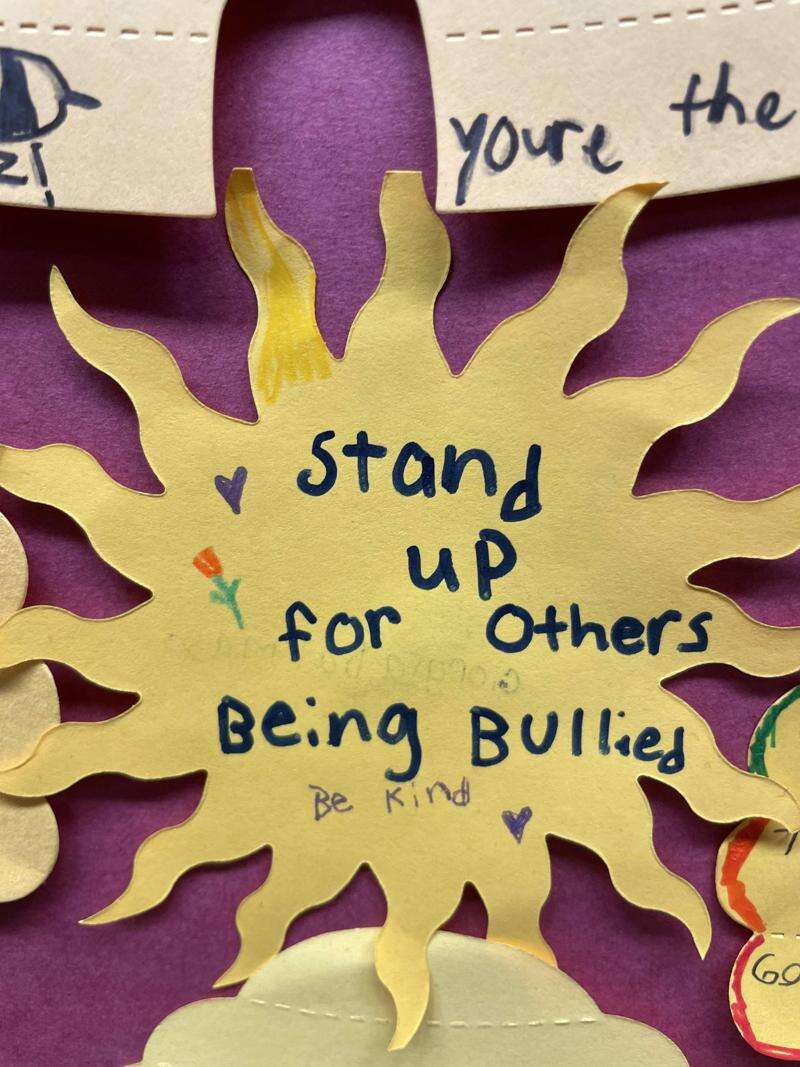 Published January 12. 2022 10:22AM
To help cultivate and encourage a welcoming and inclusive learning environment, Zephyr Elementary School implemented the Start With Hello program for the 2021-22 school year.
Start With Hello is a Sandy Hook Promise program that teaches empathy and empowers students to end social isolation with three steps - see someone alone, reach out and help and start with hello. Students are taught to recognize the signs of loneliness and isolation among their peers, find out ways to help others feel included and learn ways to strike up conversations.
According to the organization's website, Sandy Hook Promise is a national nonprofit organization led by the family members of those killed at Sandy Hook Elementary School Dec. 14, 2012.
"Our intent is to honor all victims of gun violence by turning our tragedy into a moment of transformation," the website states. "By empowering youth to 'know the signs' and uniting all people who value the protection of children, we can take meaningful actions in schools, homes and communities to prevent gun violence and stop the tragic loss of life."
The program has more than 14 million participants and has engaged more than 23,000 schools.
According to Amanda Kusko, dean of students at Zephyr Elementary, the idea to implement the Start With Hello program came after Terri Miller, principal; Sarah Talianek, guidance counselor; Michelle Beck, school psychologist; and herself received an email about the program.
"Our goal is always to incorporate fun schoolwide activities to create a kinder, more inclusive school community," Kusko said. "Through Start With Hello, our students are encouraged to use the following strategies: learn to see someone alone, reach out and help and start with a friendly hello. These three strategies help our students to get to know more about each other."
She noted Talianek and Beck created two bulletin boards and placed them outside the gym and cafeteria. These served as the "stage" to showcase the students' efforts.
Each teacher was given construction paper beehive and sunshine cutouts, according to Kusko. The teachers gave the students one of the cutouts and markers, so they could write notes of kindness or detail something that makes them smile in school. Many teachers also filled out a paper cutout.
The cutouts were displayed on the bulletin boards during Start With Hello Week, Sept. 20-24, 2021.
During the week, students were invited up to the microphone in the cafeteria during lunch periods to share what they wrote on their cutouts. They also gave examples of good things they did and how they've made others feel good and welcome.
Each morning, students were given challenges, which were read aloud over the intercom system during morning announcements. Some challenges included saying hello to 10 students and staff they just met, introducing themselves to 10 new people at the school, including someone new to play with them at recess, helping someone who is alone and making a new friend.
"Our goal throughout the above activities is to build a safer, more inclusive school community," Kusko said. "We are also hopeful the students will feel more connected in our inclusive school community."
Students and staff also wore green Sept. 22, 2021. This indicated their promise to start with hello, to smile and to include others. Green is the color of the Sandy Hook Promise - a promise to help prevent violence and build an inclusive school community.
According to Kusko, many of the aspects of Start With Hello will be continued and reinforced with the Schoolwide Positive Behavior Interventions and Supports program throughout the entire school year. This program is designed to enhance students' understanding of behavior expectations within the school, such as being safe, encouraging each other, excelling in what they do and having Zephyr pride.