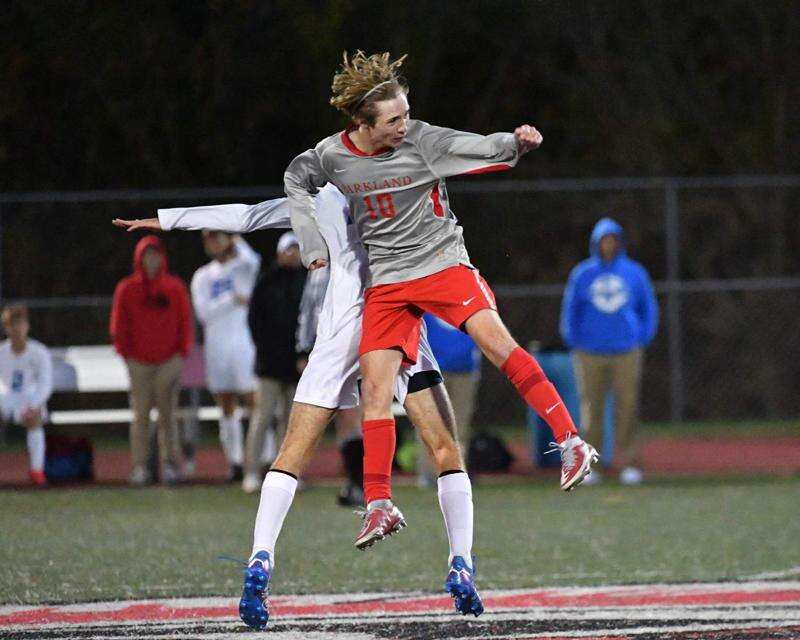 Published October 24. 2021 10:06AM
Jack Smith felt like he hasn't had that big moment yet in his career. Even as a senior, he couldn't pinpoint a time or play that he contributed to that helped his program win an important game.
Until his most recent game that is.
Smith ran about 40 yards down the side of the field and slotted a right-footed shot past the stretching arms of Pleasant Valley goalie Michael Meyers for the game's only goal in a 1-0 Trojans victory Monday evening at Parkland High School in an Eastern Pennsylvania Conference quarterfinal round game. Parkland is the one seed and Pleasant Valley was the eight seed.
"It's huge," said Smith. "Not just for me but for our team. It's great to be able to score a goal in a playoff game, but for it to be the game winner is amazing. I play for my teammates and coaches and to be able to help them get a win and advance in the playoffs is big."
Parkland outshot Pleasant Valley 15-2 and held a 4-0 advantage in corner kicks. The Trojans improved to 15-1-1 overall and the Bears fell to 10-6-2, but got Parkland all it could handle on its home turf.
"They're a good team and they really came out to play tonight," Smith said. "We knew that being the top seed we would get everyone's best shot, and that's what happened. We did what we had to do to get out of here with a win."
Pleasant Valley had a free kick opportunity with just under two minutes left in the first half from right around the 18-yard box. A curling effort from Damen Janotti was saved by Parkland's Matthew Link and the score was deadlocked at halftime.
Smith then found the game's only goal with 34:01 remaining. Link totaled two saves for the Trojans and Meyers finished with 10 saves for the Bears and kept his team in the game for the entire 90 minutes.
Each team had its chances, but the Trojans succeeded in finding the back of the net and then defended their goal the rest of the way.
"Matt had a great game in net," said Smith. "Our defense really stepped up, especially once we got the goal. We knew that we had to keep possession and keep the ball away from them to prevent their scoring chances."
Parkland advanced to the semifinals to take on rival Emmaus on Wednesday. The championship game is set for Saturday at a site and time to be determined.