At long last: Hunger Initiative pantry grand opening celebrated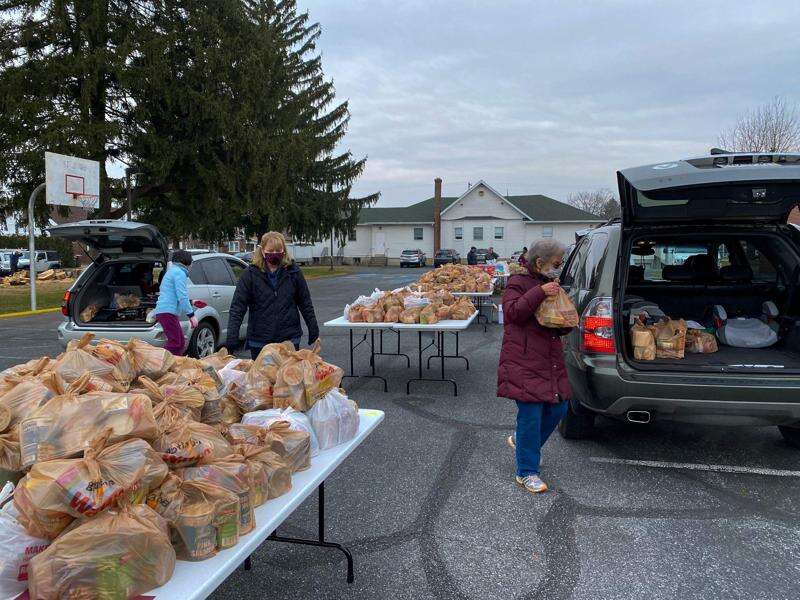 Published January 20. 2021 10:41AM
Whitehall-Coplay Hunger Initiative unlatched the cabinet doors at its new food pantry Jan. 14, the grand-opening day of the facility on South Ruch Street in Stiles.
After the ribbon-cutting ceremony, held outdoors, a minimal-contact drive-thru food distribution took place in the parking lot of St. John the Baptist Catholic Church, 3024 S. Ruch St. Traffic cones directed two lanes of cars alongside a shared centerline of tables. Food pantry volunteers will continue to distribute items in this manner every second Thursday of the month.
Shari Noctor, the powerhouse behind the organization, had volunteers prepare to serve more than 200 households - what the initiative was regularly feeding before daylight saving time forced a two-month hiatus due to lack of proper outdoor lighting.
Residents seemed eager as lines began forming an hour before the grand opening.
WCHI was able to purchase equipment and resources for the new food pantry after a Lehigh County block grant awarded the program more than $217,000. Noctor said she "thanks God for Jeff Warren," Whitehall Township commissioner, for alerting her to the grant.
She said she tried to approach the situation with an "ask for a lot, hope for a little" mentality. The initiative was awarded what it asked for and became the second-highest receiving recipient.
The grant money was split among the initiative's existing programs, including community meals, the summer breakfast camp, Snack Pack Pals and the new Mickley Run outreach program. Noctor provided $25,000 to the Whitehall community garden at Mickley-Prydun Farm, as it regularly donates fresh produce to the pantry.
Noctor is a role model for community advocacy. Her kind heart, drive and determination brew the perfect stew that goes and fills empty bowls scattered around the community. During the food pantry's grand opening, Noctor was given an official commendation by Whitehall Mayor Michael Harakal Jr., recognizing her as a "beacon of hope" in addressing food insecurity within the community.
Many elected officials attended the grand opening to show support to the Hunger Initiative's huge achievement, including Lehigh County Executive Phillips Armstrong; Pennsylvania state Reps. Zach Mako, R-183rd, and Jeanne McNeill, D-133rd; Whitehall Commissioner President Philip Ginder; Commissioners Warren and Michael Dee; Coplay Councilman Stephen Burker; and Lehigh County Councilman Bob Elbich.
The next food distribution will be Feb. 11 in the church parking lot. Whitehall and Coplay residents are welcome to attend 11 a.m.-1 p.m. and 5:30-7 p.m.
No preregistration is required; simply show up with an identification card validating your residency. Names and addresses will be recorded to keep track of numbers and for COVID-19 tracing if necessary.
The Hunger Initiative is always seeking donations. Visit whitehallcoplayhungerinitiative.org to keep up with the pantry's needs and make a monetary donations.