Germansville woman recounts family's fight against COVID-19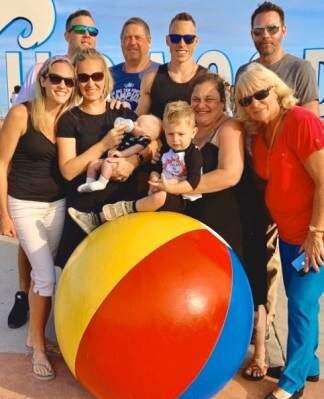 Published May 14. 2020 12:00AM
What began as a celebratory trip for one Germansville couple quickly turned into a monthlong battle with the coronavirus and hospitalizations for both.
Victoria Snyder, 66, and her husband Brian, 57, were on a Caribbean cruise in March for a 30th anniversary celebration when their ship was diverted from Puerto Rico to Florida on the way home.
"Because they rerouted us, we all had to make new flights back," Snyder told The Press.
She explained how they had returned home March 17 after spending the entire day in the Florida airport, which is where she thinks they caught the coronavirus.
"I believe what happened is we contracted something in the airport," Snyder said, noting she and Brian had shared a suite with friends on the cruise and they never became sick.
"The day we came home, I called my doctor to see what I should do because we didn't even know this virus was going on We were on the ship.
"We really weren't getting the reports."
Snyder's doctor told the family to self-quarantine.
"I had to call my doctor to see when I should go back to work, and she said I should stay at home for two weeks. My husband did the same."
Her husband began feeling ill March 20 and was tested for the coronavirus the next day.
Snyder developed a fever March 24 and was also tested.
"When I got tested, we thought we would know soon, but he became very ill on the morning of March 28.
"He was having trouble breathing, his temperature was high, so we called the ambulance and he went to the hospital, and they put him on a ventilator."
Snyder said both her and Brian's tests came back positive the following day.
"I was running a fever the whole time … I was really having some trouble breathing, so I went to the hospital," she said. "They gave me a lot of fluids and sent me home, but then my pulse started dropping and I was passing out.
"I was admitted on the first of April."
Snyder had bilateral pneumonia and spent 10 days in Lehigh Valley Hospital, Salisbury Township, in the step-up unit for breathing difficulties, pneumonia and high fevers.
Her husband went directly to Intensive Care where he was a ventilator for 17 days.
"They really didn't expect him to survive. His lung capacity was very low. He was very ill," Snyder said.
On April 13, he was taken off the ventilator and then moved to the COVID recovery wing - a converted heart unit - for monitoring.
Speaking about her time in the hospital, Snyder described the experience as "really surreal."
Nurses, doctors and technical staff were extremely busy, and were covered head-to-toe in personal protective equipment.
Although health care staff were not often around due to their critical duties, one of the memories which stuck with Snyder was the kindness and care shown by hospital workers, from housekeeping staff who greeted and asked how she felt each day to a night-shift nurse who spoke with her about Brian's condition in the ICU and listened to her concerns about her family.
"He said, 'I have a few minutes, do you want to talk about it?' and it was really the first time I got to express my fears," Snyder said. "He was very kind."
Snyder also recalled how Northern Valley EMS personnel responded three times to transport Brian and herself to the hospital.
They were fully suited up in PPE and were always empathetic, providing emotional support.
"The first time you see that you feel kind of like an outcast, but once they got us in the ambulance they were just so kind," she said.
Snyder was discharged from the hospital April 10.
"Both of us are considered virus-free but I self-quarantined two weeks," she said.
Snyder now feels "nearly back to 100 percent," adding she goes out with her dogs on walks and recently she was able to see her grandchildren for the first time in a month.
She expressed gratitude for all the doctors, paramedics, and other health care workers for taking care of her and Brian, and for working tirelessly to battle the coronavirus.
"They're doing 12-hour shifts. They are away from their own families and then they have to go home and be careful around their own families," Snyder said. "The care they gave him. Every time I would talk to them and thank them, they would say, 'thank you so much for telling us.'"
She also thanked Brian's employer, Dalla's Machine, Schnecksville, for continuing to support the family financially during his recovery.
"They have been wonderful to him," Snyder said.
She also thanked her adult children for their constant support and strength while they were in hospital.
"They were so supportive, everyday texting or calling me.
"They are real good kids."
After Brian returned home, Snyder was looking forward to celebrating their 30th anniversary together.
"We believe Brian's turnaround came the day before Easter.
"We had a lot of people praying for us, and we just believe God had a plan and all those prayers helped guide him in the outcome, and that's where we are today," she said. "I believe God also put those doctors and nurses there, and the staff who were so kind to me."
Brian returned home May 3, where he was greeted by more than 50 friends and family members with a social distancing "Welcome Home" car parade and tailgate.