Blue Mtn. tops Falcons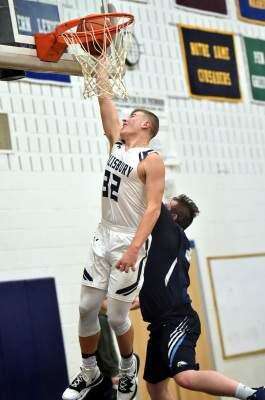 Published December 11. 2019 11:00PM
Most teams will expect some sort of rust and inconsistency early in the season. The Salisbury boys basketball team, while it was within seven points late in the fourth quarter, could never get into a rhythm during its season opener against Blue Mountain.
Blue Mountain went 21-of-24 at the free throw line, making 16 from the charity stripe in the final quarter, to pull away with a 62-48 victory on Friday night at Salisbury High School. The Falcons (0-2) trailed 53-46 with 1:36 to play, but the Eagles finished the game on a 9-1 spurt.
"I think it was a really disjointed game," Salisbury head coach Jason Weaver said. "There were a lot of fouls. We never really had a rhythm in the game. We're battling back all the time, and we are down trying to climb back into it. I think we rushed a little bit and didn't take our time on some possessions where we could have worked for a better shot."
In a game in which the Falcons trailed from the opening tip, Salisbury faced a double-digit deficit in the third quarter on multiple occasions. The hosts, however, did not throw in the towel.
Down 35-25 after the Eagles' Alex Ketch hit a jumper for two of his game-high 26 points, the Falcons made a run. Trey Weber hit his second of two 3-pointers. Then a bucket from Quinn Warmkessel (13 points) got the Falcons within 35-31, the closest they'd been since early in the second quarter.
"I think when we get down, we think we have to make it up within 30 seconds," Weaver said. "There was still 1:33 left in the game and we were only down seven. The game drug on for quite some time. It's a lesson learned in terms of having some patience.
"We have to keep learning, too, that when I drive and someone sinks on me, look for that kick out and one more pass. We have to keep working on that."
But just as Salisbury got within two buckets, it let the lead slip in a matter of seconds. Blue Mountain's Keenan Cryts hit back-to-back shots to end the quarter, including a 3-pointer in the final seconds of the third, which increased their lead to 40-31.
The Falcons faced a 14-point deficit midway through the fourth quarter, but clawed back to half of that with fewer than two minutes to play. Blue Mountain took care of business and hit its free throws when it mattered most.
Salisbury, on the other hand, went 18-of-34 from the free throw line.
"Say we make eight of those, that's a two-possession game instead of a five-possession game," Weaver said. "Our focus was offensively to have some more ball reversal and take some time. I think there were a lot of times where we try to force it into the post and it wasn't there. We never moved the ball side to side to get the defense moving."
It took almost four minutes for the Falcons to record their first field goal in the game. To make things worse, Quintin Stephens picked up his second foul early in the second quarter and had just one field goal attempt in the opening half. Warmkessel also had just one shot in the first half.
"We played hard, but I don't think we always played smart," Weaver said. "And credit their defense and their intensity. They sort of bullied us at times. They were more physical. We struggled to handle that at times."
Patrick Foley also scored 13 for the Falcons. Warmkessel finished with 13 rebounds and two blocks to go with his 13.
The Falcons dropped their second straight game the following day against Oley Valley, 53-42. Joe Panariello scored a team-high 19 points and Stephens added 12 in the loss.