At The Movies: Reelin' in "The Eras"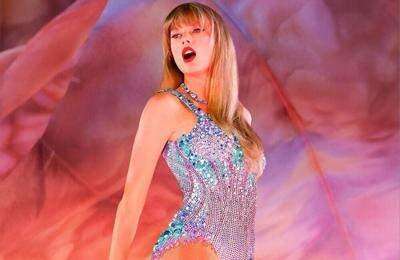 Published November 17. 2023 07:50PM
by
BY PAUL WILLISTEIN
pwillistein@tnonline.com
Seeing "Taylor Swift: The Eras Tour" film is like attending a Taylor Swift concert.
Having not attended a Taylor Swift concert, I can only assume that.
I can say that, having seen "Taylor Swift: The Eras Tour" film, I am, at age 73, a newly-minted "Swiftie," a Taylor Swift fan.
For those of you who are Taylor Swift fans, and were when she released her first album at age 16, please be kind. I was always impressed with Taylor Swift's songwriting, singing and recording career, but I was never a fan per se. After seeing "Taylor Swift: The Eras Tour," I can say that I am now a fan. Yes, I am a Swiftie.
The movie, "Taylor Swift: The Eras Tour," is a bit of a misnomer in that it's a film made in August during three concerts of the tour at SoFi Arena, Inglewood, Calif. The tour began in March in Glendale, Ariz.
As with just about everything Taylor Swift does in her career, "Taylor Swift: The Eras Tour" movie set records.
The film has grossed an estimated $240.9 million worldwide as of Nov. 12, according to Comscore. The movie opened with $128 million, a global record.
The movie is said to have hiked the stock of AMC Entertainment Holdings Inc. by 1.8 percent as of Oct. 30. Taylor Swift did an end run around the Hollywood studios and is distributing the film herself through AMC Entertainment.
The movie is almost entirely performances, with a few song introductions by Swift. The concert is divided into five segments: representing titles of her albums.
The film is directed by Sam Wrench (2023 Grammy nominee, Best Music Film, "Billie Eilish Live at the O2").
It's not Swift's first concert movie. There's also "Taylor Swift: Journey to Fearless (2010), a 2-hour, 11-minute TV mini-series; "Taylor Swift: Speak Now World Tour" (2011), a one-hour TV special; "Taylor Swift: The 1989 World Tour Live" (2015); "Folklore: The Long Pond Studio Session " (2020), which Swift directed; "Taylor Swift: City of Lover Concert Tour" (2020), a 42-minute TV special"; Taylor Swift: Speak Now" (2020), and "Miss Americana" (2020).
Swift directed "All Too Well: The Short Film" (2021), based on her song and starring Sadie Sink, Dylan O'Brien and herself.
It was the song, "All Too Well" (2012), a chugging, alluring confessional, that pulled me into Taylor Swift's orbit, with its irresistible gravitational grief.
Confessional songs with sass are Taylor Swift's stock-in-trade. Just one example is "You Belong With Me" from "Fearless" (2009), which peaked at No. 2 on the Billboard Hot 100 and was No. 1 on Hot Country Songs and the all-genre Radio Songs chart. The song brilliantly chronicles teen-age angst, a theme of many of Swift's songs. Swift, 33, is still a teen-ager at heart, as are many of us, or as we nostalgically would like to think we are.
And, Swift's tell-all tales, well, tell it all, for better or worse. Like it or not, Swift puts it all out there.
Also, her often self-deprecating songs are immediately identifiable and firmly in the pop-rock-country pocket and, yes, right up there, lyrically and melodically, with the likes of James Taylor ("Sweet Baby James," "Fire and Rain," "Carolina in My Mind"), Carole King ("You Make Me Feel Like a (Natural) Woman," "It's Too Late," "One Fine Day") and Joni Mitchell, ("A Case of You," "Help Me," "Both Sides Now").
What one notices in "Taylor Swift: The Eras Tour" film, in addition to her flashy costumes; incredible back-up dancers, backing vocalists and band musicians, compelling cheerleader and catwalk-strut choreography, phenomenal staging, set changes and lighting, are Swift's bright-blue eyes. Her smiley eyes are almost in a perpetual shrewd squint. She sees all and knows all.
The word-play clever lyrics ("They say all's well that ends well, but I'm in a new Hell, Every time you double-cross my mind" from "All Too Well") and conversational casual titles ("I Knew You Were Trouble") reflect her point of view in CinemaScope.
The concert film has, by my count, an "Ah!mayZing!" 40 songs, including many of her biggest hits: "We Are Never Ever Getting Back Together" (her first Billboard Hot 100 No. 1 song from the album "Red," 2012); "Shake It Off," "Blank Space" and "Bad Blood" from "1989" (2014), and "Look What You Made Me Do" from "Reputation" (2017).
The local connection to Taylor Swift is well-known.
Taylor Alison Swift was born Dec. 13, 1989, in West Reading, Berks County. She's named after singer-songwriter James Taylor. Her father, Scott Kingsley Swift, is a former stockbroker for Merrill Lynch. Her mother, Andrea Gardner Swift, was a mutual fund marketing executive. Taylor Swift has a younger brother, actor Austin Swift. Her maternal grandmother, Marjorie Finlay, was an opera singer.
Taylor Swift spent her early years on a Christmas tree farm that her dad bought from a client. The family moved to a house in Wyomissing, Berks County, where Taylor Swift attended Wyomissing Area Junior-Senior High School. The family summer-vacationed in Stone Harbor, N.J., where she performed in a coffee shop.
At age nine, Taylor Swift performed in four Berks Youth Theatre Academy productions. At age 12, she learned to play guitar.
When she was 14, her father transferred to Merrill Lynch's Nashville office and the family relocated to Hendersonville, Tenn., where she graduated one year early from Hendersonville High School.
Her first studio album was "Taylor Swift" (2006). She was 16.
She performed at The Great Allentown Fair, opening for Brad Paisley, Aug. 30, 2007.
The "Eras Tour" resumed Nov. 9 in Buenos Aires, Argentina, continues internationally into 2024, is scheduled to return in October and November to the U.S. and concludes Dec. 6-8, 2024, in Canada.
Unless you're jetting to a city on her tour, "Taylor Swift: The Eras Tour" is here for you now. It's a must-see, of course, for Taylor Swift fans. If you're not a Swiftie, after seeing the movie, you may become a Swiftie. I know I did.
"Taylor Swift: The Eras Tour,"
MPAA rated PG-13 (Parents Strongly Cautioned Some material may be inappropriate for children under 13. Parents are urged to be cautious. Some material may be inappropriate for pre-teenagers.) for some strong language and suggestive material; Genre: Run time: 2 hours. 49 minutes. Distributed by AMC Entertainment.
Credit Readers Anonymous:
Stay for the closing credits of "Taylor Swift: The Eras Tour" for blooper outtakes (including Taylor Swift modest wardrobe malfunctions), and snippets of fans heading into the concert.
At The Movies:
"Taylor Swift: The Eras Tour" was seen in Imax at AMC, AMC Center Valley 16. Though the film is screening Thursday - Sunday only, it was shown Halloween night, Oct. 31, at Imax when I saw it.
Theatrical Movie Domestic Weekend Box Office,
Nov. 10-12: "The Marvels" opened at No. 1 with $47 million in 4,030 theaters, lowest-ever opening in the Marvel Cinematic Universe.
2. "Five Nights at Freddy's" dropped from two weeks at No. 1, with $9 million in 3,694 theaters, $127.7 million, three weeks. 3. "Taylor Swift: The Eras Tour" dropped one place, $5.9 million in 2,848 theaters, $172.5 million, five weeks. 4. "Priscilla" stayed in place, $4.7 million in 2,361 theaters, $12.7 million, three weeks. 5. "Killers of the Flower Moon" dropped two places, $4.6 million in 3,357 theaters, $59.9 million, four weeks. 6. "The Holdovers" moved up 10 places, $3.2 million in 778 theaters, $4.2 million, three weeks. 7."Journey to Bethlehem," opening, $2.4 million in 2,002 theaters. 8. "Paw Patrol: The Mighty Movie" dropped one place, $1.7 million in 1,779 theaters, $64.5 million, seven weeks. 9. "Radical" dropped four places, $1.7 million in 534 theaters, $5.2 million, two weeks. 10. "The Exorcist: Believer" dropped four places, $1.1 million in 1,587 theaters, $64.9 million, six weeks.
Movie box office information from Box Office Mojo as of Nov. 12 is subject to change.
Unreel,
Nov. 17:
"The Hunger Games: The Ballad of Songbirds & Snakes,"
PG-13: Francis Lawrence directs Rachel Zegler, Viola Davis, Tom Blythe, Peter Dinklage and Jason Schwartzman in the Action Adventure film. It's a prequel to "The Hunger Games" (2012).
"Thanksgiving,"
R: Eli Roth directs Patrick Dempsey, Gina Gershon, Rick Hoffman and Milo Manheim in the Horror Thriller. A killer terrorizes Plymouth, Mass., during Thanksgiving.
"Trolls Band Together,"
PG: Walt Dohrn and Tim Heitz direct the animation and voice talents of Patti Harrison, Zooey Deschanel, Anna Kendrick, Justin Timberlake, Kenan Thompson, Amy Schumer, Kunal Nayyar, Kid Cudi, Camila Cabello, RuPaul and Daveed Diggs in the Animation, Adventure, Comedy. The Trolls get their boy band BroZone back together.
"Next Goal Wins,"
PG-13: Taika Waititi directs Michael Fassbender, Will Arnett, Elisabeth Moss and himself in the Comedy, Drama, Sport film. The movie is based on the true story of the American Samoa soccer team, which lost a 2001 FIFA match by score of 31-0.
Movie opening date information from Internet Movie Database as of Nov. 12 is subject to change.
Five Popcorn Boxes out of Five Popcorn Boxes