Kids top Catty in powder puff game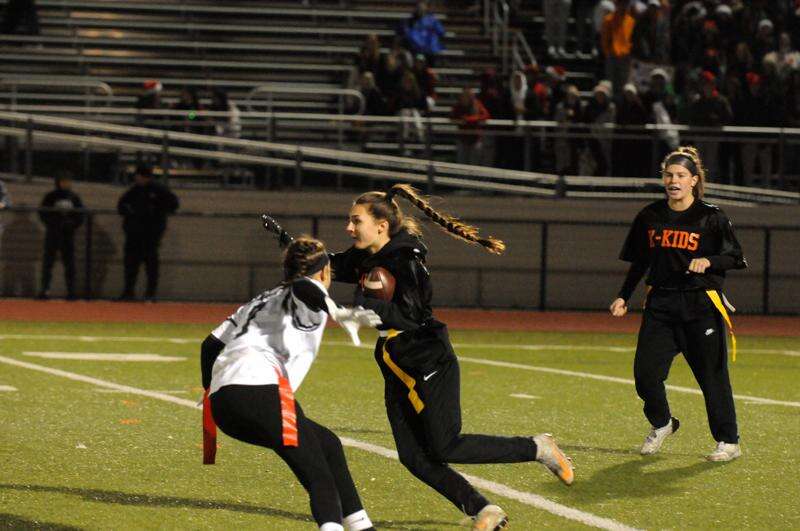 Published November 23. 2021 07:42PM
by Katie McDonald kmcdonald@tnonline.com
The Northampton versus Catasauqua Thanksgiving week rivalry games kicked off on Sunday with the powder puff football game, won by the K-Kids, 33-7, at Northampton.
"It was really fun, coming out here and having a good time together. I really enjoyed it, and I know everyone else did," said Northampton quarterback Taylor Kranzley. "I feel like it kind of sets the tempo for Thursday."
Thursday will be the 98th Thanksgiving Day football game between Northampton and Catasauqua. The powder puff game, played since 1990, is a competition among the senior girls from both high schools. Two K-Kids football players, Beau Ellis and Isaiah Robinson were the powder puff coaches on Sunday night.
"We knew we had to teach them a lot in a short amount of time, so we worked hard in practice, and they did everything we asked them to do. It was pretty fun. Yelling, just because, was a fun experience," said Robinson. "We taught them routes, the proper way to stop when you catch a ball, how to hold your hands up, stuff like that. We put in a few new plays out in the huddle and they adjusted quickly."
The K-Kids scored first on a 30-yard carry by Lauren Straub, who also ran 50 yards for a touchdown in the second quarter.
"The play was a 51, and I just got the ball and ran it. I would say we didn't throw as much. We more like ran the ball and that worked for us," Straub said. "Of course it's a rivalry, so there's always tension, but I thought it was easy enough. It felt good, and getting to celebrate with my friends was fun."
Catty's Kyra Jackson had multiple carries on a drive by the Roughies in the first quarter, but Sydney Gebhart's lateral pass was dropped after Harth drove to the 17-yard line, and the Roughies failed to score.
Kranzley scored the first of her three touchdowns in the second quarter.
At halftime, Northampton's senior boys, who were the K-Kids' cheerleaders for the evening, performed a routine to a music mix in full cheerleading uniforms. The routine included dance moves, lifts, and tumbling.
Maddie Harth scored the Roughies' only touchdown in the final two minutes.
"It was really exciting. We actually messed up the handoff. I kind of ran into our quarterback, but I still got the ball and I was faster than them, I guess," Harth said.
Harth also kicked the extra point, but the K-Kids had the last word when Kranzley scored with only seconds remaining.
"We weren't sure what to expect, but they did great out there," said Ellis. "Catty had a lot less girls, but we had 45 girls and had to get every single girl in the game. It was insanely hard, but we figured it out. We put a certain amount of people on offense and a certain amount of people on defense to make it easy. I think they did great."