Trojans come back to beat Rovers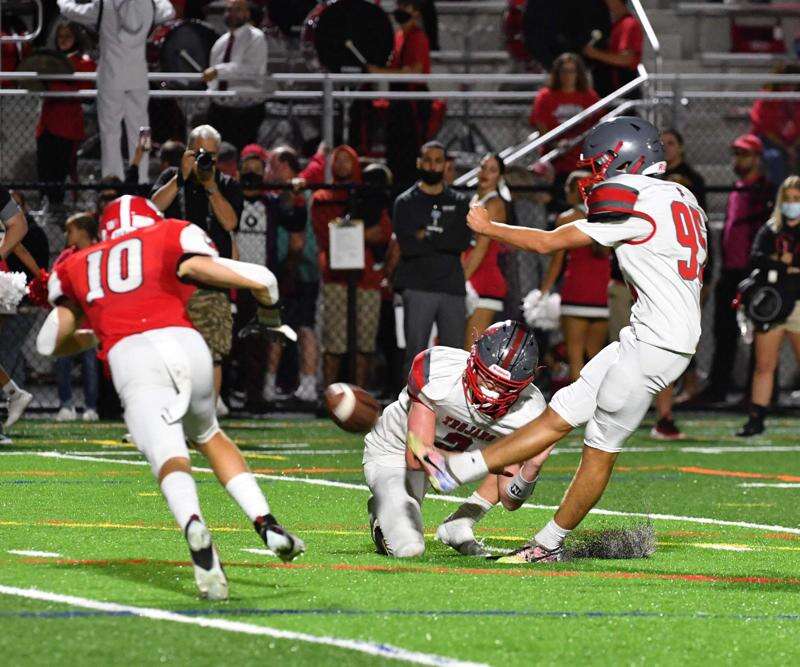 Published September 09. 2021 01:06PM
For the Parkland High School football team and head coach Tim Moncman, there was expected to be some rust when the Trojans entered Cottingham Stadium for their first game of the 2021 season. After having what was supposed to be its season opener two weekends ago at Pleasant Valley postponed, the Trojans had to open their 2021 campaign without any live, in-game reps, at rival Easton.
Parkland (1-0 overall, 1-0 EPC) trailed by two scores in the third quarter, but rallied to come all the way back and defeat the Red Rovers 24-21 last Friday night in an Eastern Pennsylvania Conference South Division matchup at the newly renovated stadium.
"First game, I think we were gassed a little bit at times," said Moncman. "We made the mistakes that you usually do in the first game. But, character-wise, we stepped up when we had to. No quit in our kids."
The two teams went into the locker rooms at halftime with Easton (0-1) leading 14-7. Almost as soon as play resumed with the start of the second half, the Rovers jumped out to a two-score lead via an 85-yard run by Marcus Williams to put Easton up 21-7.
Parkland responded with a 75-yard drive that was capped by a 16-yard touchdown run by senior running back Dahlir Adams. Gryffin Mitstifer's extra point made the score 21-14 with 5:56 remaining in the third.
After an interception by the Trojan defense, the offense tied the game on the next play as senior quarterback Ty Tremba connected with Nakhi Bullock, who outraced the secondary for a 77-yard touchdown 23 seconds into the fourth quarter.
"We just had a next-play mentality," said Tremba. "We all came together as a team. It was a great team effort."
Mitstifer then hit the biggest kick of his young career. His field goal from 22 yards away to gave his team a 24-21 advantage with just 2:25 to play.
"I had faith in him," Tremba said of the kicker. "He's kicking 45-yarders at practice. He's a new kid. We all love him. We accepted him into the team. He's part of the family."
Parkland's defense then once again stepped up, sacking Easton quarterbacks on first and second down to put them in a long down and distance the rest of the drive. It wasn't the prettiest, but the Trojans, on both sides of the ball, got the job done and left with a victory.
"We made our mistakes throughout the game," said Tremba. "We were a little rusty coming out. The next few weeks, we'll build, get better, fix the errors and correct all the mistakes."
Tremba finished nine of 12 through the air for 192 yards and two touchdowns. His brother, Trey, had five catches for 59 yards and a touchdown. Adams added 85 yards and a score on 18 carries.
"We've had chemistry for a while," Tremba said about his brother. "We've always been throwing in the backyard. Out on the field, the timing is perfect for us. I know where he is at all times."
Parkland will finally play in front of its home crowd as the Trojans will host Nazareth (2-0) Friday night at Parkland Area School District Stadium.