Girls lax season ends in D11 playoffs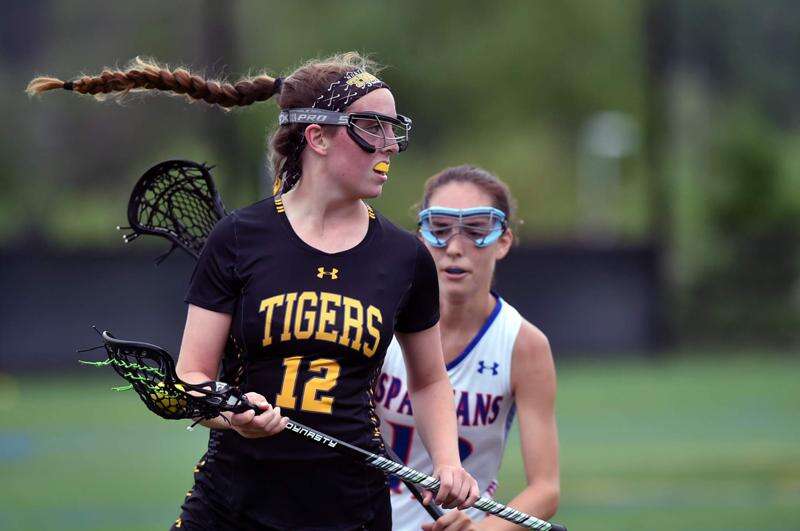 Published June 02. 2021 02:28PM
Southern Lehigh has been a fixture on the local girls' lacrosse scene for a number of seasons, while Northwestern started its program just three years ago.
The two teams met in the District 11 playoffs on Monday, April 24 and Southern Lehigh came away with its fourth-straight trip to the class 2A finals with an 18-6 win over the Tigers.
While the score wouldn't indicate it, the game was close and hard fought early on as both teams had to fight from behind. The Spartans took a quick 1-0 edge, but senior Ali Lister tied the game less than one minute later, before Alexis Vennera put the Lady Tigers up 2-1. Goalie Gabrielle Gober stopped multiple shots from the Spartans before Southern Lehigh tied the game on a goal by Iris Gluck.
Not to be outdone, Northwestern needed just 20 seconds to again go up by a goal when Claire Costa put one past goalkeeper Sophia Hoyer making it a 3-2 game.
Southern Lehigh seemed to figure some things out on offense and, like Northwestern, needed just 20 seconds to make it a 3-3 game. From there, Southern Lehigh's offense became dominant and tallied seven more first-half goals to go up 10-3 at the break.
"One part of our game plan was to concede a little bit in the midfield to make sure that we could defend properly," said Northwestern coach Lissa Opolsky. "We were able to use that as momentum in the beginning of the game. Not taking anything away from our midfielders because they played very well, but we aren't very deep, and as the game progressed, we had a hard time keeping up in the midfield."
Northwestern came out firing in the second half when Vennera and Lister both scored their second goals of the game.
Again, Southern Lehigh adjusted and took over the game and increased its lead to 17-5. Ava Collins put in another goal for the Tigers to make it 17-6, before the Spartans closed out the game with a final goal with 1:06 left to play.
"I think from where we were to where we are, we played them harder and better in this third meeting than we did in the first two games and for our growing program, that's all we could really ask for," Opolsky noted.
The program went from being 0-17 in its inaugural season to finishing 4-14 this season, winning their first game ever and making it to the district playoffs for the first time in program history.
If Opolsky had a preview of how the season would have played out, she would have been happy with the results.
"These girls come from all different backgrounds and all different sports," said Opolsky. "They've all been on winning teams before, so they know how that goes. We talked about how easy that is to be on a winning team, and it's not always easy to be on a team that's 4-13. They responded well because every day they had a smile on their faces and kept laughing. They were able to find the fun in it, but they all worked really hard, and they're laying the foundation for the winning teams that will come down the road."
The team loses six senior players from their roster, but has a number of talented players returning next season, including sophomores Collins and Vennera, who both scored in the district game.
"We're going to miss every one of our seniors, but the good news is that they did a great job of laying the foundation for the program, and we have young players who developed so much for us this season, and they're going to keep getting better and better," said Opolsky. "It's a great future for us because there is so much young talent coming along."