Curtain Rises: 'Boardwalk' memories at Pines Dinner Theatre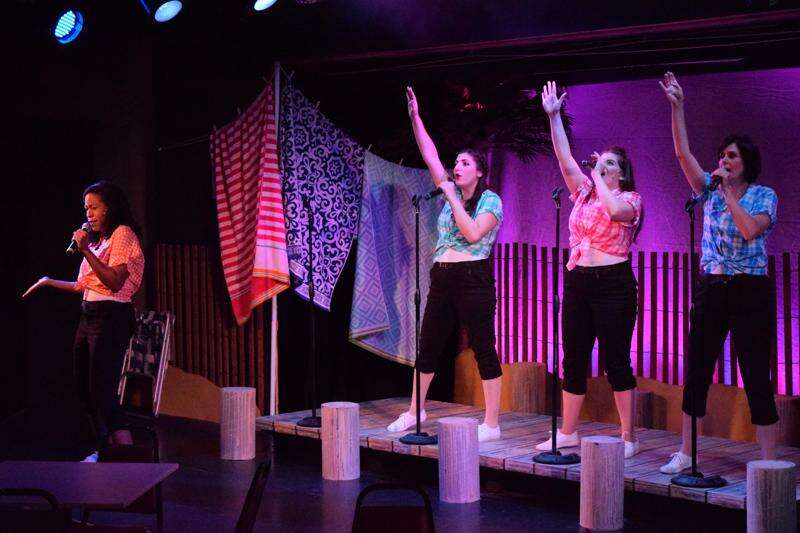 Published May 14. 2021 11:32PM
Take a trip to the beach circa 1950 at "Under the Boardwalk," Pines Dinner Theatre, 448 N. 17th St., Allentown.
The musical, May 14 - June 20, written by Pines' Owner-Producer Oliver Blatt, is directed by Blatt and Stacey Yoder with choreography by Amber Blatt and music direction and orchestrations by Stacy Bechtel.
Relive the memorable music of the past with four friends who reunite as a pop music group while visiting the Jersey Shore.
Cindy, Betty Jean, Rhonda and Melissa get back together for the first time in years when they are asked to perform a concert at the beach. As they rehearse, they discover that the things that originally drove them apart are the things that now pull them together.
The jukebox musical showcases four-part harmonies of hits from the 1950s and 1960s, including "In His Kiss," "Heat Wave," "Itsy Bitsy Teenie Weenie Yellow Polka Dot Bikini" and, of course, "Under the Boardwalk."
The cast includes Yoder, Bechtel, Amber Blatt and Jennifer Wills.
The show is rated PG-13.
Tickets includes a seat for the show. Appetizers, entrees, desserts and beverages are available for purchase ala carte.
Entrees include chicken Caprese, pot roast, striped Pangasius, grilled shrimp skewers, filet mignon, fettuccine Alfredo with broccoli and butternut squash ravioli.
Dinner is served before the show. Audiences are welcome to BYOB.
The performance schedule is: dinner, 12:30 p.m.; show, 1:30 p.m. Wednesday, Thursday, Sunday, and dinner, 6:30 p.m.; show, 7:30 p.m. Friday and Saturday.
Tickets: www.pinesdinnertheatre.com; 610-433-2333
Muhlenberg "Mnemonic":
Muhlenberg College Theatre Department concludes its Mnemonic Festival, with an immersive, interactive performance May 14-16 on the Allentown campus.
"Memento: Mori: Triptych" was by the performers under the direction of Rebecca Lustig.
Patrons can sign up for a time slot from 5 - 8 p.m. No appointment is needed 10 a.m. - 5 p.m. The performance is free and open to the public.
The environmental installation outdoors on the campus is described as a reflection on memory and mortality and a place where a solitary audience member moves through three fragments, listening on their phone.
It is designed to be more of a solitary experience than a performance. Patrons scan a QR code with their phone to call up a sound-scape, which they will listen to as they walk, taking about 20 minutes.
Members of the performance company hope that participants will feel surrounded by a community, even in their solitude.
"It's about loss, forgetting, formulating memory and community ritual, with a sense of hope for the future, renewal, renaissance and mortality," says Jessie Kuehne, one of the creators.
To sign up: www.muhlenberg.edu/seeashow