Walsh scores hat trick in win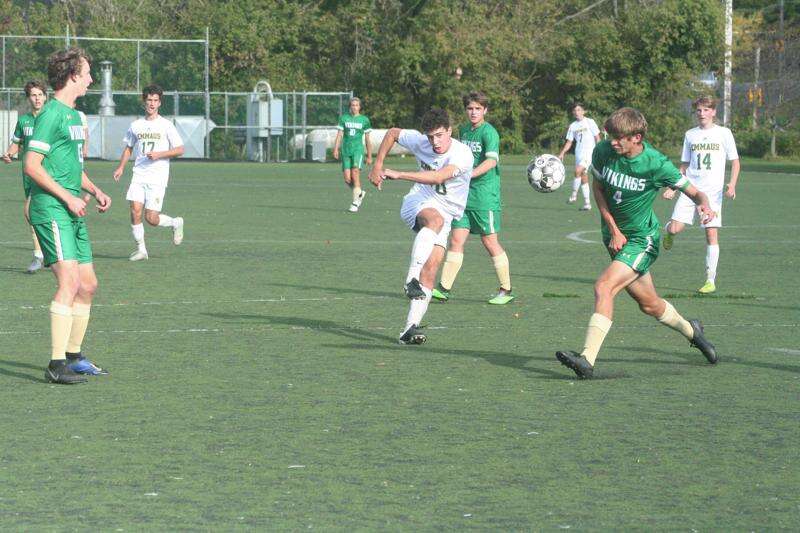 Published October 10. 2020 01:21PM
The first four games of the season for the Emmaus boys soccer team came against Dieruff and Allen, who aren't known as soccer powerhouses. The Hornets won the four games by a combined score of 16-0.
On Monday the Hornets played at Iron Lakes Country Club, home of Central Catholic, and showed that they can beat better teams when they picked up their fifth straight shutout of the season with a 7-0 win over the Vikings.
The offensive onslaught was partly because senior Pat Walsh is healthy after missing time with a hamstring injury. Walsh scored three goals in the win over Central Catholic, proving that he's not just healthy, but that he's ready to lead the Emmaus offense.
"It was really frustrating to be sitting out and not be able to contribute on the field," said Walsh. "It's great to be back out there and to be able to help these guys a little bit and be a part of helping our team to win games."
It was Josh Whalen who got the Emmaus offense started when he scored in the first minute of the game, setting the tone for the Hornets. Walsh then went on his three-goal spree, shooting his first goal past a diving Central Catholic goalie. With Emmaus up 3-0, a strong inbounds pass from Ryan Santos set up Walsh for his third goal of the game.
Emmaus would lead 4-0 at halftime and then increase the lead on two goals from Hudson Peck and another from Bryan Flor to make it 7-0.
"I think it was important that we got those early goals," said Hornet head coach John Cari. "That always helps, especially against a team like this. It's nice to have Pat [Walsh] back out there and get our team to full strength again. This was a test for us and I thought we played really well today."
Emmaus stretched its shutout streak to five games thanks to a defense that has smothered opponents and limited clear looks at the net. Cari has also shifted goalies to cover the loss of Chris Buck, who has been out all season. Ty Bleiler got the start against Central Catholic, with sophomore Max McGrath entering the game part way through the second half. Senior Ed Zellner has also seen time in goal this season.
"We have a lot of experience on defense and they really take pride in preventing shots on goal. They play hard every time out and they've really done a great job in the early going," Cari noted.
Overall, the Hornets are playing very well as they enter the tougher portion of the schedule. They have a rematch with Central Catholic (3-2 EPC, 4-3 Overall) Wednesday at Memorial Field. They then have home games against Whitehall (1-1, 1-1) and undefeated nonconference foe Southern Lehigh (5-0 Colonial, 7-0 Overall). From there, the Hornets play at Whitehall (1-1, 1-1) and have an away-and-home set with Parkland (3-1, 3-1).
Their 5-0 start to the season has made Emmaus the only Class 4A school to have already clinched a spot in districts.