Mountain lion in Lower Macungie? No, says Game Commission Furbearer Biologist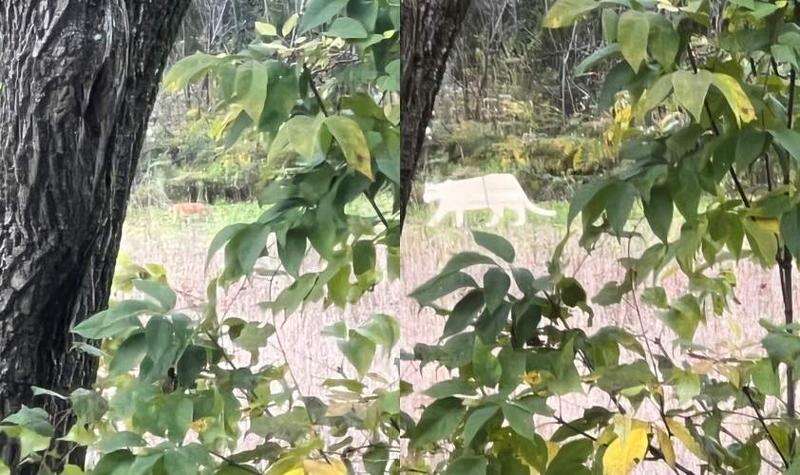 Published October 19. 2023 12:37PM
BY SUSAN BRYANT
A possible sighting of a mountain lion in Lower Macungie Township turned out to be a large feral house cat, according to Furbearer Biologist Thomas Keller, with the Pennsylvania Game Commission.
"The Pennsylvania Game Commission was contacted by a sister law enforcement agency yesterday, Oct. 15, concerning a sighting of an unknown animal, believed to possibly be a big cat, and potentially a mountain lion at 1013 Village Round in Lower Macungie Township," Keller said, via email on Oct. 16. "Staff responded first thing this morning and made contact with the reporting party."
He said staff examined the area for scat and tracks before using life-size cut outs of a house cat, a bobcat and a mountain lion, and then working with the reporting party to stage the photo again from the same location and the same camera perspective.
"Measurements were also taken of vegetation that is seen in the background behind the animal that helps give scale and perspective to the actual size of the animal," he added. "Based on the photos taken using the cutout in comparison to the original photo, it appears the animal in question was a large, feral house cat."
Keller said the Game Commission receives hundreds of purported mountain lion sightings each year, but the agency hasn't been able to confirm a sighting for decades.
"The last wild mountain lion was recorded in the 1870s," Keller stated.
"It takes hard evidence such as DNA from scat or hair, reliable tracks that can be measured, or photos that can be substantiated."
He said the law enforcement agency in this case did what they felt was best to help protect their citizens.
"We encourage the public and fellow agencies to reach out to the Pennsylvania Game Commission first for assistance with identifying any animal that they are not sure about prior to making a determination that may not be accurate.
"The Game Commission is the state's wildlife agency and has trained staff available to help make positive identifications," Keller said.
The sighting was originally reported to State Police Troop M, Fogelsville, who responded to the area to investigate.
According to police, at 11:44 a.m. Oct. 15 Troopers responded to the area of the 1000 block of Village Road for an individual with images of a possible large cat in the area.
Police say upon further investigation it was determined that the image captured a large feline, possibly a mountain lion, in the fields behind Hanover Drive in the township. The Game Commission was contacted and advised of the situation, police say.