Night to Shine in Bethlehem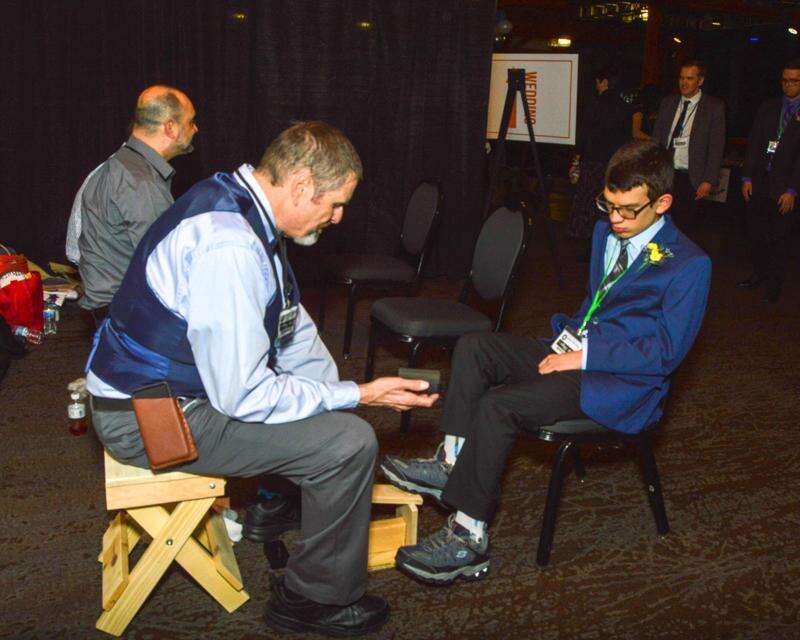 Published March 14. 2023 11:34AM
by Douglas Graves Special to the Bethlehem Press
Red tuxedo jackets, sequins, professional make-up, fancy hair styles and shined shoes, and smiles mixed with loud music all meant a lot fun for the special needs folks attended the prom-themed dance party Feb. 10 at the MusikFest Café in Bethlehem.
The annual Night to Shine event was back with 644 honored guests and volunteers.
The Village People's "YMCA" was one of the many fun songs that had young and old out on the dance floor.
The annual event was reprized after a two-year COVID-induced hiatus. This year's production was at Steelstacks, a move from its previous venue in Allentown location at the Palace Center.
Riverbend Community Church in Allentown, near the Lehigh Valley International Airport, was the host and organizer of the Night to Shine event, which is sponsored the by the Tim Tebow Foundation.
"For us, it is an opportunity to bring our community together, to remind ourselves how valuable they are. They are often forgotten and neglected," said Pastor Joe Velarde, the energetic young spiritual leader of the church.
This gala would not happen without the support of a legion of volunteers. From traffic control to limousine drivers to ticket takers, all are working as a well-trained team.
"It's important because my youngest son is a special needs boy," said volunteer Cynthia Kwant of Triple Sun Spirits. "I love doing this kind of stuff."
She said her son is too young to attend the Night to Remember Prom, but she wanted to come and help.
Also volunteering were the "Buddies" or "the dates" who escorted each honored guest, that ranged from 14 years to 99.
"It's a prom for people with special needs," said Monica Tramontina, an official with the Riverbend Community Church, which organized the event along with The Vine Calvary Chapel of Schnecksville.
Whitehall's Balance Hair Salon's Susa Wedderburn and Ingrid M. Gomez helped get the guests' hair prom-ready. Joel Flammer of East Coast Hair Co. also styled hair for the prom guests. Graphic artist Jessica Deegan of D'Huy Engineering also assisted the professionals.