Hornets fall to PHS in double OT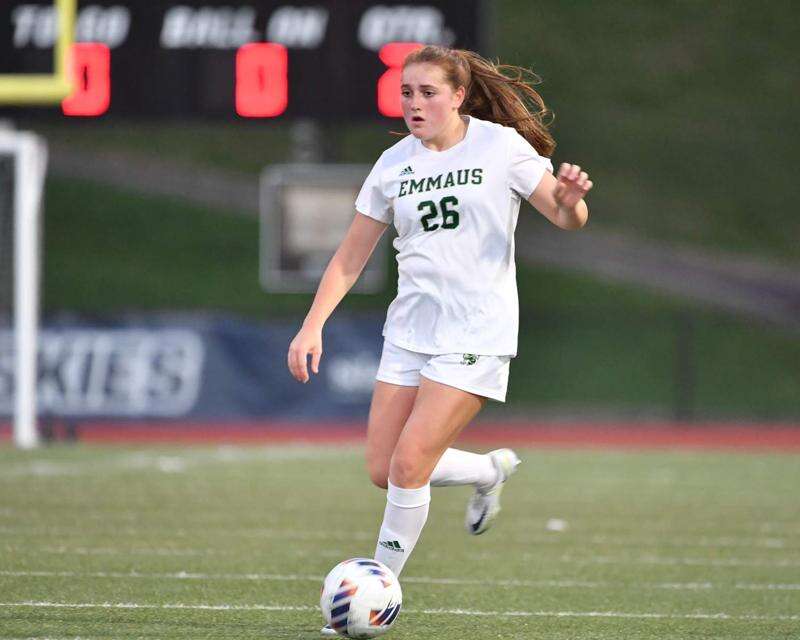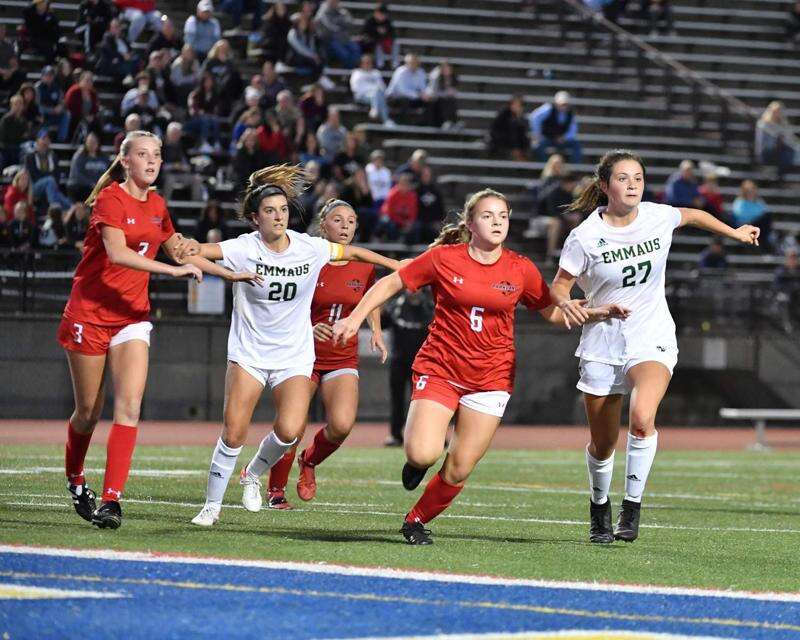 Published November 17. 2022 11:30AM
by CJ HEMERLY Special to the Press
The saying third time's the charm was in play for the Emmaus High School girls soccer team. The Hornets' opponent, however, didn't allow it to come to fruition.
In the third meeting this year between Emmaus and Parkland, the Hornets scored first with a little over 15 minutes to play. But the Trojans tied it up with just over six minutes remaining and then scored the game-winner in double overtime to take the District 11 Class 4A championship 2-1 last Thursday night at J. Birney Crum Stadium.
Hornet head coach Sarah Oswald knew her team was ready to go, and it played like a team that could have and should have been on the winning end of things. It was the second championship game between the two teams in a span of two weeks. Both went to overtime.
"I think it was the most prepared we've been against any team we've played, but specifically the third time we've played Parkland," said Oswald. "This time, we really wanted to go at them and make them feel the pressure we felt from them the past couple games.
"We went at them. We were able to get ahead of them early. Unfortunately the chips just didn't fall our way. Once they gained the momentum after the foul and free kick, it's really hard to come back from that but the kids fighting and continuing to go at them and put them under pressure, I couldn't be more proud to be their coach."
It was the third consecutive district title for the Trojans and seventh in the last eight years.
Kamryn McWhinney put Emmaus into the scoring column. It started with a little defense as she won the ball back into possession and then took a couple dribbles and ripped a long shot that went passed the outstretched arms of the Trojans goalie.
"I said today that Kam was going to be the difference-maker in our game," Oswald said. "She has the ability to carry us and really put the team on her back when she wants to. Getting that goal for us and being able to carry the load in the attack and do the defensive work that we ask from her, she's a really special kid and I'm glad that she's back for two more years."
But about nine minutes later, Parkland equalized in similar fashion as Sejal Wellington drilled a long effort that beat Ashley Stine, who finished with five saves for the Green Hornets.
After one scoreless overtime and most of a second one, Hailey Sammarco then found the back of the net off a corner kick in a crowded penalty area with just 3:53 left in the second overtime to send Parkland out as a winner.