Falcon field hockey achieved goal of reaching D-11 playoffs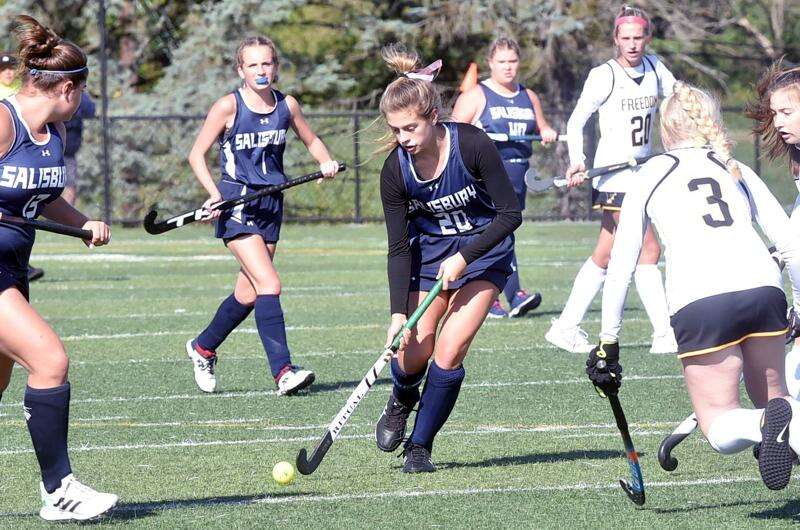 Published November 17. 2022 11:30AM
by CJ HEMERLY Special to the Press
It had been four years since the Salisbury High School field hockey team last played in the District 11 playoffs. No player on the Falcons' 2022 roster had ever played in a postseason game at the varsity level. This year, however, the Falcons reached districts and achieved their biggest goal.
"Qualifying for districts was a goal the seniors set at the beginning of the season," head coach Jane Brennan said. "It was something that the girls used as a motivator during our winning stretches and toward the end of the season when we had some losses.
It has been four years since the team has qualified for districts and no one on the current roster had experienced a district game. With many seniors on the team it was especially rewarding for them to reach districts before the end their High School field hockey careers."
The Falcons were defeated by Bangor by just one goal, 4-3, on Oct. 25, finishing the year with a 8-9-1 overall record.
"Overall, the season was a tremendous success," said Brennan. "We had a very talented group of seniors mixed with a very determined group of freshmen, sophomores and juniors. We had some great wins against quality teams and ended the season with a winning record by beating Freedom High School 2-1 in one of our toughest games of the season."
That win over Freedom in the season finale clinched a playoff berth for Salisbury, but a lot of other games during the season were indicators of the team's progress, whether they resulted in victories or not.
"Teams we have lost to over the years, we either beat or played extremely tough against in close games," said Brennan. "It was awesome being around such a close-knit group of girls that set a goal of getting to districts and achieved that goal. While the coaching staff will miss our seniors moving on, we are enthusiastic about our returning players and the direction our program is heading.
"Something that also shows our success is we have two players who will continue their field hockey careers in college. Ella DeFazio will be playing at Susquehanna University and Chandler Straub at Drew University. We are very proud of them."
Brennan was proud of the way her girls played against the Slaters.
"We started off strong with a goal by Chandler assisted by Ella," said Brennan. "Bangor took a 3-1 lead by the middle of the third period. As we had done several times throughout the season, we continued to fight and tied the score 3-3 with goals by Chandler and Kendra Morgan. Although Bangor scored the game winner off a penalty stroke in the fourth quarter, the Salisbury girls fought until the very last seconds of the game, coming close on several occasions to tying the game.
"This kind of play showed their physical and mental toughness they played with all season."
Salisbury will graduate nine seniors, including Alaysha Bonilla, DeFazio, Samantha Gibisser, Madelyn Hale, Isabella Natosi. Rebecca Rachiele, Olivia Ringholm, Kendall Schaffer and Straub.
"Since their freshman season, Ella, Kendall, and Olivia have worked hard to improve the program each season," Brennan said. "With the addition of Chandler and Bella, who joined in their junior year, this group had the first regular season winning record in quite some time.
"This group means so much because they are not just players on the field hockey field, they are also friends off the field. As the season was coming to an end, there were some emotional times. These seniors supported each other and the team motivating them to become better players, but more importantly better teammates."
The 2023 edition of the Falcons will look to build on the success of this fall.
"While we had many seniors, in contrast we had many freshmen who contributed to our success as well," said Brennan. "Kendra, a freshman, led the team in goals. Sarah Beckage gained valuable varsity experience on the forward line. Gwyn (DeFazio) controlled midfield in every game and Meredith Kelley continued to improve as a defender and stepped up her play in some very important games.
"We will be relying heavily on these four players in the future. In addition, we have junior starters Elise Palazzo, Bailee Neitz, and Riley Knecht who will take on the roll of seniors and will provide leadership for the team. Other players who will be looked upon to contribute next season are freshmen goalie Caroline Gedney and sophomore forward Maya Afif."