Warsing, Zolotareva win doubles gold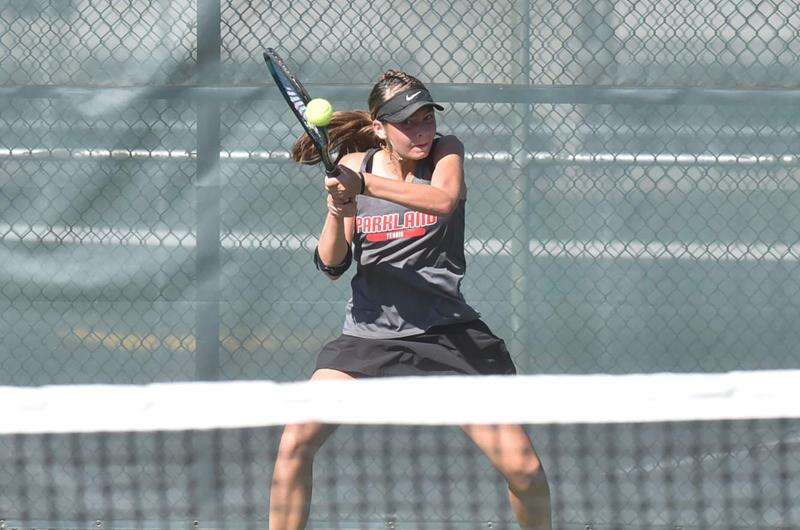 Published November 04. 2022 11:44AM
by STEVE ALTHOUSE Special to the Press
The Parkland girls tennis program earned yet another title in winning the District 11 girls doubles championship last Wednesday at Northwood Racquet Club in Easton.
Freshman Lexie Warsing and senior Leah Zolotareva took the gold with a 6-1, 6-2 victory over Southern Lehigh's Evelyn Wang and Kaitlyn Howie.
Parkland coach Michael Hingston noted that Warsing was awesome during summer practice, practically demanding playing time this year on the Parkland roster.
Zolotareva has been a major contributor to the program for years and has earned her coach's respect and admiration.
"You couldn't ask for a better player to coach," Hingston said.
The duo entered as the number one seed and were so dominant in the tournament that they did not lose a single set. Their first-round assignment pitted them against Stroudsburg's Sophia Loomis and Katherine Georgiou last Monday at Lehigh University. The Parkland tandem dismissed its tormentors, 6-0, 6-1. Later that afternoon in the quarterfinals, they beat Stroudsburg's Lana Marsh and Alison Willis, 6-0, 6-2.
Two days later the semifinal matchup found the pair battling Emmaus' Shelby Carter and Kate Smith. The Green Hornet program had a good season, earning a 14-4 record with Carter and Smith contributing greatly to that mark. However, Warsing and Zolotareva were too much for their Emmaus counterparts, as they earned a 6-0, 6-3 win.
The Parkland girls tennis team went 20-0 this season and won the District 11 Class 3A team championship because of its depth. While Warsing and Zolotareva won the district doubles title, they were not the only tandem to well represent the school.
Anshika Gupta and Sophia Petrocelli entered the tournament as the fifth seed and in their first round match they faced Stroudsburg's Nortey sisters - Jaina and Jelenay. Gupta and Petrocelli handled easily the Stroudsburg duo, 6-1, 6-2.
In the quarters Gupta and Petrocelli faced Carter and Smith. The match was competitive, but the Hornet duo proved too much as Gupta and Petrocelli lost in straight sets, 6-3, 6-3.
A third Parkland doubles team - Sophie Elijovich and Aarohi Vaze - made the tournament also and drew Nazareth's Sophia Digiacinto and Jessica Rodriguez, the seventh seed. This one was a thrilling tennis battle with many closely contest rallies and points. Ultimately Elijovich and Vaze lost a heartbreaker, 7-6 (7-5), 7-6 (7-1).
The first round of the PIAA girls doubles tennis championship is scheduled for Nov. 4