Roughs win third-straight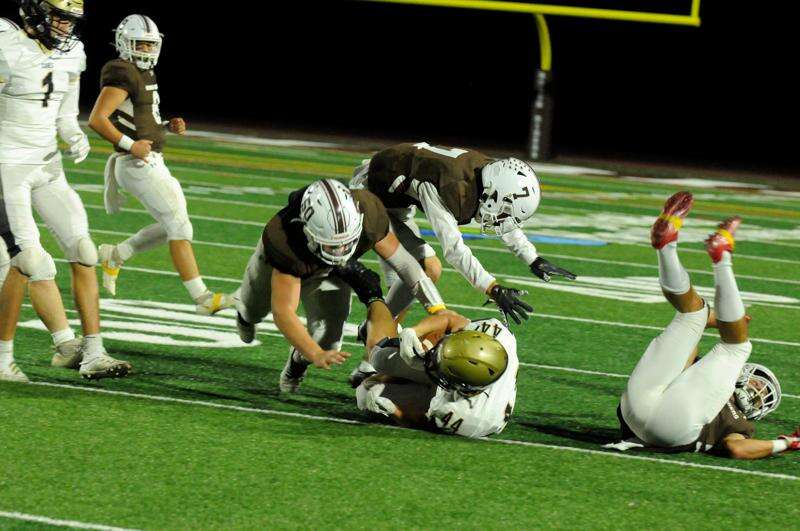 Published October 07. 2022 09:31AM
by Jeff Moeller Special to the Press
Over the last three games, the script has been the same for the Catasauqua Rough Riders' football team.
They gained advantage of the game early, and closed out their opponents at the end.
Last Friday's 35-12 victory over Schuylkill Haven evened their season record at 3-3 after a sluggish 0-3 start. Over their last three games, the Roughies have outscored their opponents, 88-24 as opposed to Catty scoring 35 points in their first three games.
"We had another good game," said Roughies' head coach Travis Brett. "They shut down our running game, but we moved the ball well in our passing game.
"We had a big play at the beginning that got us going."
Quarterback Christian Fye hit Wyatt Younes for a 61-yard score on the Roughies' opening drive.
Running back Anthonie Hunsicker gave the Roughies a 14-0 cushion with a four-yard touchdown in the second, and Jyzaiah Bonilla practically sealed the game with a 40-yard interception for a touchdown before halftime for a 21-0, commanding lead.
Fye finished the game completing eight of 14 passes for 153 yards with a pair of touchdowns. Younes had three catches for 87 yards with a score, and Ian Juica had three grabs for 43 yards with a score.
"Fye had a good game," added Brett. "They did a good job at shutting down our run game, so we opened it up.
"It was nice to get the two second-quarter scores to give us a 21-0 lead at halftime."
The Roughies went up 28-0 when lineman Javier Sobrado took it into the end zone from two yards out.
"I wanted to get Javier a touchdown," said Brett. "Hunsicker had set it up for him. He had to leave the game to get his ankle tapped, and the timing worked out well. This was the perfect opportunity, and I'm glad we got it for him."
Brett also credited the play of his defense, which basically shut down Schuylkill Haven's running game, except for AIden Myers' 83-yard burst.
"He found a spot in our defense," said Brett. "But aside from that, we did a good job on their running game."
The Roughies will travel to Minersville to battle the 4-2 Fightin' Miners Friday evening. Minersville is coming off a 29-12 loss to Pen Argyl. Freshman quarterback Dante Carr has thrown for 556 yards with eight touchdowns and six interceptions. Running back Luke Stevenosky has 591 yards rushing with nine touchdowns.
Defensively, Minersville is led by Cade Schultz with four sacks and Brock Polrusky has seven interceptions.
"They will throw the ball," offered Brett. "I was surprised about their loss to Pen Argyl, but their coach was suspended for being thrown out of a game. They didn't play well there.
"It is a tough place to play, and they play differently at home. We'll have to be ready."
NOTES AND PREDICTION: Minersville had won four straight and outscored their opponents 130-45 ... Bonilla, who was held to a team-high 29 yards against Schuylkill Haven, has 422 yards on 78 carries. Fye has completed 32 of 76 attempts for 385 yards with three touchdowns and four interceptions ... The two teams met in a memorable district playoff game there two years ago in which Catty had six interceptions in a 31-12 victory. Last season, Minersville again was the home team in a 43-27 victory … This can be a statement game for the Roughies. Brett stated that calls usually don't go the Roughies way there, stating there is a "12th man." ... Catty is healthy and hitting on all cylinders ... Roughies will need an early score to stave off momentum for the home team ... This should be their most entertaining game of the year, possibly with Palisades down the road in two weeks ... Roughies can't afford a setback, and there will be something in the Schuylkill air ... Coach Snyder and Dave Troxell will need to ship me some pierogies and pasties ... ROUGHIES 31-27.