Emmaus routs T-wolves for fourth win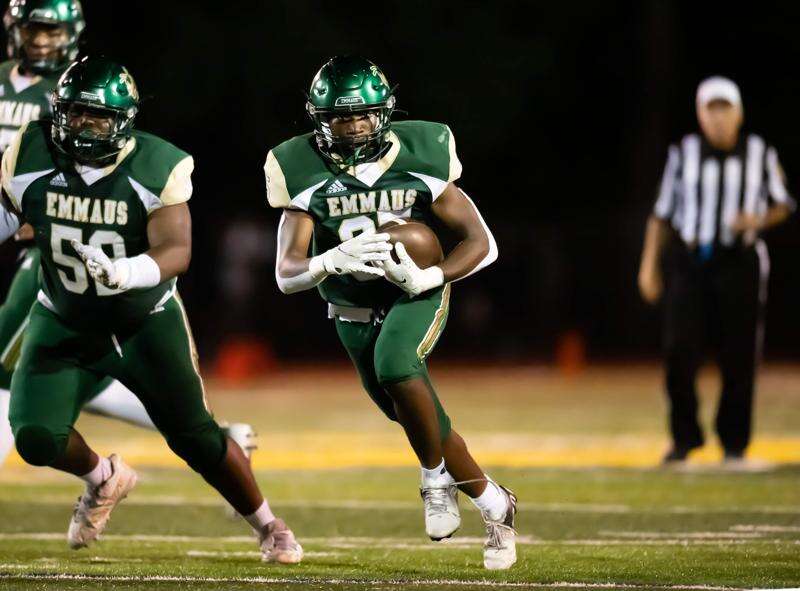 Published September 25. 2022 11:48AM
by STEVE ALTHOUSE Special to the Press
The question wasn't whether Emmaus (4-0 overall, 3-0 EPC) would beat East Stroudsburg North (1-3) last Friday at East Penn School District Stadium. The question was how would they look in doing it.
A 70-6 victory produced what many expected - massive numbers. The Hornets practically burned the scoreboard lights out racking up 42 points in the opening quarter alone. The green and gold gained 471 yards in total offense and 19 first downs thanks to a balanced attack.
Statistics never tell the entire story, but they do tell reveal many things. Perhaps the most telling statistic was Emmaus offense only had two third down plays the entire game.
Quarterback Jake Fotta had an easy night, completing 2-of-4 passes, both for scores. His first scoring play went to the athletic Dylan Darville and covered 22 yards for a 7-0 lead. Darville caught two passes on the night, both for scores.
Fotta's next touchdown pass was a family affair as Jake hit Chase on a 29-yard score for a 21-0 advantage. On the play Chase ran a square out pattern and Jake's throw was almost perfectly in stride. Chase took the ball and sprinted down the sideline for the touchdown.
Josiah Williams then replaced Jake Fotta and received valuable repetitions, hitting 6-of-8 passes for 184 yards and four touchdowns. Williams' third TD pass was an easy as pitch and catch. He took the center snap, took one step back with his right foot and fired a looping pass to his left, hitting Rafael Terero for seven yards.
The Timberwolves' defensive line offered no pressure whatsoever. The quarterback's final scoring strike was a 45-yarder to Elijah Farjado which made the score 56-6. Farjado and teammate Jackson Lake each registered their first career touchdown receptions.
"Josiah will continue to get more and more involved in the offense," Emmaus coach Harold Fairclough. "He makes plays and has a high football IQ"
Josiah Banks, a 5-foot, 9-inch stick of dynamite, ran through the Timberwolf defense like it wasn't there. He scored the first half's final touchdown on a nifty run between the tackles untouched until he reached the end zone stripe.
The evening's final score came in the third quarter courtesy of running back Michael Milot, a sophomore, who took a handoff from quarterback Gavin Newhart and wove his way through modest resistance before sprinting to the end zone. The play covered 19 yards.
The defense looked mean, holding the Timberwolves to a paltry 102 yards of offense. Defensive tackle E.J. Boney led Emmaus with five tackles, while Mario Landino played yet another steady game, registering three tackles and proving hard to block.