EHS wins eight straight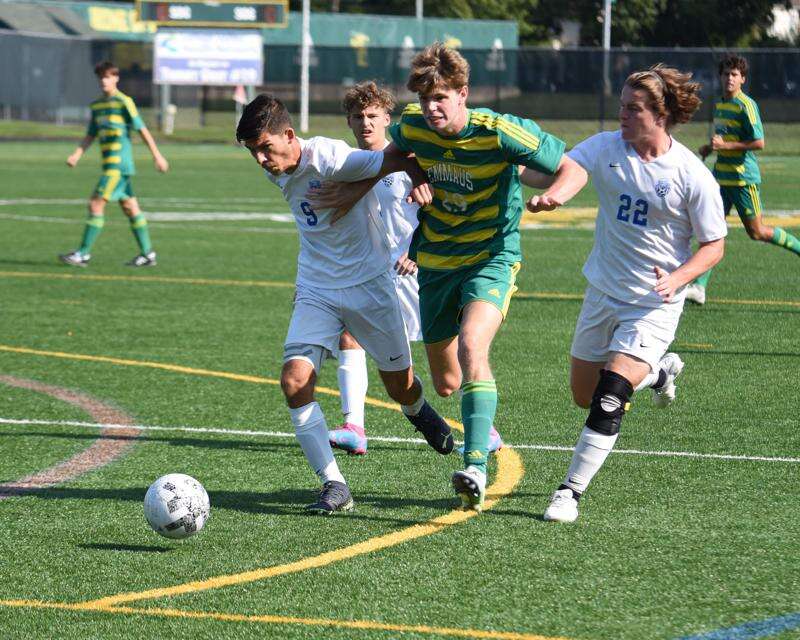 Published September 25. 2022 11:48AM
by CJ HEMERLY Special to the Press
The Emmaus High School boys soccer team had another unbeaten week last week, its third to start the 2022 regular season. The Green Hornets (8-0 overall, 8-0 EPC) earned three shutouts against Eastern Pennsylvania Conference teams, outscoring Pocono Mountain East, Bethlehem Catholic and Central Catholic 10-0.
Hornet head coach John Cari sees the hunger in his team, wanting more than just another District 11 championship, which they won last season. The Hornets have pulled out four wins by one-goal margins.
"We have had a positive attitude this season, and a strong will not to be satisfied," said Cari. "Last year, even though we won a district title and had a good year, we drew five times."
Unlike last season where Emmaus had a couple of ties, they have been able to finish a lot of those games and seal victories so far this season. Half of the Green Hornets' eight wins were decided by just one goal, including two that went into overtime.
"I think coming out on the positive end [in close games] are real confidence boosters," Cari said. "I feel our group now expects to win and will continue to fight until the end. Each win helps us separate just a little more from the pack."
Cari highlighted a couple of players that have stood out to him on either end of the field so far this season.
"Ryan Kiernan has been great," said Cari. "He's a big strong guy and is deceptively quicker than one might expect. His work rate can be contagious, and he has helped us get through many of our games. Ryan Latchford and the defense (Avian Delgado, Preston Eschelman, Brayden Dang, Zach Bernhart, and goalkeeper Max McGrath) also should be lauded for their efforts. We have six shutouts so far, and the one goal allowed I think would be saved nine out of 10 times. They are not the group we rolled with the past several years but have bought into the dedication and importance we strive for in our defensive game and have been really solid."
Emmaus takes on Pocono Mountain West, Dieruff and Easton this week and looks to remain undefeated and at the top of the conference standings.
"We strive to get better every day," Cari said. "To pride ourselves in our defense and continue to do our job day in and day out. We have some good attacking pieces, that I think are getting better each time out."