Herbine leads EHS past Kids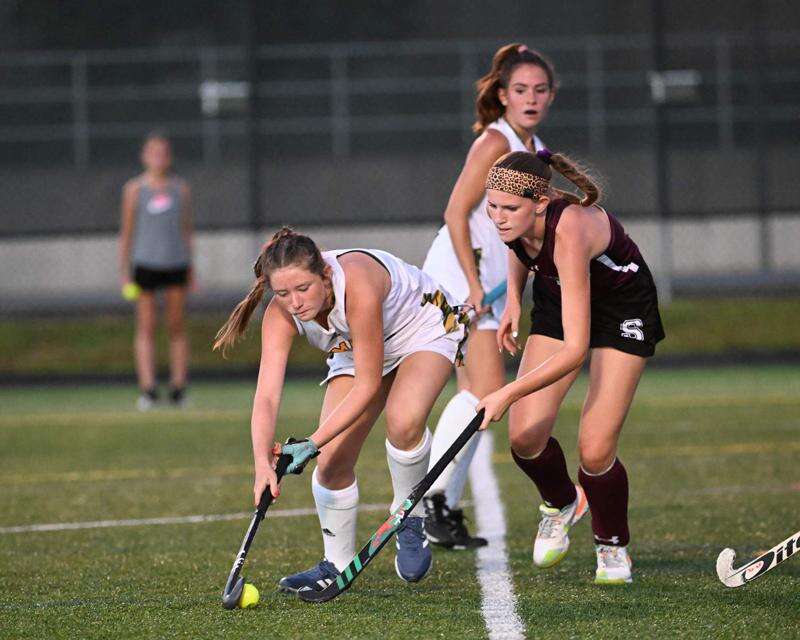 Published September 21. 2022 08:26AM
by CJ HEMERLY Special to the Press
Leading up to the 2022 regular season, senior forward Rachel Herbine was widely expected to lead the Emmaus High School field hockey team in scoring once again this year, like she did in 2021. So far, she has lived up to the expectations.
Last season's First Team All-State forward did all of the scoring to lead the Green Hornets past Northampton last Thursday afternoon, 4-0, at Northampton High School in an Eastern Pennsylvania Conference game. She scored four goals in the win.
"We were definitely tested today by Northampton," said head coach Sue Butz-Stavin. "They have a really good goalie who came up with some good saves to keep them in the game. We knew coming in that this wasn't going to be easy. We need to do a better job of putting the ball in the cage. But it's always good for us to get challenged and the girls answered it."
Herbine scored a goal in the first quarter and one in the second quarter, both coming within the first five minutes. But Kids goalie Kadee Schrader did her best to keep Emmaus out of her cage. She had more than half of her total saves (11) in the first half.
But in the third quarter, Herbine scored twice in the opening 4:57 to give her team the four-goal cushion, one the Hornets would not relinquish.
"We were a little more disciplined (in the second half)," said Butz-Stavin. "We were very lackadaisical in our structure in the first half on both offense and defense. That created some problems for us. But we did a better job regrouping and starting from the back up."
Herbine, along with classmates Abby Burnett and Ava Zerfass, are the team captains and leaders of the program.
"Our play goes through our senior leadership and captains," Butz-Stavin said. "Our backs are all brand-new from last year. We've had some growing pains going on here early, but the structure is there to work with. We just have to be a little more self-disciplined in our actions and understand what their roles are on the field.
"They need to stay unified as a team. I really like that we have dynamic senior leadership. Having those three is really great for our program. They play well together and brought the younger players in together and have taught them the way of our program."
Burnett and Hailey Cook finished with an assist each. Junior goalie Emma Cari made one save.
Emmaus, which added a 12-0 nonleague win over Coatesville Saturday, improved to 6-0 overall and is 5-0 in EPC play. Three other teams (Nazareth, Parkland and Easton) were also unbeaten in the league this season as of Monday evening. The Hornets travel to Easton Monday, Sept. 19. They face Nazareth two days later at Memorial Field. They won't meet the Trojans until the regular season finale on Oct. 11 in Orefield.