Defense dominates ACC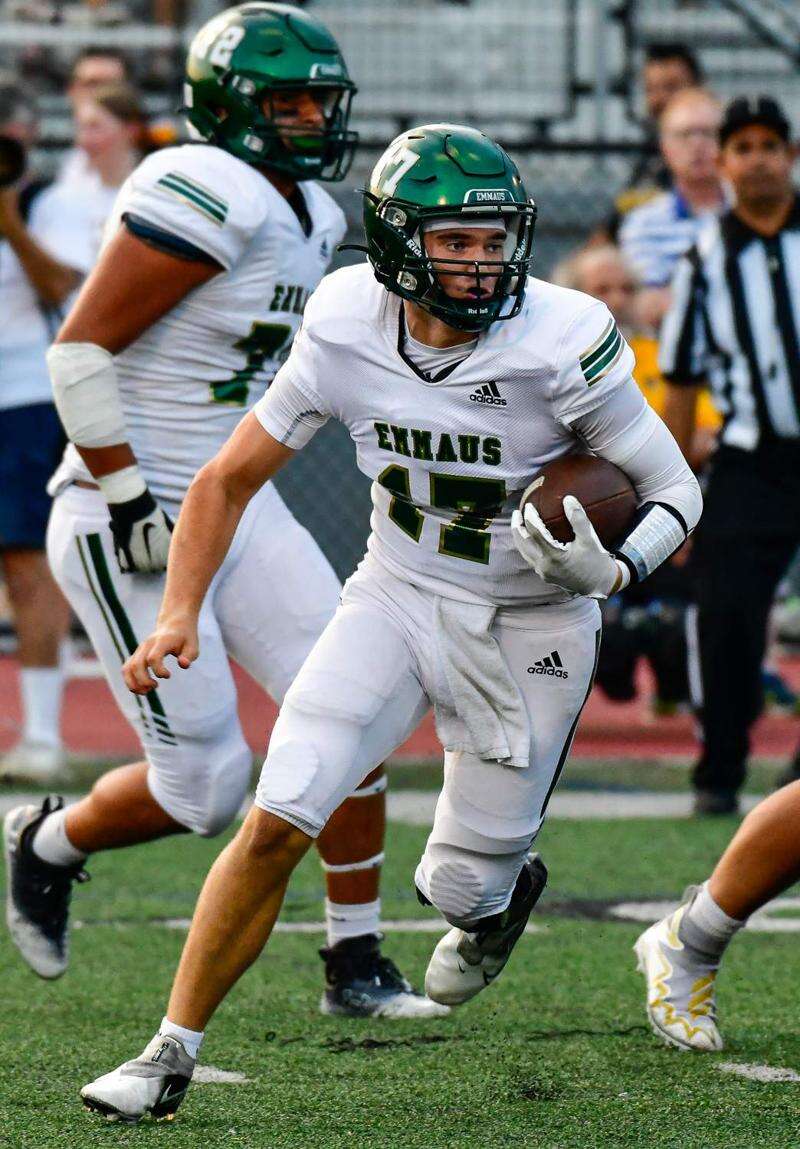 Published September 08. 2022 01:13PM
by STEVE ALTHOUSE Special to the Press
Last Friday night's 12-7 win by the Emmaus football team over Allentown Central Catholic at East Penn School District Stadium was a marvel for those who appreciate strap-on-your-chinstrap-tight football.
It's the type of win the Hornets (2-0 overall, 2-0 EPC) will need this season if a district championship is in their future. That's because there is something about winning a football game by being physical on defense that ignites an entire football team.
"When we're playing our best defensively we are flying to the ball," Emmaus head coach Harold Fairclough said.
E.J. Boney was doing a lot of flying and a lot of hitting last Friday night. The pugnacious defensive tackle refused to be blocked and terrorized Central quarterback Matt Keyes with three crushing sacks. In total, Boney had four tackles for losses. Defensive end Mario Landino was another stud, racking up four tackles.
The linebacking corps was awesome, none more than inside linebacker Aiden Garrett, who doled out 10 bruising tackles. Garrett quickly read plays and then went on seek and destroy missions of Viking ball carriers. Reilly Bechtel made his presence known also, as he registered four tackles.
"We try to get them to play angles and become hard to block," Fairclough said of his linebackers.
The Emmaus secondary helped make the Central passing attack nearly extinct. The Vikes gained a paltry 36 yards through the air as Keyes went 6-for-15.
The Emmaus offense did not make the same impression, struggling more often than not.
Wide receiver Dylan Darville put the first crooked numbers on the scoreboard thanks to a blazing 74-yard interception return that belongs in any highlight video for a 6-0 Emmaus lead. Darville has been, is and will continue to be a difference-maker for the green and gold.
"There's no doubt about it, Dylan is a playmaker," Emmaus coach Harold Fairclough.
Central returned fire in the second quarter and took the lead with a Caiden Shaffer 1-yard touchdown run as the Vikes took a 7-6 lead. Then Emmaus quarterback Jake Fotta hit Rafael Terrero with a 42-yard touchdown pass later in the second quarter for a 12-7 lead. Both schools went scoreless in the second half.
The offensive stat sheet for either team was not one for wall framing.
The Vikes managed just 143 yards all night, while Emmaus could only muster 119. The Hornets' rushing attack was especially lethargic with a net 30 yards after Fotta and Darville were trapped behind the scrimmage line for 21 yards in losses. Running back Tylik Jarvis managed 38 yards on 16 carries and even that is misleading. Take away a nifty 12-yard explosion, and Jarvis' line read just 26 yards on 15 carries.