Art celebrates Catasauqua history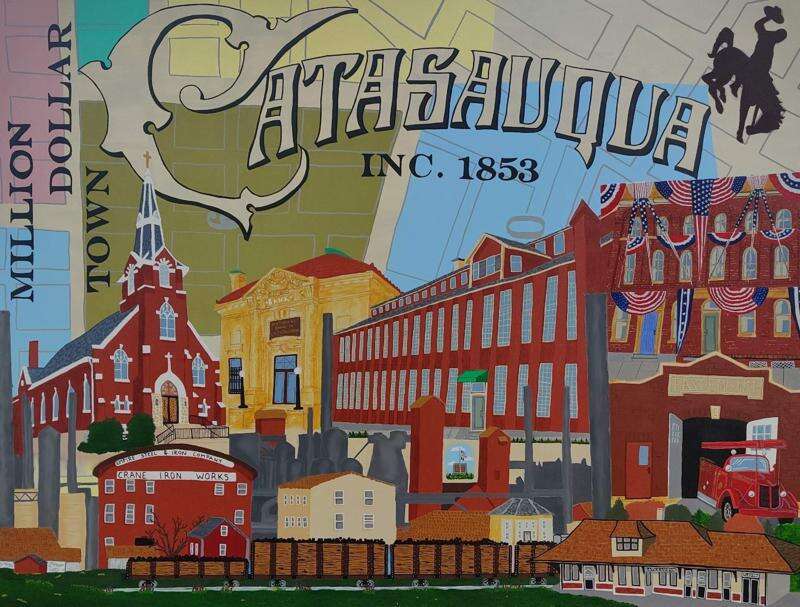 Published August 03. 2022 11:01AM
The artwork of Kaitlyn Carl and the mission of the Catasauqua Main Streets committee are a perfect match.
Carl has provided the Main Streets committee with prints of her work titled Catasauqua Inc. 1853. This colorful depiction of Catasauqua shows several historic sites such as Crane Iron Works, a bank, church, firehouse and railway.
Carl, a self-proclaimed history nerd, accidentally met Main Streets member Janet Corello while shopping. This meeting revealed Carl's artwork and their mutual love of Catasauqua.
One of the primary goals of the Main Streets committee is not only the revitalization of Catasauqua, but also the promotion of the arts within the community.
Catasauqua Main Streets is part of the nationwide movement to preserve and improve the main streets districts of small towns. Main Street America has been helping to revitalize older and historic commercial districts for more than 35 years.
Carl, a native of Catasauqua who now lives in Berks County, is a self-taught artist who has worked with several different media forms.
"I dabbled in watercolors for a very, very brief period and then got into painting with acrylics," she said. "My painting started with actually making HO-scale model houses for train layouts a few years ago and then developed into painting lawn ornaments and canvasses - which I've been doing now for about two years."
She noted watercolor artist Jeff Marks has served as "a phenomenal mentor."
"He's really helped me learn to look at things in a different way, pay attention to details and has helped me dramatically improve my art skills," Carl said.
Carl's inspiration for this particular historic piece of art was a family project.
"My dad had given me a call one afternoon and said to keep my eye out for a large canvas. Said if I can pick one up at a reasonable price, he'd love a mural for his living room," she noted. "Art supplies are insanely expensive. It's crazy!
"I found the canvas, and it was originally supposed to be a painting of canola fields near Northampton. But it just didn't feel right," she added. "I couldn't put paint to canvas. And then one day, I was looking at this huge canvas, and the idea just hit me - like a switch had been flipped."
Carl speaks very highly of the Main Streets group.
"They've been a tremendous help, and I love that they dedicate their time to help revitalize Catty," she said. "Like every small town in America, the pandemic really seemed to hit hard. It's not the place that I grew up in anymore, and it's sad to see.
"There is so much history in Catasauqua, and it's really had an incredible impact on the whole world," Carl added. "It's a funny thing, that such a small town has had such a huge role in the growth of our country. People need to always remember that. I think that Main Streets is doing a phenomenal job tying the community back to its history and helping Catasauquans remember that the place they live is really something to be proud of. I hope that my prints have helped them with their mission."
The Catasauqua Main Streets Committee is taking preorders for the print made by Carl. Prints, 12 inches by 16 inches, will be $35, with Catasauqua Main Streets Committee receiving $5 of every print sold.
If you are interested in purchasing a print, fill out an order form found on Facebook at Catasauqua Main Streets. Reach out to Natasha Chertok at natasha.chertok@yahoo.com or Catasauqua Main Streets on Facebook for more information.
The sale will run until Aug. 5.