Boyle kept her teammates steady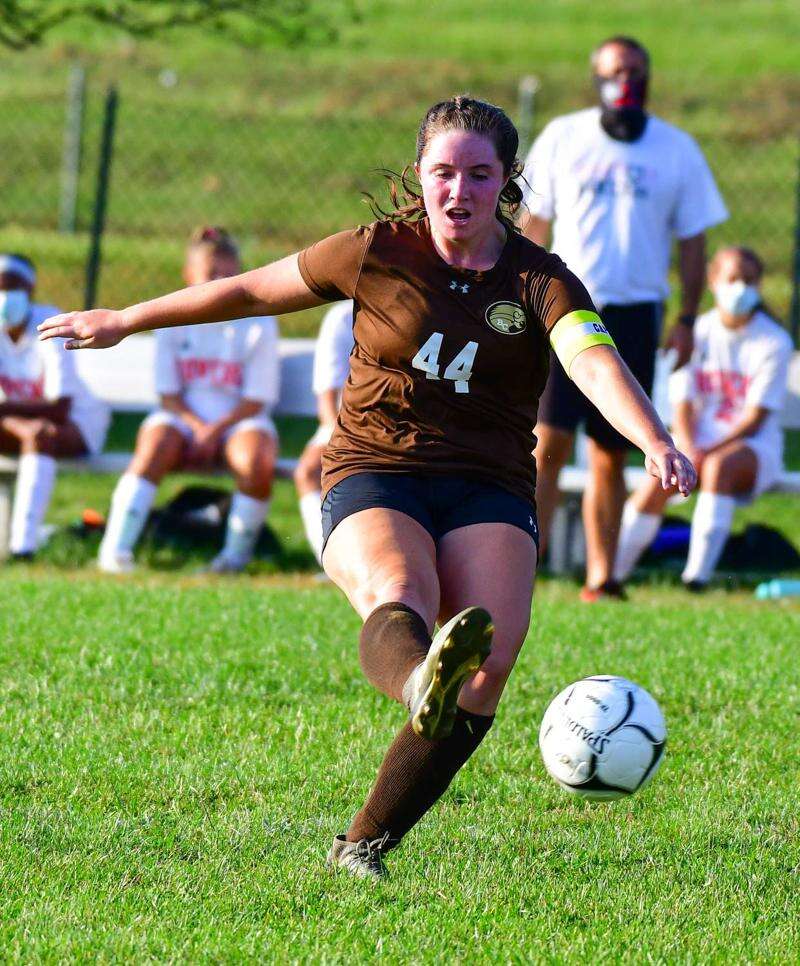 Published July 28. 2022 10:58AM
Multisport athlete Teighan Boyle is known for being a soccer midfielder and a catcher in softball, but what most people don't know is that the Bethlehem Press's Female Athlete of the Year from Bethlehem Catholic High School is also a wrestler.
Boyle placed third this past winter at the Eastern Regionals at Parkland High School, but her sport of choice, albeit by a narrow margin, is soccer.
"I've been playing soccer since I was little, and I play for a very good club team, Lehigh Valley United," Boyle said. "I just like the physicality of soccer."
This past fall, Coach Brad Kratzer took over Becahi's girls' soccer program and quickly recognized Boyle's leadership during one of the Golden Hawks' most successful seasons in recent memory.
"Teighan was a leader on the field," Coach Kratzer said. "She was a two-year captain and was the engine of the team last year. She was always motivational during practices, even our tougher cardio-based practices, to everyone around her."
Whether celebrating double victories over neighboring rival Liberty or lamenting double losses to Catholic school rival Allentown Central Catholic, including a district semifinal, Boyle was the one who kept the team's temperament steady.
"Even in the narrow loss to Central, who became the eventual state champions, she was nothing but supportive to everyone around her," said Kratzer.
Boyle was also instrumental in the success of Becahi's softball team that repeated as district champions this year and made a first-time appearance in the Eastern Pennsylvania Conference Tournament within the last four years.
In the district semifinal, Boyle's solo home run was the first run of the game in the Hawks' 10-5 victory over Tamaqua.
In the district final, Boyle's play at home plate prevented a possible loss to Northwestern Lehigh as Becahi right fielder Leah Chladny threw out a Northwestern runner.
"I was looking at the third base coach, and when [Isabelle Akelaitis] was rounding second, I didn't think she was gonna go, and I looked over, and [Coach Josh Zimmerman] was waving her, and I was just screaming for it," said Boyle at the time. "It was a great throw, on line, one hop, and as soon as I looked, she was there, and I dove to tag her."
But as tough as Boyle is athletically, her compassion for the Northwestern softball team was evident after the game.
"I grew up at Northwestern. I played with those girls my whole life until I moved to Bethlehem, so I knew a lot about them, and it was kind of fun playing against my hometown team. My heart breaks for the seniors on that team that I grew up with because I know how it feels, but I wish them the best of luck because they deserve it," she said.
Boyle's regular-season batting average was .479 with 23 hits that included four doubles and two homers. Boyle also had 17 RBIs.
On Aug. 17, Boyle will continue her academic and soccer career at Catholic University in Washington, D.C.
"I was looking at small schools, and I wanted to be in the city. I loved it right away because it's a balance between social, academic, and soccer," she said.
Boyle is thinking about majoring in business, but as part of the Army ROTC program, is considering doing something psychology-related.
"Teighan's work ethic is incredible," said Kratzer. "She will excel at the college level because of her dedication to constant improvement. She was even still in the weight room all summer to continue her development for her first year at college. She spends countless hours alone, constantly improving her cardio and technical ability. She will be missed for certain, but she will once again excel at Catholic University this fall."