Gerhard a do-it-all athlete at CHS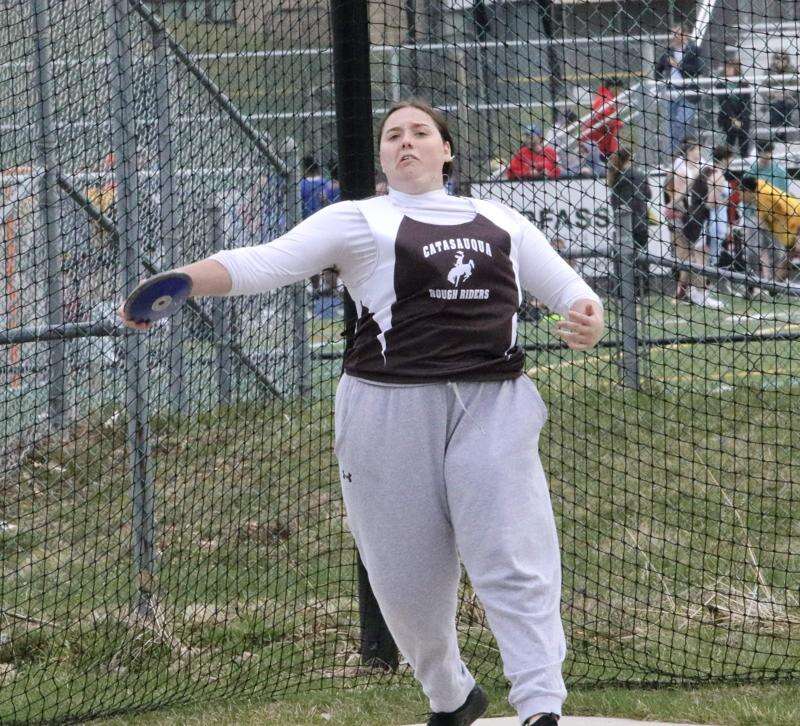 Published July 25. 2022 10:31PM
Aidan Gerhard credits much of her success to her older sister, Amanda.
She has plenty of good reasons. Amanda Gerhard was the Lehigh Valley's all-time leading scorer with 151 points and gained a scholarship to Virginia Tech. Ironically, her record was broken by current Roughies' head coach Kayla Cunningham.
There are other deep athletic roots in her family, as her father Chris was a state wrestling champion for the Roughies.
Yet, the younger Gerhard has plenty to be proud about. She recently completed a busy four-year career at Catasauqua, involved in basketball, cheerleading, soccer, and track. As a result, Gerhard has been named the Catasauqua Press Female Athlete of the Year.
"I wanted to try and follow after my sister," said the younger Gerhard. "It was a great four years at Catty. I had a lot of good memories, and I will miss it.
"It was great working to get where I was."
Gerhard recalled the beginning of her soccer career.
"I started playing soccer when I was three or four," she said. "It really was my sport, but I was playing other sports as well. I have worked hard to become a better player, and my family also was a big plus.
"I started playing travel soccer around when I was eight, and I gained a lot of experience. Once I got to high school, I realized what I needed to do to be a consistent player."
Gerhard noted the hiring of Cunningham as head coach last June. It was a settling force that had been missing from the program in recent years.
"We had some coaches, but it seemed like we just didn't have the right chemistry," said Gerhard. "But when Kayla came, it brought all of us together. We all really wanted to play for her, and she brought the team together.
"She was awesome to play for."
Cunningham treasured Gerhard's presence in the nets the past two years. Gerhard also made the move from a defender to goalie in her junior year. She recorded over 130 saves last season, and was named a captain.
"Aidan was an excellent leader," said Cunningham. "Her knowledge of the game led our team on and off the field.
"She knew how to direct players, letting them know where they should be and who to mark. The underclassmen looked up to her, which left a mark on our team. Her work ethic and leadership were unmatched.
"Her attitude helped us in close games. Her personality and athletic ability will be missed."
Gerhard's transition to goalie wasn't an overnight process.
"It took a lot of time and training," said Gerhard. "I worked with the coaches most days at least an hour after practice on everything I could to get better.
"I started getting more comfortable and confident with everything. I worked a lot with Jay Martinez, the backup goalie, and we really brought the best out of each other. I began to understand how difficult it can be and what I needed to do."
Gerhard started playing basketball in her early youth, but it never proved to be a major priority. She played her first three years of high school, but didn't go out her senior year.
"I played for a long time, but I never really was that good," said Gerhard. "Basketball wasn't really in the cards for me in the long run.
"I began not to enjoy it as much. I then began to look to do other things."
With track, Gerhard threw discus and shot put over the past four years. She had her share of top-10 finishes, and grew along the way.
Head track coach Kyle Rusnock knows Gerhard's presence will leave a lasting impression on the program.
"Aidan has been one of those all-around, outstanding Catty athletes," said Rusnock. "Aidan could do it all and will surely be missed. Aidan was a perfectionist and her work ethic was second to none.
"Her charisma was contagious and pushed others to want to do their best."
Gerhard spent three years on the Rough Riders' cheering squad, and enjoyed her time there.
One of her recent more enjoyable times has been teaching swimming lessons this summer at Goldfish Swimming Center in Bethlehem. She has a part-time position at the swimming center.
In the fall, Gerhard will begin matriculating at East Stroudsburg University, where she will begin to pursue a career in pediatric nursing. She was influenced into the career field by her cousin, Alicia, and sister, Amanda, who are both involved in the field.
Gerhard will miss the confines of Catasauqua, where she felt a sense of self-worth.
"In Catty, everyone supports each other," she said. "Everyone knew each other in school, and most of us grew up together playing sports.
"There were so many people that had an impact on me and other kids. Now, we have to move on and begin a new chapter."
However, the last chapter Gerhard left in Catty certainly had a lasting impression.