District Champions! Volleyball's first-ever title 'means everything'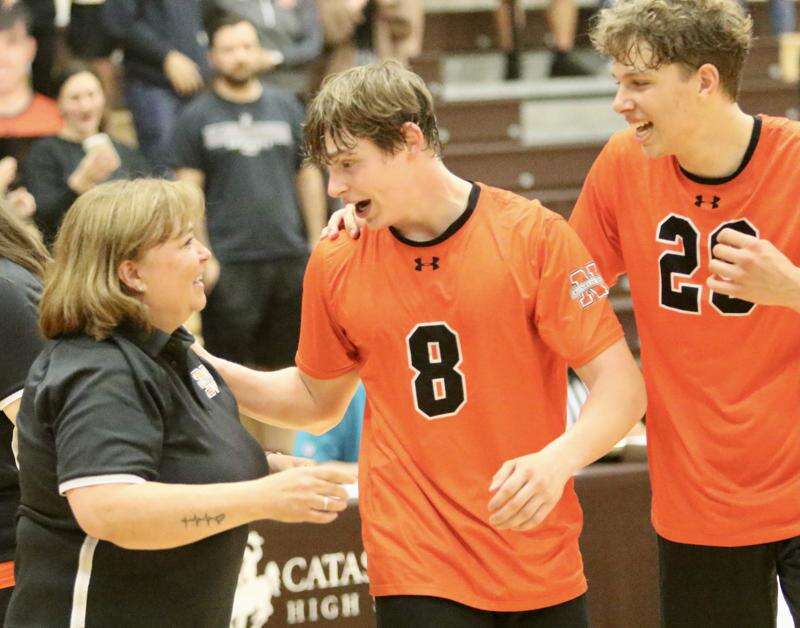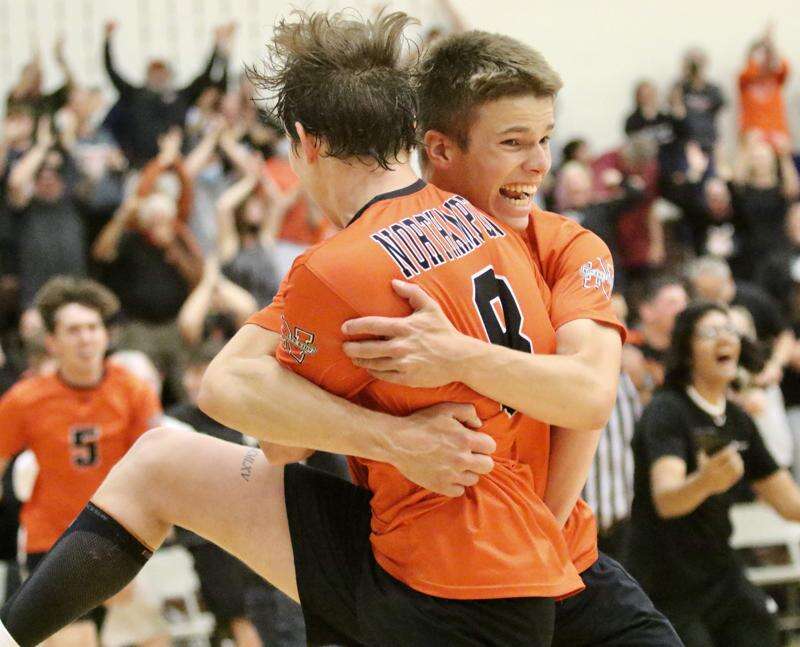 Published June 02. 2022 07:28PM
Quite soon and then for all time, visitors to Pete Schneider Gymnasium will be able to look up at the banners and see the one that proudly proclaims, "Northampton Boys Volleyball District XI Champions 2022."
The K-Kids avenged their only two losses of the season and won the match that mattered the most when they knocked off Parkland in four sets, 25-23, 18-25, 25-21, 28-26 last Thursday at Catasauqua High School.
As the first set progressed, it looked like the night was going to be a repeat of the EPC championship match won by the Trojans. Parkland built a seemingly secure 22-17 lead prompting Northampton head coach Sue Arndt to take her second timeout of the set. The K-Kids promptly won a side out and then reeled off six points in row. After the Trojans reclaimed the serve, Johnny Martinez forced the ball down through a double block to give the Kids the set.
Setter Keller Repasch described the improbable first set comeback, "It was crazy. We had our server Alex (Schoenen) who just put the ball away so many times. They just couldn't serve receive it and it got us going and got the crowd going and we played off that energy."
The energy was temporarily muted as the Trojans controlled the second set to even the match at a set apiece.
Neither team was able to create much separation during the early part of the third set. The K-Kids countered a 3-point Parkland run with a 4-point run of their own to take 19-16 lead, forcing a Trojan timeout. Northampton stayed on top with Jackson Fehnel providing the coup de grace on the 25th point to put the Kids within one set of the title.
Parkland seemed destined to send the match to a decisive fifth set as they built a 22-18 lead in the fourth. Once again, the Kids showed their resilience coming out of a timeout by winning 5 of the next six points to knot the set at 23.
Parkland held the first set point at 24-23. Northampton won the next two points to give themselves their first opportunity for the title at 25-24. They had their next at 26-25. And finally, their third at 27-26.
With each exchange of points, the black-shirted crowd's anticipation heightened until a Trojan spike attempt sailed harmlessly out of bounds, triggering an eruption of delight from the Konkrete Kids' faithful in attendance.
Arndt described the feeling of delivering Northampton its first ever title in volleyball, "It's fantastic, especially since we have former coach Doug Fehnel on the bench. It's something that these kids have been working for since seventh grade. And they did it for Jess Finlayson, their former coach (who died of brain cancer at age 28 in 2021). They did it for her."
Senior captain Jackson Fehnel assessed the meaning of the accomplishment, "It means everything. We've been working toward this forever. We've all been together for our whole lives. We knew this was the final goal and we finally got it." He added, "We never had a banner in the gym for volleyball for Northampton and now we finally have one. We got it done."