NHS boys win, girls tie in swimming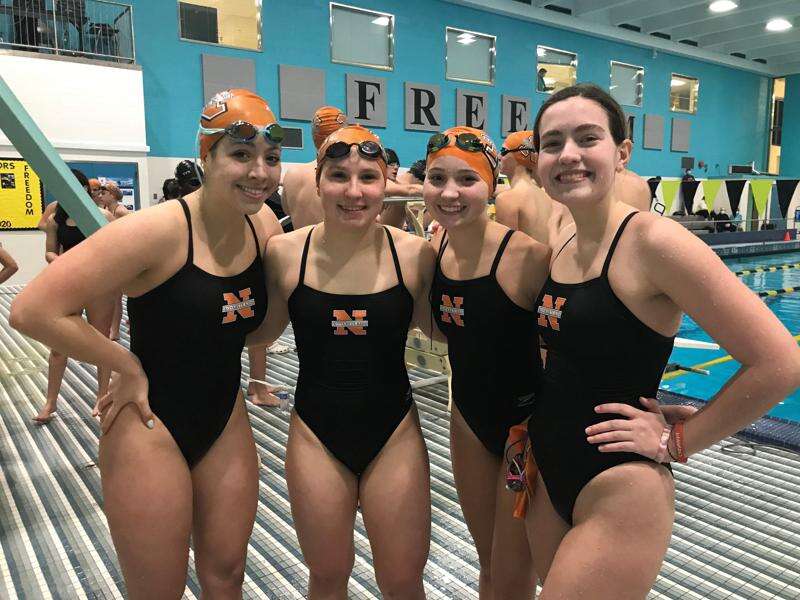 Published January 13. 2022 11:56AM
Northampton's boys swim team outscored Freedom's boys, 80-67, while the Northampton and Freedom girls swam to an 83-83 tie on Tuesday at Freedom.
The meet was close throughout the afternoon for both boys and girls squads, but Northampton's 400 relay team of Stephen Carrasco, Micah Sommons, Ethan Brobst, and Ryan Franke put the exclamation point on the final score when Franke gave the K-Kids a come-from-behind relay victory in 4:02.51.
"They were close to a lap ahead, but I had confidence, so that gave me the boost, and Coach just told me to pour it all in, so that's pretty much what I did," Franke said. "It felt good that we won the race. It was a good meet, and a lot of fun."
Northampton's boys won points on multiple second and third place finishes, as well as swimming unopposed in the 200 free relay for eight unanswered points with the foursome of Keith DeMieri, Ash Murphy, Gabriel Gower, and Bryce Torres in 2:05.92.
Murphy took first place in the 100 butterfly in 1:20.07, and Carrasco won the 500 free in 6:46.53.
Northampton's girls were poised for victory but received a disqualification on their second foursome in the 400 free relay.
"It would've been nice to get a win for the girls, but the kids are coming along and I'm happy with the way they're swimming. At the end of the day, you look at their splits, best times, and that's what matters most," said Northampton coach Cullen Mentzell. "On the girls side, definitely the 200 free, 500 free, backstroke are probably our strongest. Girls 50 free, Brenna Caley had a nice first place there (29.98). That was good."
Olivia Szerencsits clinched first place in the 200 IM in 2:25.89 and in the 500 free in 5:24.67.
"I was more happy with the way I swam [the 500 free] and how I felt, but the time wasn't where I wanted it to be," Szerencsits said. "[My 200 IM] was off my P.R. I got halfway through the race and was feeling sluggish, but it happens. A [team] tie is better than a loss, but one girl lost her goggles (in the 400 free relay), so it was understandable."
However, Szerencsits, Caley, Andrea Davidson, and Ava Gower took first place in the 400 free relay for the K-Kids with a time of 4:17.93.
In a photo finish, Gower won the 100 backstroke in 1:09.19.
"It was extremely close, and I was nervous because I hit the side of the touchpad, so I didn't know if the time registered right, but my coaches told me I actually got a best time, which surprised me," Gower said. "COVID was such a setback in an event which I now struggle with, and I'm happy with where that went. I'm finally getting back to where I want to be with it."
Freedom's Lilly Anderson touched second in 1:09.41.
"I saw after my third turn we were neck-and-neck," said Gower. "I'd rather out touch someone and know that it was a competitive race rather than win by half a body length because in that final moment, the adrenaline pushes in and you're like, I did that!"