Pip The Mouse home for the holidays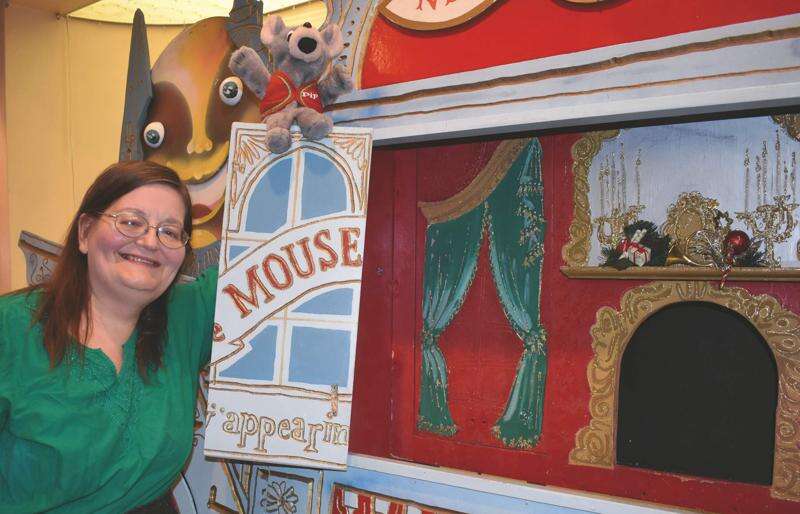 Published November 27. 2021 12:43AM
Lehigh Valley's favorite holiday mouse returns to the stage with "Pip: The Mouse Before Christmas," Nov. 26 - Dec. 31, Liberty Bell Museum in Zion's Reformed United Church of Christ, 622 W. Hamilton St., Allentown.
In 2020, because of the coronavirus (COVID-19) pandemic, the little guy was in lockdown in a shop window at Allentown's Grand Plaza, the former site of Hess's Department Store at Ninth and Hamilton streets where Pip held forth years ago for wide-eyed children and their happy parents.
"We're delighted to have Pip back at the museum," says Liberty Bell Museum Manager Stephanie Burke, adding, "Last year was an adventure, but this is home."
Pip and his holiday puppet show, created by Dr. George Creegan, premiered at Hess's in 1962.
For the first several years, holiday shoppers and their children could view the local spectacle by standing outside a large display window.
Later, performances were moved inside the building where the audience could stay warm while being entertained.
After the iconic Allentown department store closed, puppets, props and stage found a home at the Liberty Bell Museum where the holiday show has been going on since 2003.
According to Burke, of the 15 department stores in the United States and Canada that had Pip's holiday puppet show, Allentown has the only surviving plywood and pressboard stage, and possibly the largest collection of puppets and store-window display items.
Many of Hess's 1962 displays and animatronics created by Dr. George Creegan, including a cat at her ironing, are integral parts of the Christmas display. Other animatronics, including Mr. and Mrs. Santa Claus, as well as George and Martha Washington, were purchased in 2010 by former Liberty Bell Museum curator Josh Fink when Creegan's factory closed.
"We are not setting up the putz this year because of social distancing and to have more room for the audience," says Burke.
Although the model trains won't be running this season, the museum's annual holiday tree exhibit will continue to celebrate the holiday spirit. Included is a tree with traditional hand-made Pennsylvania-Dutch decorations in tribute to Pennsylvania's 18th-century German settlers, who brought with them the custom of decorating cut evergreens indoors.
The Liberty Bell is said to have been transported from Philadelphia to the church in 1777 where it was hidden from the British and saved from being melted into cannonballs. The museum commemorates the story with a permanent exhibit in the basement of the "Liberty Bell Church."
"Pip: The Mouse Before Christmas," 12:30, 1:30, 2:30 p.m. Monday - Saturday, Sunday, Nov. 27 and Dec. 11; 4:30, 5:30, 6:30 p.m. Thursdays, through Dec. 31. Gallery hours: noon - 4 p.m. Monday - Wednesday, Friday, Saturday, noon - 8 p.m. Thursdays, noon - 4 p.m. second Sunday. www.libertybellmuseum.org; 610-435-4232