Faust makes return; Weber makes debut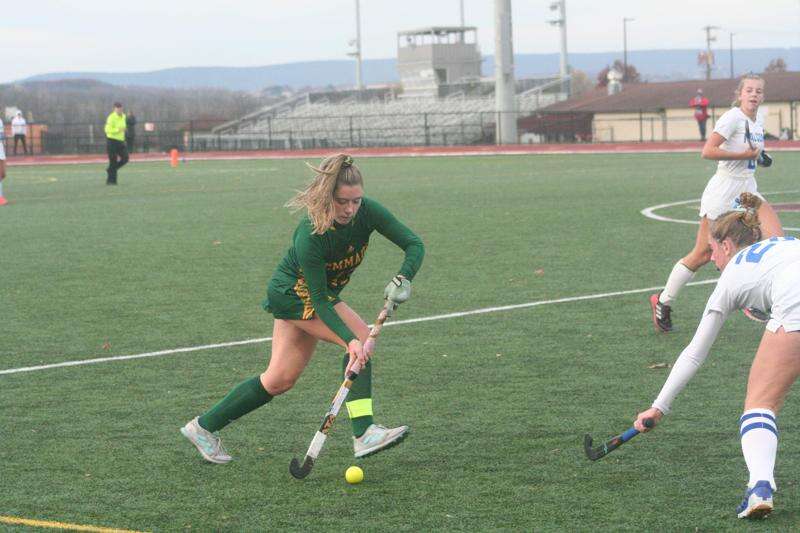 Published November 24. 2021 08:07AM
by Mike Haines and CHUCK HIXSON mhaines@tnonline.com
In the spring of 2020, COVID caused an entire sports season to be canceled for high school athletes. The disruption was difficult on every student athlete, but particularly hard to swallow for seniors who had their final year of high school athletics washed away. Emmaus senior Kyleigh Faust recently had flashbacks to last spring when she had to be away from the team last week just as it came into the final push for back-to-back state championships.
"When I heard I was sick, I thought 'oh, my gosh, that might be my last game ever,'" said Faust, who was able to return after a two-game absence to play in the PIAA championship game against Lower Dauphin this past Saturday. "I didn't even know what was going to happen and there was so much emotion going through me."
While Faust was missed and her teammates thoughts were with her during the absence, the Hornets continued about their business, hoping to give Faust something to return to if she was cleared in time for the finals. The Lady Hornets beat Methacton 2-1 in the quarterfinals and then had to come from behind to down Conestoga 3-1 in the semis.
With Faust out, Malea Weber, a sophomore who is a resident of the East Penn School District but had previously attended the Hill School, had been practicing with the team for the past two months and saw her first game action in the quarterfinal round. She scored the first two goals of her Emmaus career in the win over Conestoga and assisted on the other goal.
With Conestoga up 1-0 after a late-first-quarter goal, Weber struck early in the second quarter with her first goal of the season when she took a through pass in the circle and the Pioneer goalkeeper decided to challenge.
"I was the only one up there," said Weber "I saw the goalie coming out at me. I knew not to force it through. I just tried to be patient, waited for it to come and hit it in."
Ava Zerfass, the team's leading scorer, put Emmaus ahead early in the third quarter and Weber struck with her second goal of the game to give the Hornets some breathing room. Zerfass and her teammates have accepted Weber as a full part of the team, especially after her late postseason performance.
"She's a great player," said Zerfass who finished the season with 54 goals and 13 assists for a total of 121 points. "She's super strong. She has great vision, and her passing is just phenomenal. That opens our field a lot and makes us work better as a team."
Emmaus goalie Emma Cari made some big stops in the three final PIAA tournament games, recording 22 saves in the three games.
The wins in the quarters and semis gave Faust, whose college career will continue athletically and academically at Liberty University, enough time to be cleared to play and get back on the field to be a part of the team's second straight PIAA championship.
In her career, Faust collected a total of nine gold medals, which includes three for conference championships, four in districts and two in states. In 2020, the conference championship was wiped out by COVID, but Faust and the Hornets did win the division crown in the EPC. She also goes out as part of a team with a 44-game winning streak and a record of 96-2 over her four seasons with the team.
"It was the best feeling ever, but the win today equaled that," Faust said after having her latest gold medal placed around her neck. "It was so great to be back on the field today with my teammates and be able to play in this game. It's just unbelievable."