LMMS presents fall comedy "No Vacancy"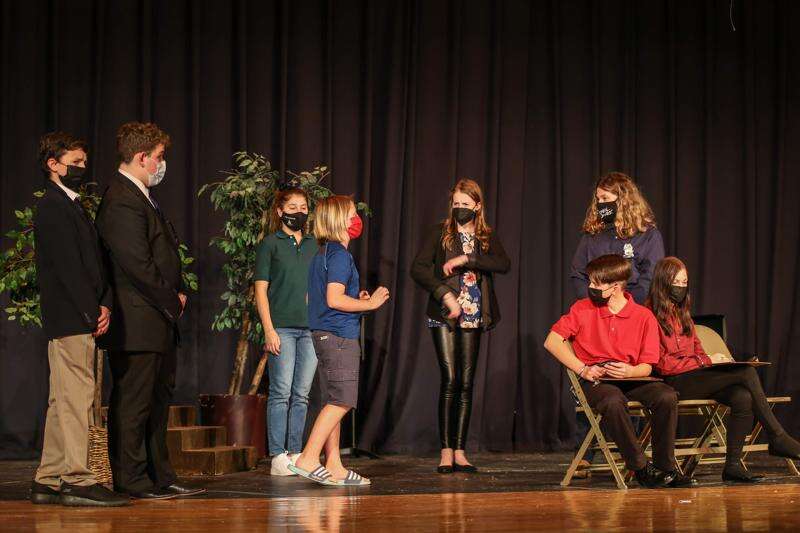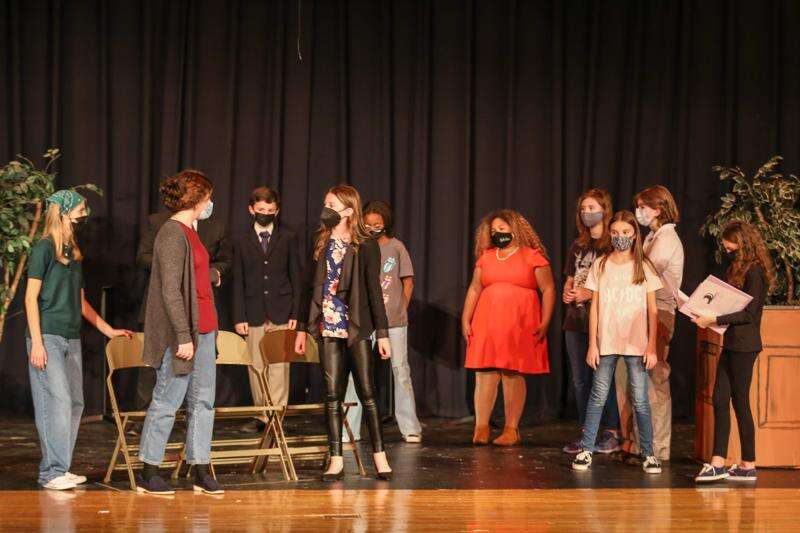 Published November 17. 2021 08:14AM
Lower Macungie Middle School Theatre will present its fall comedy, "No Vacancy," written by Katelyn Beyke and produced by special arrangement with Brooklyn Publishers, LLC. Performances will be held 7:30 p.m. Nov. 18, 19 and 20. Tickets can be purchased at the door (cash only) with general admission seating. Masks must be worn inside LMMS.
The play, directed by Patrick Campbell, has a cast and crew of about 60 students hoping to give the audience comedic entertainment.
The Apple Tree Inn has been open for three weeks and proprietor Diane is concerned no guests will check in. An unexpected famous pop star, Jordan Wieber, shows up and chaos ensues. Diane wonders how she will keep the inn running smoothly with a crowd of Wieber fans, hotel inspectors, undercover police officers and surprise – a dead body all threatening to close it down.
Students Norah Hoffman and Aarav Ganshani have important roles behind the scenes as stage managers. They bring comedic ideas, help with cues, lines, exits, making sure things run smoothly during rehearsals and later the performances.
Norah started theater in sixth grade as part of stage crew. In her first experience as stage manager, she describes participating in theater as, "It's really fun." Her favorite part is participating in the play and being involved at rehearsals.
Norah really likes this play and says, "the cast and crew have been working really hard since mid-September and hopes the audience has a fun time at the performance." She hopes to continue theater in high school.
Getting to come to all the rehearsals and getting to see everything is Aarav's favorite part of stage managing. "I think it's really cool!" Aarav said. Aarav's start in theater began after coming to see a fall comedy while in sixth grade and really enjoying the play, Aarav said, "It just seemed like fun, so I tried out in the spring musical."
As stage managers, both Norah and Aarav have the same responsibilities looking for cues and making sure everyone and everything is in its place. During performances they will alternate between backstage and sound booth. "It's a comedy so there's a lot of funny things," Aarav said, and hopes the audience has a fun time and enjoys it.
Persia Mullay portrays Sarah, the maid and niece of the hotel owner Diane. Sarah is trying to help with the dead body and deal with some of her high school enemies who show up at the hotel. "She's just like a normal average teenager and can be a little uptight sometimes," Persia said.
Persia started in theater by trying out in sixth grade for the fall comedy where she also played a maid. She has been in plays since elementary school and likes getting to meet new people and perform in front of other people.
When asked if she gets nervous performing, Persia said she does but once she gets on stage she gets into her character and the scene. "I like to sing and will probably try out for theater in high school," Persia said.
Chase Simmons was introduced to theater through his sister being in plays in elementary school.
"I just sorta followed. I started as soon as I could get started when I got into elementary school, when I could first try out and have been doing it ever since," Chase said. Every year since he has participated in theater.
In elementary school he usually would do musicals. "It was always musicals until sixth grade, it was the first comedy. This one is really fun and it relates to real time." Making new friends and meeting new people is his favorite part of theater, "but also working hard and just seeing at the end of the day putting it all together and having this one piece."
When asked if he had any tricks learning and memorizing his lines he said, "I usually take it scene by scene – focus on one page. When I get done, I go on to the next page." Chase probably won't be involved in theater in high school because he is also involved in sports, baseball and basketball and they may take up all his time.
Both Persia and Chase have attended Emmaus High School performances. They both hope the audience has fun watching the play, gets relief from everything that's going on and they can just come and relax and watch the show. Chase says,
"This will be a time to get away from everything and find out how they deal with the dead body and see what they do to hide it, so the hotel inspector doesn't see it!" Chase said.
"Just have some laughs."