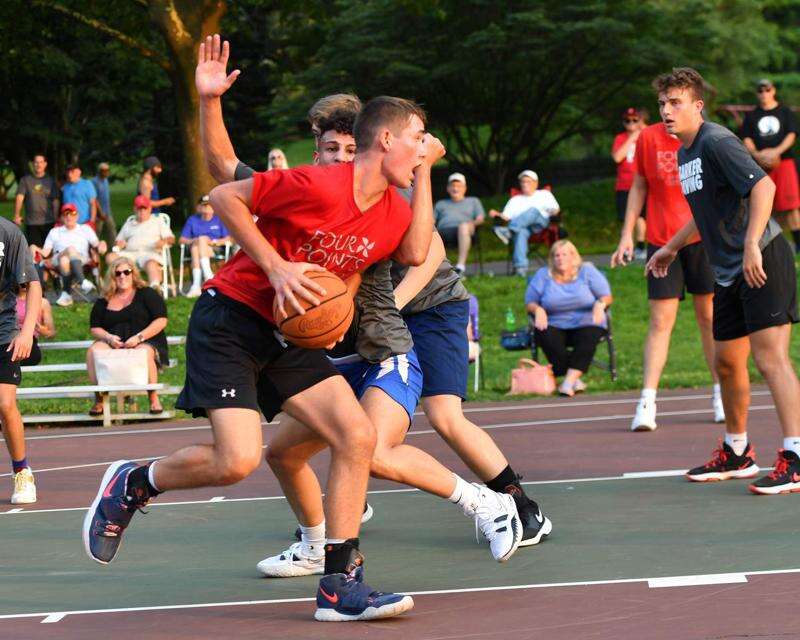 Published July 22. 2021 12:00PM
The Cedar Beach Varsity Summer Boys Basketball League capped the regular season this week and held first-round playoff games Wednesday.
In the Big School Division, where the top two seeds earned first-round byes, Northampton's Lucas Lesko scored a team-high 19 points to lead the No. 4 seed Kids past No. 5 Allen, 40-36. Northampton will take on No. 1 seed Nazareth Thursday at 6 p.m. In another quarterfinal, No. 3 Reading beat No. 6 Bethlehem Catholic 44-36 behind 17 points from Joey Champan. The Red Knights will face No. 2 seed Parkland in Thursday's semifinals.
In the Small School Division, where just four teams made the bracket, Matt Machalik scored 17 points to lead top seed Palmerton over Salisbury 37-23. No. 2 seed Notre Dame (Green Pond) edged No. 3 Southern Lehigh 39-37 behind a 19-point effort from Brenda Boyle.
The Blue Bombers and Crusaders will open Friday night's championship doubleheader at 6 p.m. , followed by the Big School Division title game at 7 p.m.
Below are the final standings from this year's Cedar Beach Summer League season.
Small School Division
Team W - L
Palmerton 10 - 2
Notre Dame GP 10 - 2
Southern Lehigh 9 - 3
Salisbury 7 - 5
Roberto Clemente 7 - 5
Saucon Valley 6 - 6
Upper Perkiomen 2 - 10
Warren Hills 2 - 10
Lehighton 1 - 11
Large School Division
Team W-L
Nazareth 11 - 1
Parkland 10 - 2
Reading 10 - 2
Northampton 8 - 4
Allen 8 - 4
Becahi 7 - 5
Central Catholic 7 - 5
Emmaus 7 - 5
Freedom 7 - 5
Wilson West Lawn 6 - 6
Pocono Mt. East 5 - 7
Whitehall 5 - 7
Easton 4 - 8
Liberty 4 - 8
Pleasant Valley 3 - 9
Quakertown 3 - 8
Dieruff 2 - 10
Bangor 1 - 11