Lower Mac competes in LVL playoffs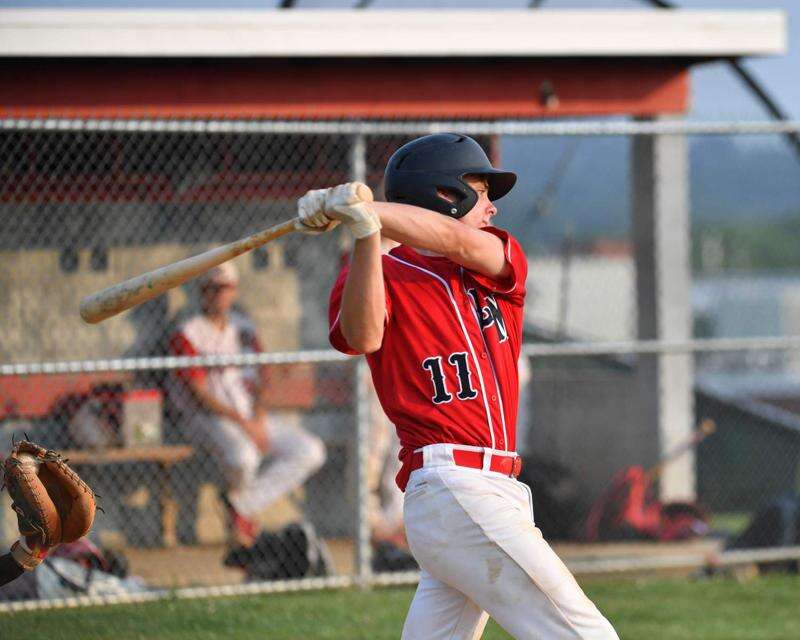 Published July 15. 2021 10:01AM
The American Legion baseball season means different things to different players and teams. For some, it's a second chance to achieve goals left unfulfilled during the high school season. For others, often younger players, it's a place to play on a full-size field and prepare for future seasons on a varsity team. For some high school seniors and college freshmen and sophomores, legion ball provides a place to play before moving on to adult leagues.
For nearly all, it's a place where they can play the game they love with old friends and teammates while also meeting some new ones.
The Lower Macungie team might have had some off all of them that year, but it was the latter that gave the team its identity.
With some traditional Lehigh Valley Legion programs not fielding teams this season, Lower Mac head coach Jeff Smith took in players from Northern Lehigh, Northwestern and Allen high schools. Emmaus High School players, who make up the bulk of the roster, came in later than usual after the Hornets made a run into the state playoffs.
The players had little time to get to know one another as none of them were legion teammates last year when the season was canceled because of the pandemic.
Lower Mac went 4-11 during the regular season then went 0-2 in last week's LVL playoff tournament.
"It wasn't our best year," said Smith. "We made too many errors. These guys know that. But we were out here. That's all I wanted to do was get back out here."
By the end of the season Lower Mac had become a tough team to beat.
"We never quit," said Smith. "Not one game."
He pointed to the final two games of the regular season and the first game of the playoffs. The results were a 9-7 loss to Salisbury, a 7-6 loss to North Parkland and a 9-5 loss to the Carbon County Monarchs. But in those games Lower Mac showed resilience. In each of those contests Lower Mac fell behind by five runs or more only to come back and have a chance to take the lead late in the game.
"They could have quit but they didn't," said Smith. "That's not who they are and I give them credit."
Lower Mac drew a tough first-opponent in the LVL playoffs. With South Parkland and Coplay earning the top two seeds and first-round byes, No. 4 Lower Mac hosted No. 5 Salisbury, which played its best baseball in the playoffs en route to a league title.
After going 3-11 in the regular season, the Falcons won their first three playoff games to reach Monday's tournament final. They topped No. 2 seed Whitehall/Coplay 5-4 in the title game and will represent the LVL in this weekend's Region 2 Championship.
In both team's opening-round playoff game last Monday, Salisbury jumped out to an 8-0 lead after four innings before Lower Mac rallied in the last two innings to keep it close.
Lower Mac got one run in the sixth inning, but Salisbury got it back in the seventh to make it a 9-1 lead heading into the bottom of the last inning.
Lower Mac put up four runs in the bottom of the seventh and had the winning run at the plate when Salisbury's Hunter Rothrock struck out the game's final two batters to seal the win.
Gabe Rivas, Samuel Diaz, Luke Deschenes, Braden Waller all had two hits each in the game, with Waller and Deschenes also driving in two runs each and O'Brien scoring twice in the game.
That setback put Lower Mac in an elimination bracket game last Wednesday against No. 3 seed North Parkland.
The Buffaloes scored nine runs in the first four innings and won in the fifth via the mercy rule, 12-2.
Three North Parkland pitchers allowed one hit each as starter Andrew Sorrentino got the win after going three innings and allowing just one hit and striking out four. Sean Rivera and Weston Beers finished off the game.
Rivas, Deschenes and Wyatt Buszka had hits in the game for Lower Mac.
With several players eligible to come back next season, including Emmaus High School varsity starters Waller, Deschenes and O'Brien, Lower Mac could be set up for success next season.
But wins and losses aren't always the only indicator of a successful season, especially after there was none in 2020.
"We took in kids from multiple organizations to give them a chance to play," said Smith. "They're all good kids. I love them all. We had fun. I enjoyed being out here. I always enjoy being out here. Now I'll wish the teams well that are still alive."