Whitehall-Coplay gets a playoff victory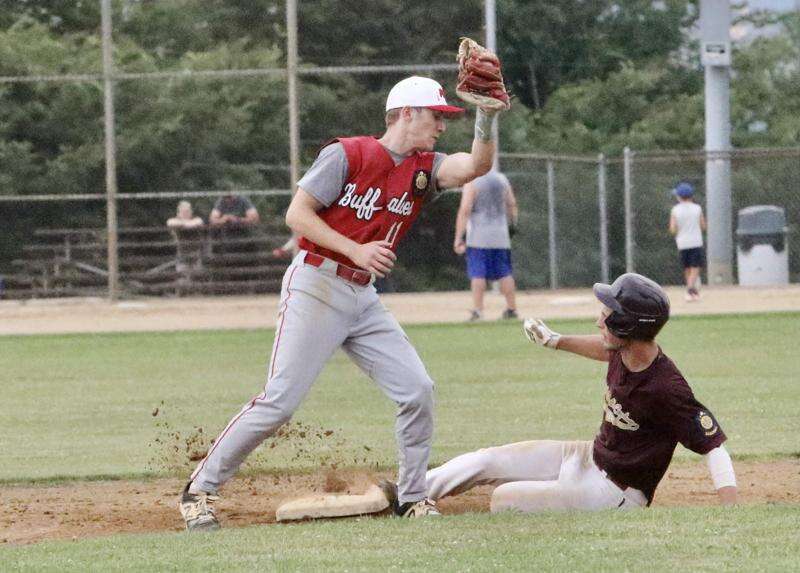 Published July 08. 2021 09:43AM
The Lehigh Valley Legion Baseball League postseason has arrived, and Whitehall-Coplay is looking to claim a league championship.
They finished the season 9-5-1, and now enter the double-elimination playoffs that begin this week. That record earned them second place in the LVLBL, and a bye in the first round of the playoffs.
Their first game was Tuesday night against North Parkland, the team that finished right behind them in the standings. They erupted for eight runs, scoring three in the bottom of the first, and then sealing the 8-1 victory with four more runs in the sixth. Their additional run came in the third.
The win moves them into a showdown with top-seeded South Parkland on Wednesday.
Whitehall wasted no time getting on the scoreboard. In the bottom of the first, Zack Hartman laced a double that drove in a run. He also had a big hit in the sixth, stroking his second double to score two more runs. He finished the game 2-3 with three RBIs.
Whitehall got production at the plate from plethora of players. Bryce Bashore, Tyler Mastropieri, Austin Miller, and Matt Bernard all collected hits. Bernard, Mastropieri and Miller each had RBIs as well.
Matt Snyder went the distance for the win. He allowed just four hits and one earned run during his outing. He also struck out eleven batters, while only allowing one walk. It was a dominant performance by the Whitehall hurler.
Whitehall ended their regular season with a 6-2 win over Salisbury last Friday. They scored four runs in the top of the first, setting the stage for the victory.
Miller's triple was the big blow, knocking in three runs. He finished the game 2-3, scoring a run on Ayden Dunbar's sacrifice fly, and collecting those three first-inning RBIs.
They added two more in the top of the seventh to close out the scoring.
Snyder got the win in that game as well. He went six innings, allowing just two hits and no runs. He struck out eight over that span, while also surrendering just one free pass. He also was hot at the plate, reaching base twice via hits.