Class of 2021 graduates June 8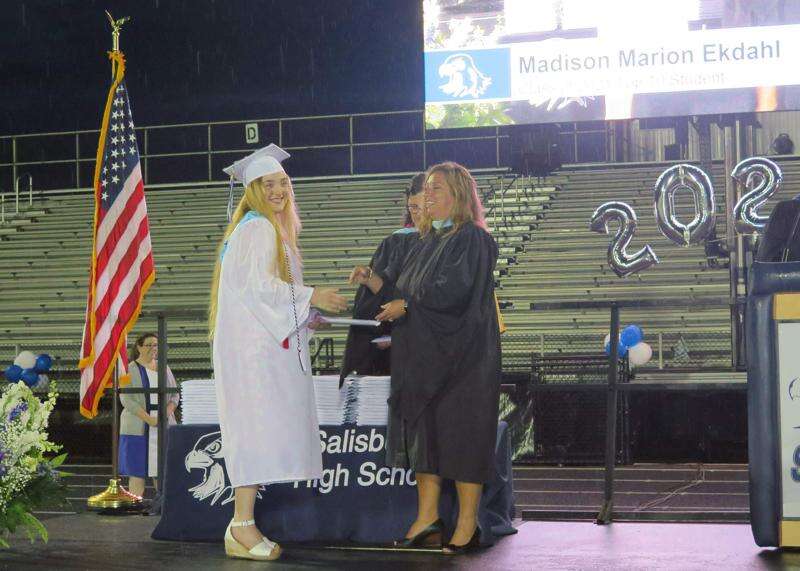 Published June 16. 2021 03:26PM
The Salisbury High School Class of 2021 was honored at the 57th commencement ceremony June 8 in the SHS stadium.
Originally scheduled for 6 p.m., graduation was moved to 8 p.m. due to heat and possible storms.
SHS Principal Heather Morningstar welcomed everyone in attendance and thanked the students and staff for all their hard work this year.
Giving her first commencement address as superintendent, Lynn Fuini-Hetten spoke about a survey she had given to the senior class to list their favorite memories during their K-12 years. Memories ranged from the ice cream festival and sporting accomplishments to the Bake Oven Knob field trip and Mr. Frick's ancestry project.
Fuini-Hetten challenged the graduates to keep true to the lifelong lessons of "Do Your Best" and "Make Good Choices," finishing her speech with "Make good choices while you are figuring out who you are and who you want to be in life."
Second to speak was School Board Director Sarah Nemitz. She encouraged the seniors to find their "why" and use it as an anchor. "Your 'why' is your purpose, your underlying reason for taking on a challenge," she said. Nemitz relayed a story of running her second marathon with her "why" being "to run with joy and gratitude and enjoy the journey." Even though a family emergency could have sidetracked her, she kept focused on her "why" and found joyful things along the miles.
Next at the podium was Director of Student Activities Monica Deeb to introduce Class President Rory Watson. She recounted when she asked Rory why she ran for class president. One of the things Rory said was, "A leader should be someone who listens, someone who acts, someone who grows and someone who understands."
Watson then encouraged her fellow students to "stay true to you." She listed qualities like determination, work ethic, happiness and wit, including the names of classmates with each quality. She ended her speech by saying, "This is not the end, it is the commencement. The beginning of a lifetime full of opportunity for each and every one of you."
SHS Assistant Principal Brian Muschlitz then introduced Class of 2021 Salutatorian Caroline Kenyon. He listed her many accomplishments and said her favorite memory at Salisbury is being on the girls soccer team from freshman year to senior year.
Kenyon mentioned one of the regrets she had as she graduated high school was not appreciating her education. Education is not about grades, it is "deliberately taking classes to expand our cultural awareness," it is "pursuing opportunities that will strengthen our skills and techniques as learners, as students and as citizens.
"Education is challenging ourselves, allowing for failure and giving ourselves a second opportunity to correct our inevitable mistakes," Kenyon said.
Morningstar returned to introduce Class of 2021 Valedictorian Eliza Wiener stating she is more than the sum of her achievements. "While many seek a grade, Eliza seeks knowledge."
Wiener reminisced about the lessons the Class of 2021 has learned. Among them, "the power of a smile and a wave in passing, how to comfort a friend in their time of need and how to ask for help when we didn't want to admit we needed it."
Not only did they learn, they taught.
"We have shown everyone who cared to see it, that no matter how much the world changed around us, we remained the compassionate, driven and determined people I know us to be," Wiener said.
Richard Pearce presented the staff award to Janeida Johnson.
Matt Tobias presented the Salisbury Education Award to Madison Ekdahl.
A gift was given to the highest achieving academic scholar who attended Lehigh Career and Technical Institute, Daphne Ziegenfus by Dawn Cressman.
Rachael Legath presented the Alumni Award to Wiener.
It was around this time the rain began to fall.
A special award was then given to Madison Ekdahl for having perfect attendance for all 13 years of school.
Diplomas were handed out between the raindrops with the rain stopping about two-thirds of the way through the diploma presentation. Tassels were turned, caps were thrown and the Alma Mater was sung.
Congratulations SHS Class of 2021.