Northwestern pairs with LVHN to host vaccination clinic in gym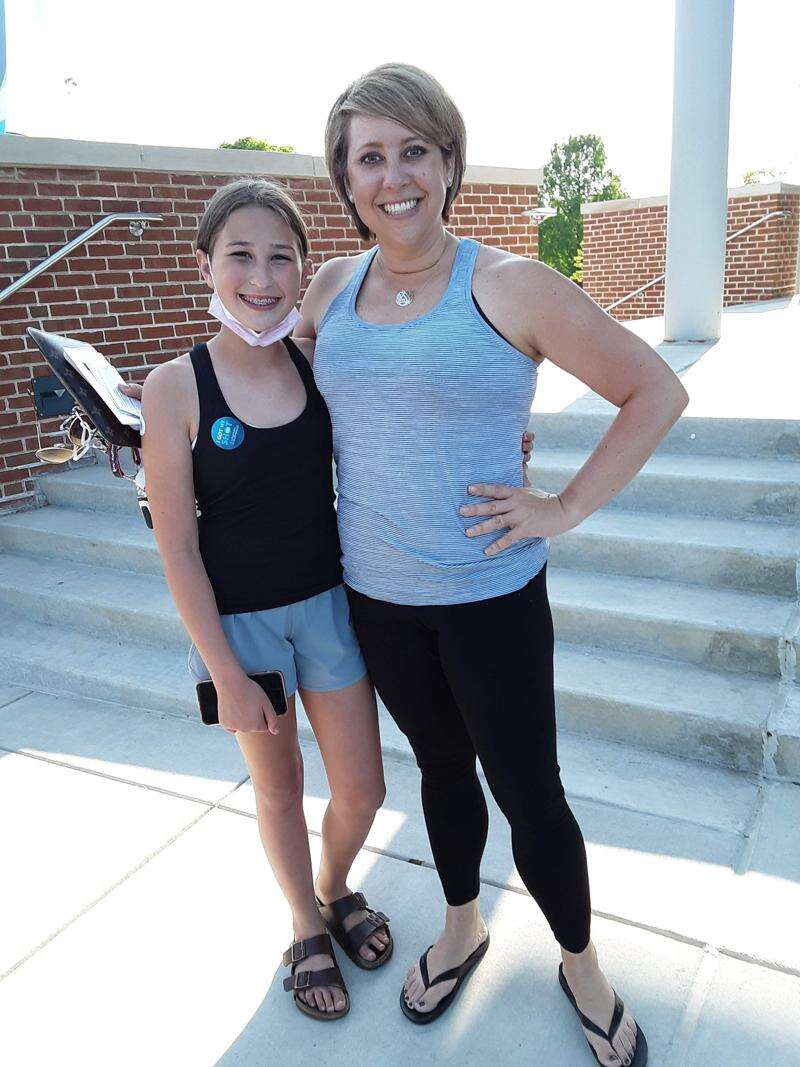 Published May 27. 2021 03:54PM
BY ANNA GILGOFF
Special to The Press
Area residents older than age 12 could receive a Pfizer COVID-19 vaccine in the Northwestern Lehigh High School gym on May 20.
Superintendent Jennifer Holman and Assistant Superintendent Troy Sosnovik greeted folks as they reported for their vaccinations.
The two administrators were happy to be able to do it.
"We contacted all our parents to let them know about the clinic," Holman said.
Northwestern Lehigh partnered with Lehigh Valley Health Network to provide the free shots.
Jariel Pesante and his family were among those seeking their shot.
"I'm OK," said the youngster after getting the shot, explaining why he wanted the vaccine.
"I hate COVID and I hate wearing a mask."
He wasn't the only one.
"We had about 230 people sign up," said Sosnovik, who also serves as the district pandemic coordinator.
"We anticipated approximately 30-50 walk-ins."
Convenience overshadowed any sense of trepidation for those seeking the vaccine.
"They were nervous coming in but surprised that it's not painful," said Tara Mehta, who was administering the shot.
She said that an hour into the clinic, she had already administered about 30 vaccines.
"Overall, they're very appreciative," Mehta said.
Sosnovik was pleased to provide a valuable service to community members, especially to those who needed a clinic close to home because of their own health conditions, age or other factors.
"People are very appreciative that we brought it out to the community," he said.
Walk-ins were welcome, though preregistration was preferred.
The warm, spring evening contributed to a positive experience.
After getting her shot, middle schooler Gracie Scheffler, who was accompanied by her mother, Rachael, commented on receiving the vaccine.
"I felt good. I wanted to do it," Gracie said. "I just want to get back to the way it was."
Mom Rachael was happy, as well, that her daughter could receive the shot.
"Jay [my husband] had his when they allowed firefighters and first responders to get theirs," Rachael Scheffler said.
She and her older daughter, Bailey, a senior, were vaccinated earlier. She is optimistic about her daughter graduating in a few days.
"I'm so glad Bailey will be starting James Madison University in person this fall," she said.
Now that all four members of her family have the vaccine, she is beginning to have a sense of relief that there is light at the end of the COVID-19 tunnel.
Inside the gym, the four school district nurses welcomed the community.
"It's going very well, very smooth," said Nurse Nannette Lingenfelter. "Everybody's been pretty pleased."
School Nurse Christy Diehl was quick to agree.
"I'm happy with the turnout," she said, adding that during the day she was told many people were coming.
"It's open to anybody in the community," said Sosnovik, "We had folks reach out and ask if family members from another state could come in and we said come up."
"LVHN has worked at other schools. I coordinated with them for Northwestern."
A second opportunity for the community to receive the COVID-19 vaccine is scheduled for June 10.